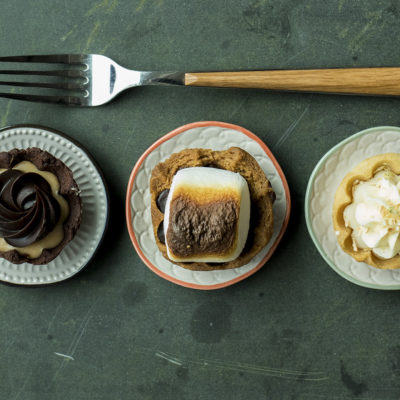 AnniePies was founded by Portland-resident, Annie Portlock. With a childhood immersed in the food and hospitality industry and business in her blood, Annie discovered her love for baking and stumbled into inventing the mini cookie pie. In 2010, she started delivering MiniPies in unique, nostalgic flavors each month to customer's homes around town. After 4 years, the demand for her products was huge, so she ventured into baking at a licensed commercial kitchen. Since then, she has continually grown her business by catering events, selling pies at the Portland Night Market, and providing her products to local Portland area stores.
AnniePies offers decadent treats, including her well-known mini pies and cookie sandwiches. Each product is crafted with local, seasonal ingredients that are inspired by classic flavors that many people remember from childhood. Each product is handcrafted by Annie herself. Zupan's is excited to be carrying Annie's creations in our bakery department. Our current flavors include: S'mores, Cocomello & Lime Coconut.
Check out the AnniePies website to learn more.