Located in the heart of Willamette Valley, Montinore Estate is the largest producer of certified estate wines made from Biodynamic® grapes in the country. Rudy Marchesi, proprietor of the 200-acre estate since 2005, has a rich tradition of land stewardship and employs a viticulture team that is dedicated to organic, sustainable, and biodynamic farming practices. The biodynamic methodology views the farm as a self-sustaining ecosystem that is responsible for maintaining health without unnatural additions, making the grape growing process one that is the perfect marriage of soil, climate, and creative cultivation. Known for their acclaimed Pinot Noirs, Italian varietals unique to the region, cool climate white varietals, and one of the only Biodynamic sparkling wines in the United States, Montinore Estate wines are beautifully crafted with fresh flavors, age-worthy structure, and complexity.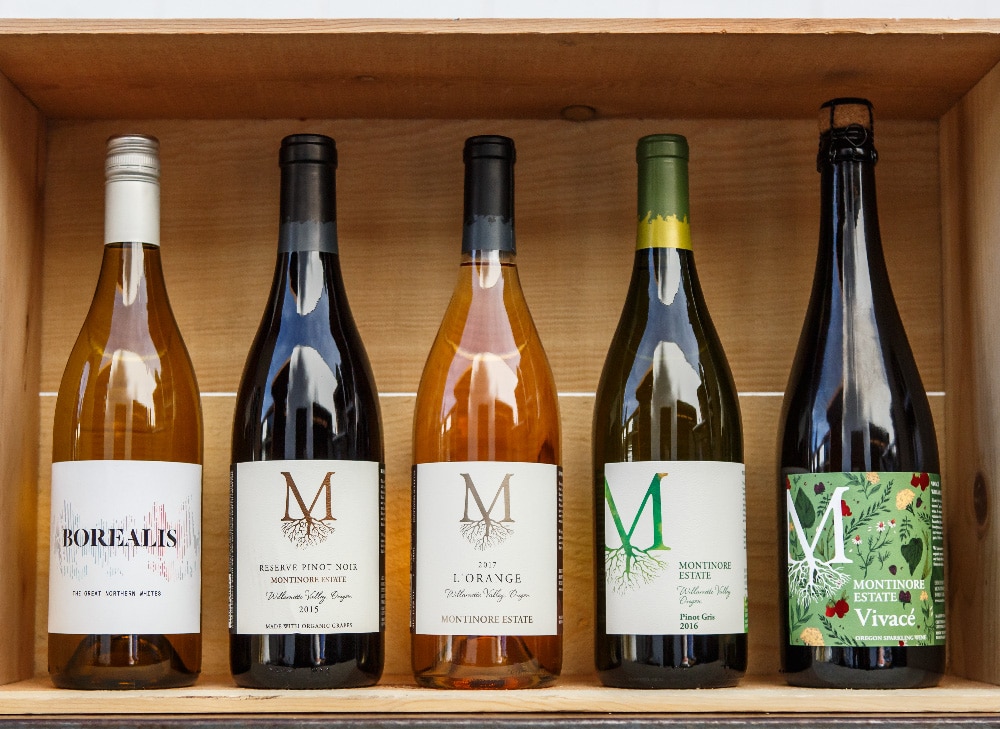 Featured wines

Montinore Estate Borealis
Willamette Valley, Oregon
$13.99, reg. price $17.25
Mouthwatering and multi-dimensional, this crowd pleaser is a blend of cool-climate whites: Müller-Thurgau, Gewürztraminer, Riesling and Pinot Gris. The palate is sumptuous and round, bursting with stone fruit.
Pair with: spicy fare & fresh fruit desserts

2016 Montinore Estate Pinot Gris
Willamette Valley, Oregon
$13.99, reg. price $17.25
This dry-style Pinot Gris begins with aromatics of bright citrus & tropical fruit that lead to a firm foundation of apple, mango and a hint of savory & spice on the palate. The finish is crisp & bright.
Pair with: white meat dishes & light cheeses

2015 Montinore Estate Reserve Pinot Noir
Willamette Valley, Oregon
$26.99, reg. price $35.50
The Reserve is an expression of the highest-quality Pinot Noir from each vintage. Grapes from their best estate growing sites are fermented & aged separately, then assembled after maturation.
Pair with: lamb & pork on the Easter table

2017 Montinore Estate L'Orange
Willamette Valley, Oregon
$26.99, reg. price $35.50
Orange wines are as intriguing as they are delicious. Made with skin contact Pinot Gris, this coral-hued beauty benefits from the addition of clay amphora-fermented Muscat, also fermented on skins.
Pair with: dry cheeses & spring salads

Montinore Estate Vivacé
Willamette Valley, Oregon
$17.99, reg. price $22.97
Vivacé is a sparkling wine with a fragrant nose of orange blossom, lemon, lime, honey, and a hint of ginger. The exuberant palate features juicy green apple, ripe melon, lime zest, and citrus confectionary.
Pair with: light fruit desserts & spring cheeses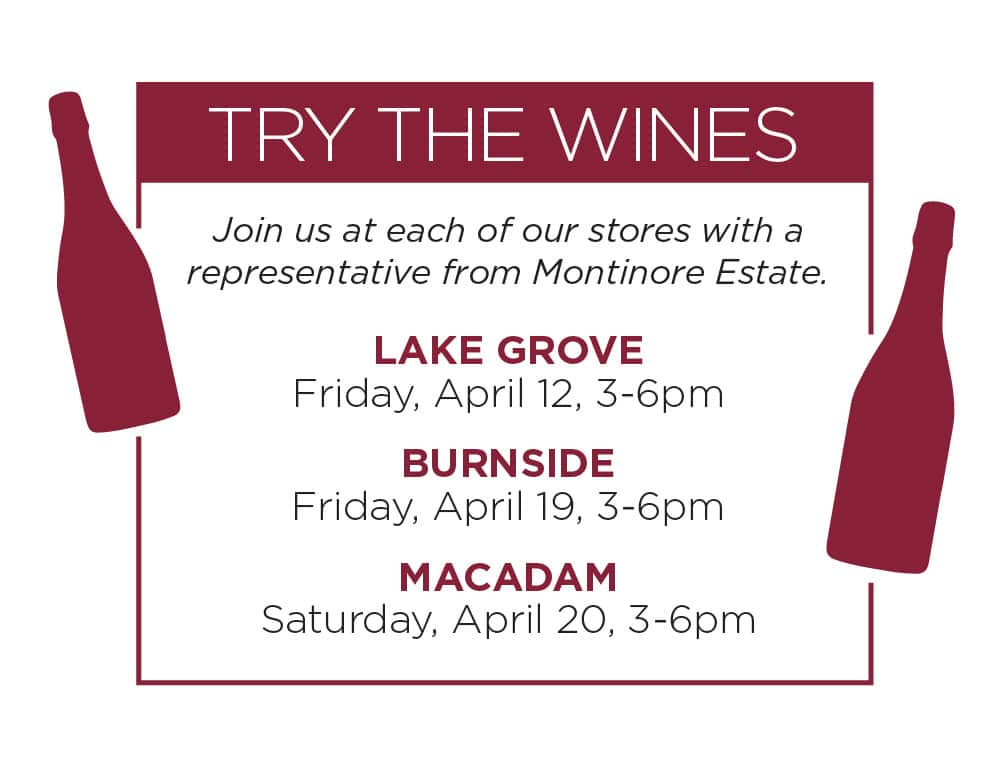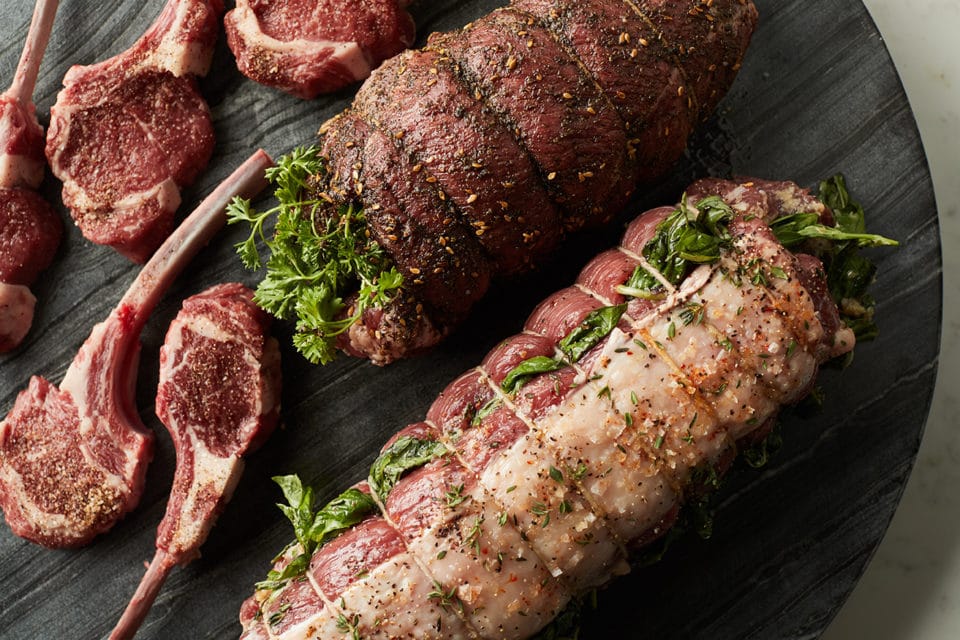 Must Try
Our Lamb
Learn more about our grass-fed Oregon lamb raised by Anderson Ranches in Brownsville.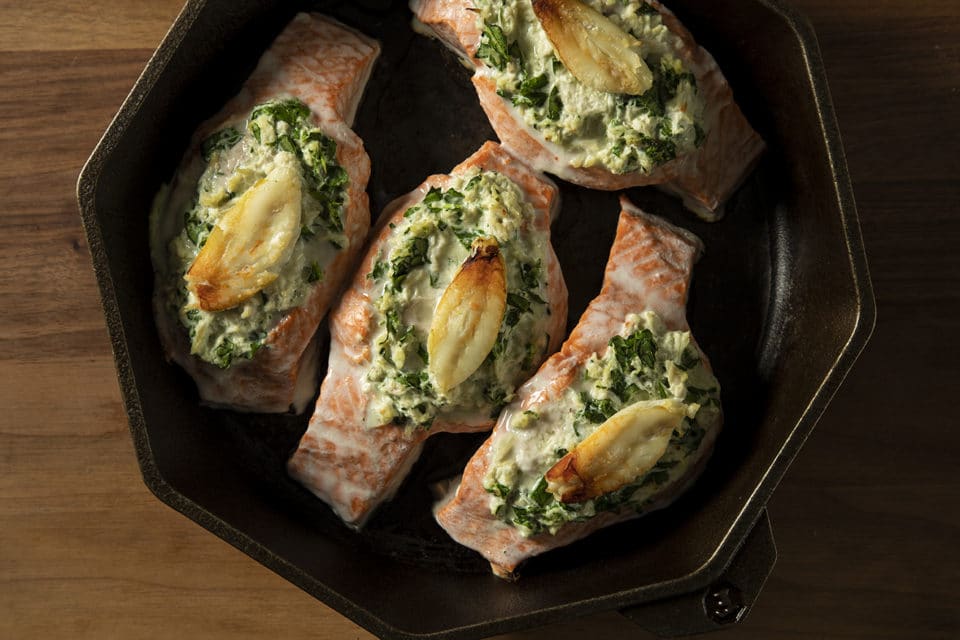 Featured Items
Stuffed Salmon
Prepped and ready to bake, this salmon is ready in just 20 minutes.