Pesto, the Italian word for
"
crush
"
, is a sauce that originated
in the 16
th
century
in
the city of
Genoa in northern Italy.
Originally
prepared
using
a mortar & pestle
combining
basil, garlic, pine nuts, olive oil,
and Parmigiano Reggiano
or Pecorino
, today pesto comes in a variety of different flavor combinations. As we celebrate all things Italian this month, we are excited to featu
re a variety of
pesto
, some traditional and some more modern flavor varieties.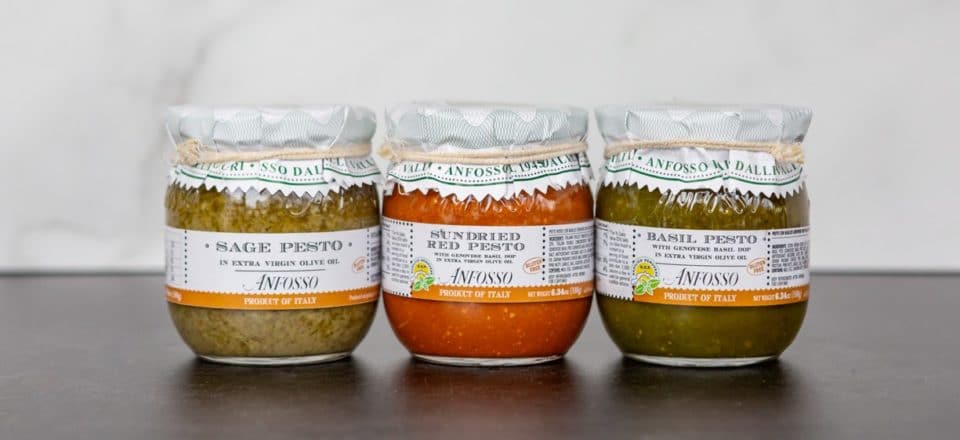 Anfosso: Anfosso is a family-owned company that has been making handcrafted Italian products since 1945 in the Ligurian tradition.
Sundried Red Pesto:

Featuring

peeled sun-dried tomatoes, extra virgin olive oil, fresh DOP Genovese Basil, Grana Padano cheese and pine nuts. The intense aroma, bright, red color and sweet taste of this pesto make this a great choice for pasta, meat dishes, and sandwiches.

Basil Pesto:

Created with

DOP Genovese Basil, Extra Virgin Olive Oil, Pine Nuts, and Grana Padano Cheese. Earthy, yet bright, this pesto is perfect tossed with pasta and spread on paninis.

Sage Pesto in EVOO:

Made with sage and extra virgin olive oil, this is a more earthy and slightly peppery alternative to the more traditional basil pesto. Incredibly versatile and delicious, this would be delicious on crostini or pasta or used in meat or fish dishes.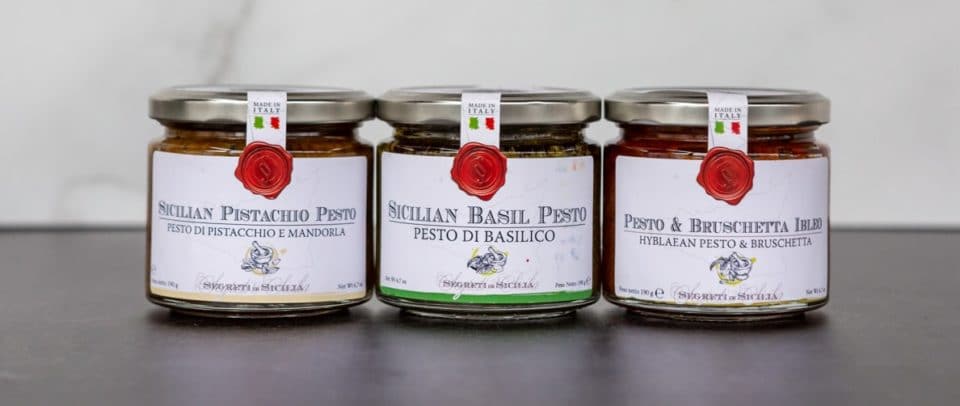 Frantoi Cutrera: The Cutrera family has been producing high-quality olive oil, spreads, and pesto in Sicily, Italy since 1906 and is still family-owned today. Featuring:
Pesto and Bruschetta

A blend of red pesto and

Hyblaean

wild fennel, sun-dried tomato, almonds, chili, Sicilian tomato sauce & sea salt, and

Frantoi

C

ut

rera's

Gran Cru

Tonda

Ibea

EVOO. Perfect for bruschetta or as a pasta sauce

Sicilian Basil Pesto:

This is a classic basil pesto with a Sicilian touch and rich flavor. Delicious on eggs, as a pizza sauce, or for an appetizer plate.

Sicilian Pistachio Pesto:

This is a unique pesto with a wonderful mix of flavors. The pistachio is complimented by the nutty flavor of almonds and hints of nutmeg and pepper.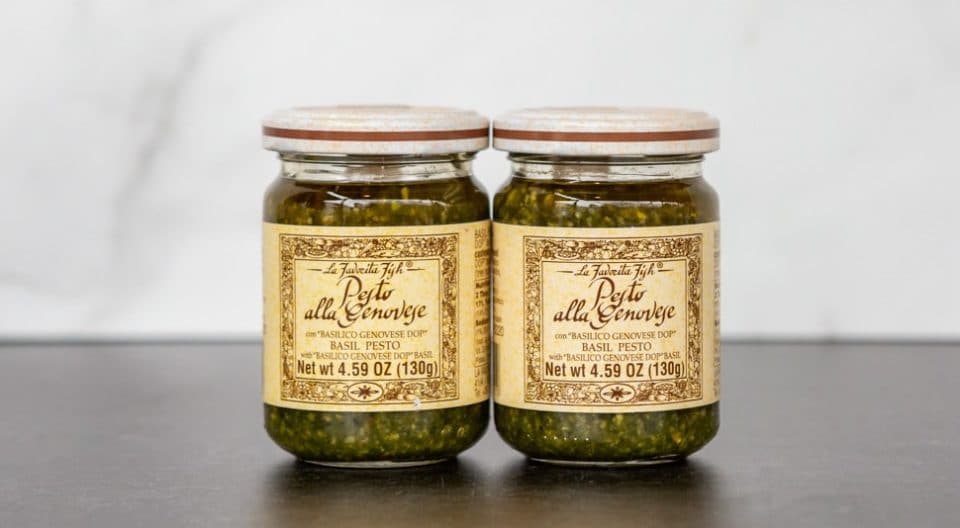 La Favorita: Established over 60 years ago in the Piedmont Region of Italy, La Favorita is devoted to producing regional gastronomic delights using only the best and natural ingredients and traditional cooking methods and recipes. Their plant-based pesto features a blend of olive oil, cashews, pine nuts, and fresh basil from Liguria and embodies the full flavor of Italy.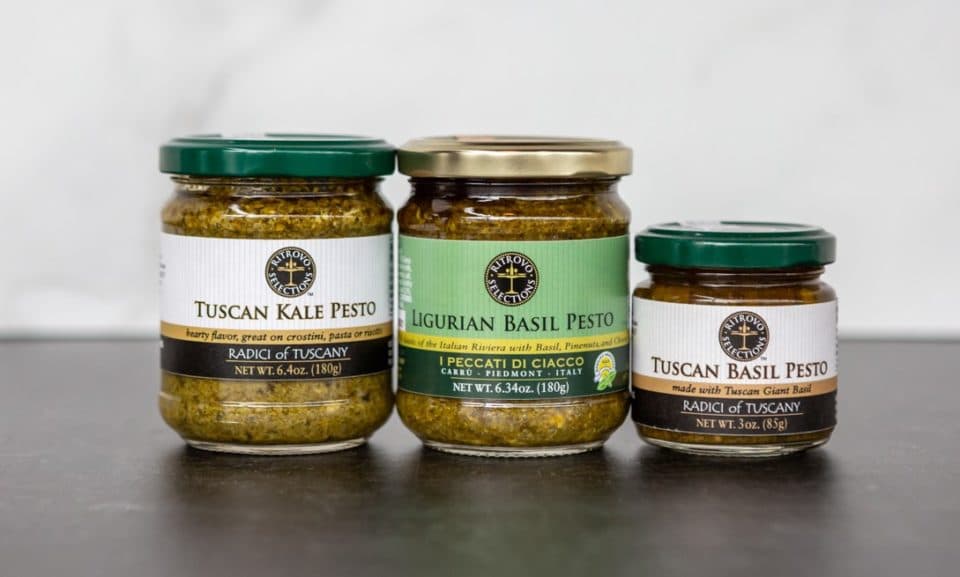 Radici of Tuscany & I Peccati di Ciacco: Both imports of Ritrovo Italian Regional Foods, these two brands embody authentic Italian pesto.
Tuscan Kale Pesto:

This vegan pesto is

made from Tuscan black kale, EVOO, almonds, pine nuts, and local spices.

Tuscan Basil Pesto:

A rich & versatile vegan pesto made with Arno Valley basil, EVOO, pine nuts, salt, and garlic.

Ligurian Basil Pesto:

This basil-packed pesto is made with Ligurian basil from the Italian Riviera, EVOO, pine nuts, cheese, salt, garlic, and wine vinegar.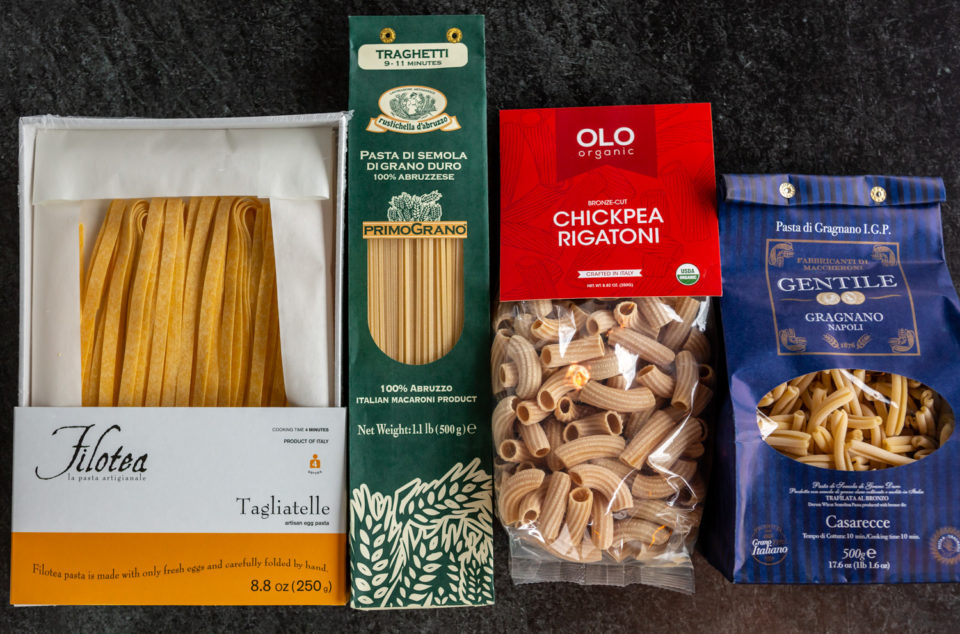 Purveyors, Featured Items
Authentic Italian Pasta
A culinary journey through Italy most certainly must start with pasta. One of the integral parts of Italy's food scene, the history of Italian pasta goes back hundreds if not thousands of years.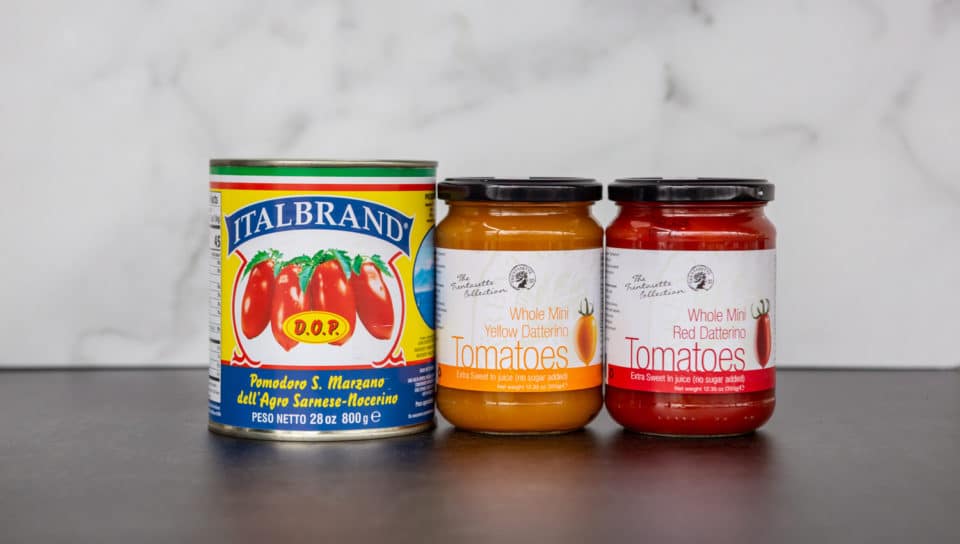 Purveyors, New Items, Featured Items
Authentic Italian Tomatoes
One of the most popular ingredients in Italian cuisine, tomatoes are not actually native to Italy, or even Europe! Explorers from the New World brought tomatoes back to Italy in the early 16th century, and Italians named an especially acidic yellow variety – pomo d'oro, which means "golden apple".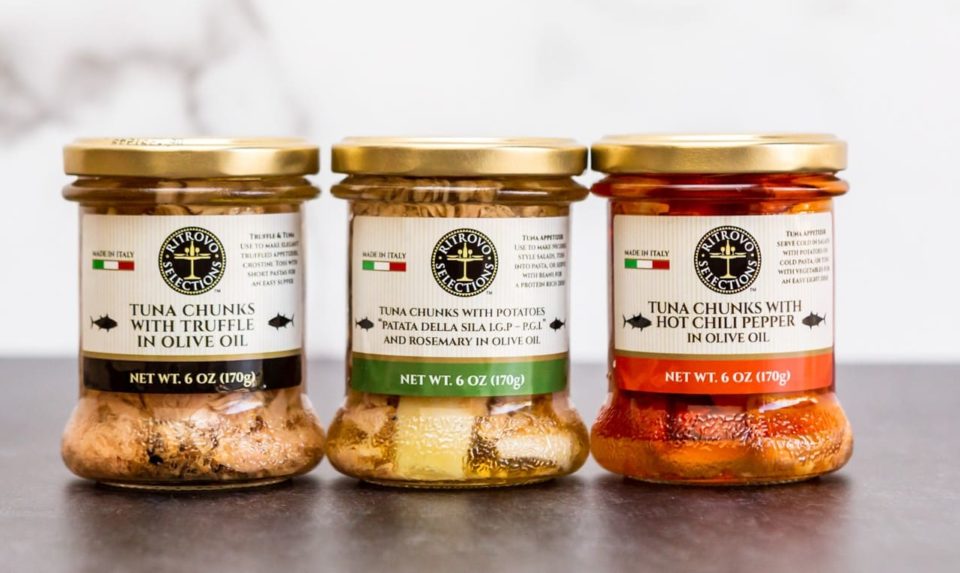 Featured Items
Authentic Italian Tuna
Get a taste of tuna like you've never tasted before marinated in extra virgin olive oil and paired with truffle, potatoes & rosemary or chili peppers.