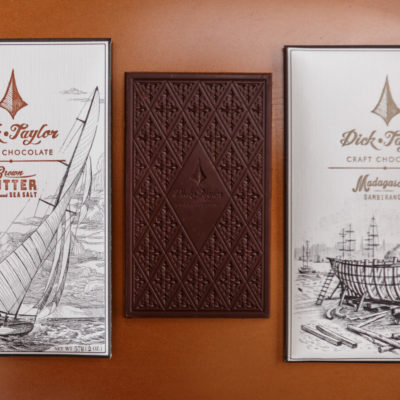 Founded by Adam Dick & Dustin Taylor in 2010, Dick Taylor was created out of a love of craftmanship and a desire to reinvent the chocolate experience. Located in Eureka, California each chocolate bar is sourced from fairly-traded cacao and takes approximately three weeks to complete. Using no added ingredients or emulsifiers, they hope to capture the subtle flavor nuances their cacao sourced from around the world.
Chocolate Crafting Process:
Roasting – Each bean is delicately roasted in a restored and modified Royal #5 Coffee Roaster.
Winnowing – The process of removing the husk, to collect the cocoa nib. The nib is what is used to create the chocolate, the husk is used for garden mulch.
Refining – Nibs are ground, creating a release of cocoa butter and mixed with sugar.
Milling – Using a three-roll mill, the coarse sugar and soft nib is milled together creating a smooth paste.
Conching – This extended period of agitation, stirring or aeration under heat allows the chocolate flavor to mature and develop, leaving a product that is glassy and silky smooth in appearance.
Molding & Tempering – Chocolate is aged for 2-4 weeks to allow the flavor to continue to mature before it is melted, tempered and deposited into bar molds. Each bar is then hand-foiled and wrapped.
Learn more about Dick Taylor Craft Chocolate.