Two Birds Spirited Ice Cream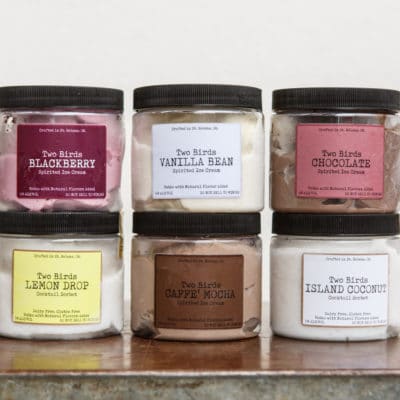 Vodka + ice cream = the perfect pairing! Locally made in St. Helens, this boozy ice cream is the perfect treat for the warm days ahead.
The founders of Two Birds Spirited Ice Cream took their engineering and distillery design backgrounds to create an ultra-premium product that is defining a new category of "boozy" frozen treats.
Lloyd, Ken, Greg, and Marcus realized their fondest memories included good conversation and cocktails.  They knew the distinct difference between high and low-quality alcohol and decided to distill the purest of alcohol products as a retirement project.  As they distilled spirits with their proprietary still designs they started adding flavors. One day they poured a flavored vodka over ice cream and knew they had something. After countless hours of playing with the product and tasting, and the bonus of knowing how to freeze alcohol in ice cream, their product was born.
Two Birds' vodka uses a European distilling process, as opposed to the charcoal-filtered American style, producing a cleaner and smoother vodka.
Most of the ingredients for the ice cream are locally sourced and the product is handcrafted and then mixed with their 12 proof spirits at their distillery in St. Helens.  You must be 21 years of age to purchase Two Birds Spirited Ice Cream.
Get a taste of all seven flavors of Two Birds Ice Cream & Cocktail Sorbets:
Blackberry
Caffe Mocha
Chocolate
Island Coconut
Lemon Drop
Vanilla
Moscow Mule
Learn more about Two Birds Ice Cream.