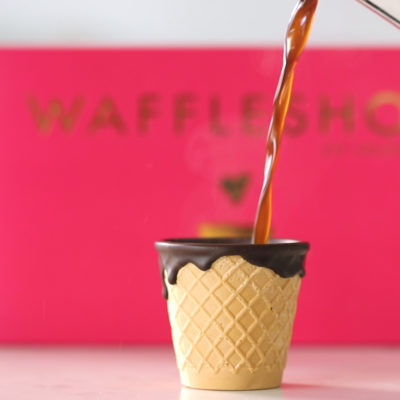 Dorit & Naomi, founders of Waffleshot are passionate about food and the environment. They ventured out to marry their two passions and create an edible coffee cup. The result? A tiny waffle cone cup that is hand-dipped in luscious Belgian chocolate. What better way to bring people together than through coffee and chocolate?
FLAVORS
S'mores: Coated with chocolate, graham cracker, and marshmallow
Cookies & Cream: Coasted in white chocolate with cookies & cream filling and crushed chocolate cookies on the rim.
Bittersweet Chocolate: Coated in bittersweet chocolate
Fill the cup with a shot of espresso, a cappuccino, yogurt, champagne, ice cream, or fresh fruit. The possibilities are endless! Also available in our Bakery & Cafe. Order with a shot of espresso or Ellenos yogurt.
Learn more about Waffleshot.