Check out these BRAND NEW items on our grocery shelves this month featuring locally created Hot Winter Hot Sauce, Cream'wich Ice Cream Sandwiches, Teatulia Tea Soda, SkinTe Collagen Tea, and Taos Bakes Granola Bars.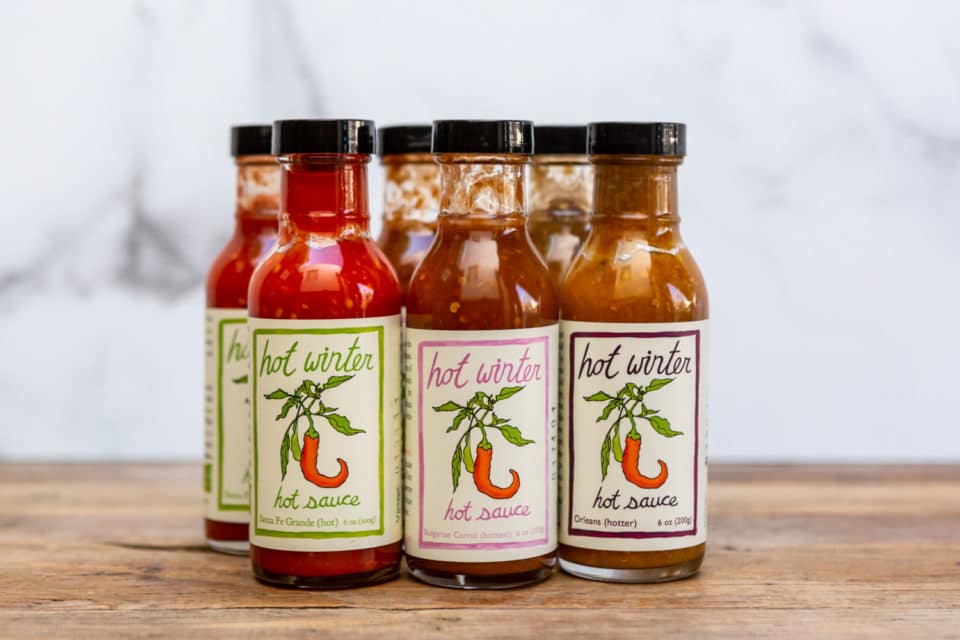 Hot Winter Hot Sauce
Handcrafted in Portland, Oregon, Hot Winter fermented hot sauce is made with organic ingredients, locally grown heirloom peppers, and chiles & garlic purchased directly from farmers. Owner Shaun Winter started making hot sauce while working at Mt. Home Farm in Orleans, CA. With the desire of scaling up hot sauce production, he moved off the farm and made his way to Portland. Featuring a unique mix of flavors in a variety of heat levels, Shaun's goal is to develop a product that supports local farmers and makes organic foods less abstract for people. The peppers used for Hot Winter can only exist by working with small scale, regional growers, and he is committed to paying the prices for these growers to create an exceptional product.
Featuring:
Santa Fe Grande:

This hotter blend starts with a base of Santa Fe Grande, and then Bulgarian Carrot and Golden Cayenne are added for a substantial heat that is full of flavor.

Orleans Golden:

A bit hotter

than the

Santa Fe Grande and

pays homage to the town where Shaun used to work in Orleans, CA, which means "The Golden One".

E

xtra thick

with a

ta

ste of sunshine and black pepper. Perfect for fish tacos!

Bulgarian Carrot:

A blend of

Bulgarian Carrot with a lot of

Hinkelhatz

(

a tiny but bold hot pepper)

, which makes

for bold

heat, rich dark fruit flavor, and full body.

Aji

Crystal is also added to turn up the sour cherry and citrus notes, as well as the heat.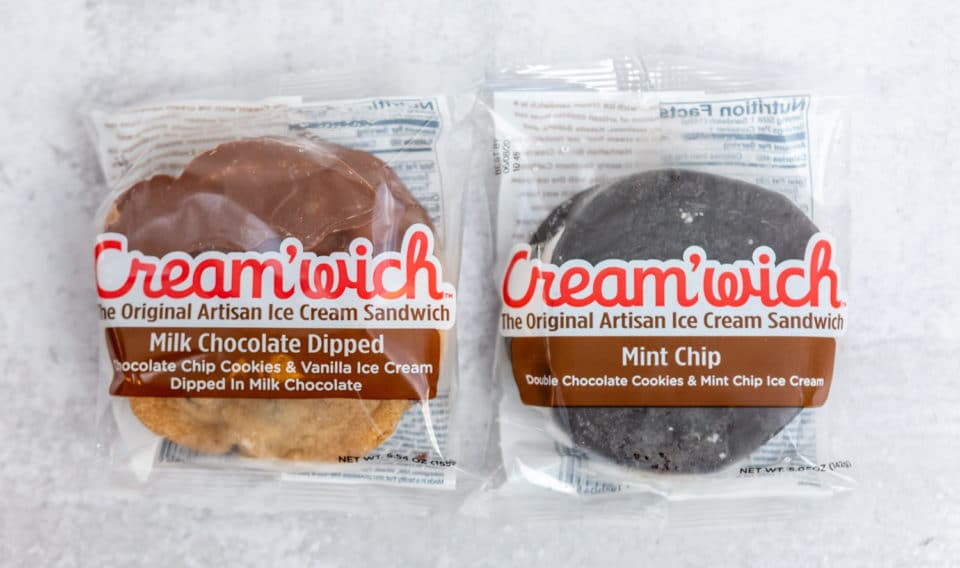 Cream'wich
Zach and Vanessa had a family bakery and nostalgic ice cream shop both located in Southern California. In 2012 they married the cookies to the ice cream, and the Cream'wich was born. It soon became the ice cream shop's signature item, and to meet the high demand, they began packaging Cream'wiches and delivering them out of the back of their cars to shops by the beach. Fast forward to 2020 and the Cream'wich can now be found throughout the U.S.
Featuring:
Original:

Handcrafted vanilla ice cream made using three types of vanilla beans sandwiched between two freshly baked chocolate chip cookies.

Mint Chip:

Ha

ndcrafted mint chip ice cream sandwiched between two freshly baked Double Chocolate Cookies.

Milk Chocolate Dipped

:

Handcrafted vanilla ice cream made using three types of vanilla beans sandwiched

between two freshly baked chocolate chip cook

i

es and hand-dipped in the finest Belgian milk chocolate.

Salted Caramel

:

Handcrafted salted caramel ice cream sandwiched between two freshly baked chocolate chip cookies and hand-dipped in the finest Belgian dark chocolate

then

sprinkled with sea salt.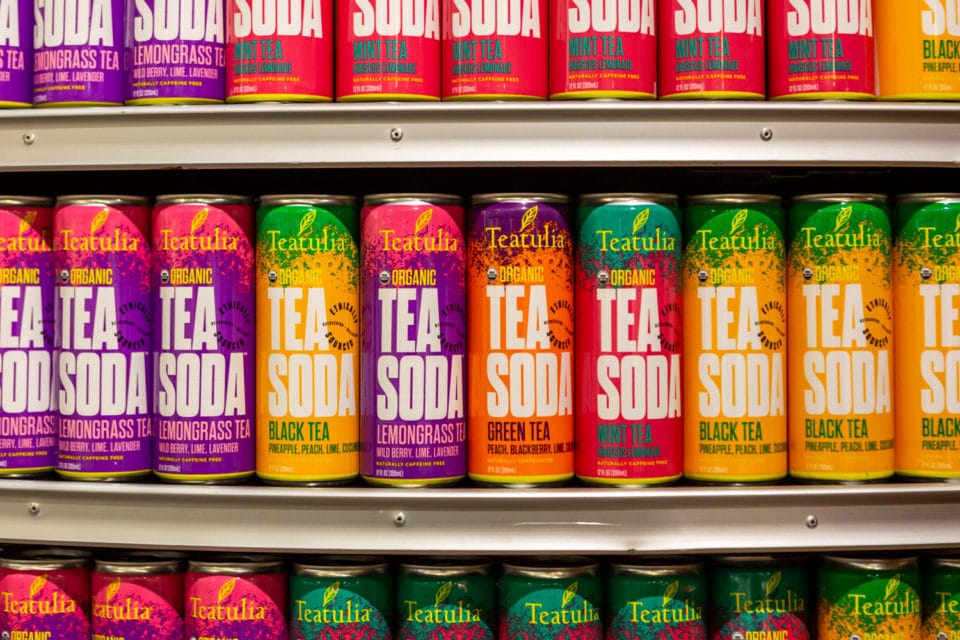 Teatulia Tea Soda
Created in Denver since 2012, Teatulia tea sodas feature delicious tea notes, unique and distinctive fruit & herbs, a tiny bit of sugar and just the right amount of fizz. Created from tea leaves sourced from their own organic tea garden in Northern Bangladesh, Teatulia is proud to be able to manage every aspect of how they treat the tea, the land it's grown on, and the people who cultivate it.
Featuring:
Mint Tea

: Made with mint & hibiscus lemonade.

Lemongrass Tea

: Made with lemongrass, wild berry, lime &

lavender

.

Black Tea

:

Made with black tea, pineapple, peach, lime & cucumber

Green Tea

:

Made with green tea, peach, blackberry, lime & cilantro.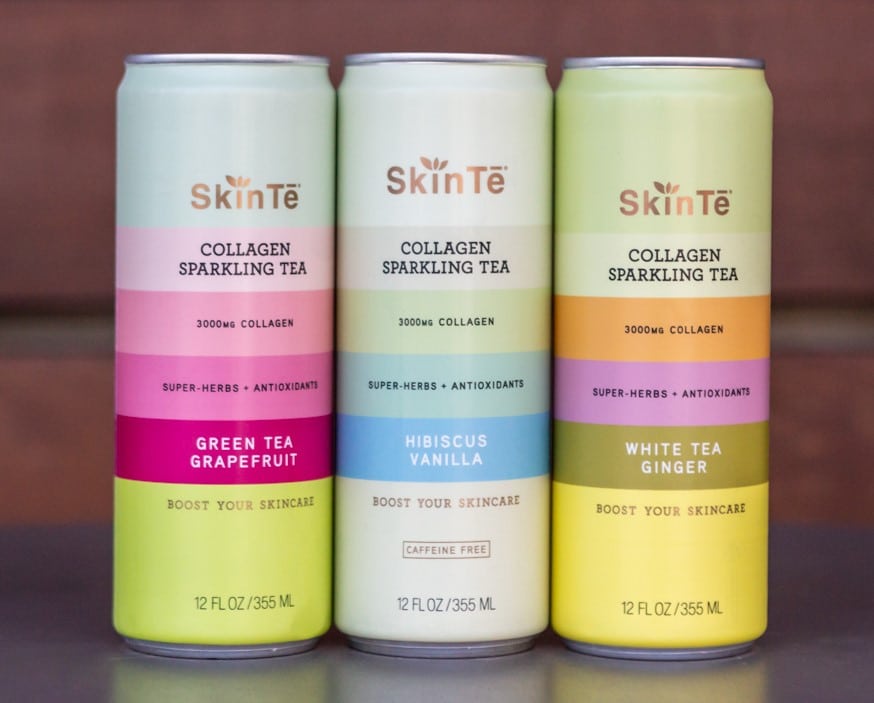 SkinTe
Dr. Amy Bader, Chef Elizabeth, and businesswoman Bassima combined their talents to create SkinTe, a canned sparkling collagen tea beverage that features 3000mg of collagen along with a variety of herbs for a boost of vitamins and minerals. Why collagen? As the most abundant protein in the body, collagen is known to produce vibrant skin, hair, nails and bones, as well as help with soothing sore joints and benefiting gut health.
Featuring:
White Tea Ginger

:

Blend of white tea, which delivers antioxidants, collagen, ginger to aid digestion,

and grapefruit juice.

Green Tea Grapefruit:

Green Tea, Hibiscus, Nettle Root,

Passionflower

, Horsetail, Hawthorn Berry and flavors of grapefruit.

Hibiscus Vanilla

:

Blend of brewed hibiscus tea and rose petals that support the immune system and ease stress, re

al

vanilla extract

which

aids in digestion and promotes an overall calm feeling

, collagen,

passionflower

, and nettle root.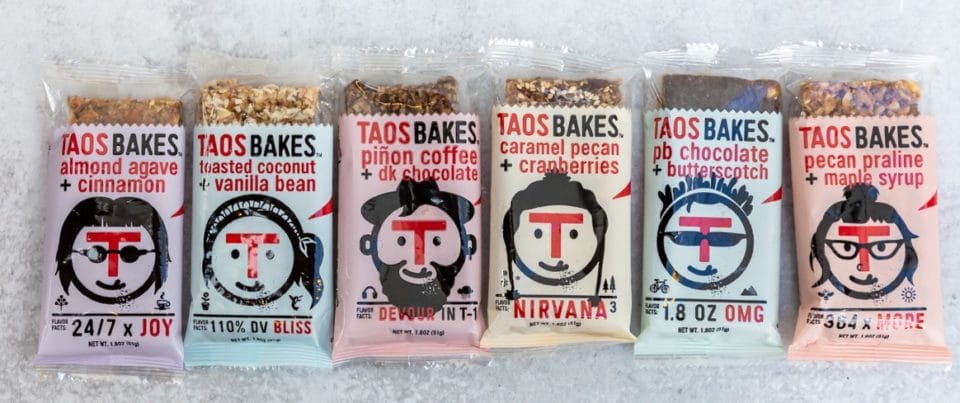 Taos Bakes:
Taos Bakes founders Brooks and Kyle were tired of eating cardboard-like energy bars after skiing in New Mexico, so they decided to make their own. In the early days, they sold their bars to shops out of their red Coleman coolers. As the word spread about their bars, they were able to hire employees and move into their own kitchen, and they set New Mexico as the home for Taos Bakes. All bars start with organic and non-GMO ingredients and are baked by real bakers in an oven.
Featuring:
Almond-Agave-Cinnamon

:

A soft and golden-brown bar that tastes like a cookie but only includes

simple

and clean ingredients.

This is a classic

flavor with sliced

almonds, sweet agave, rolled oats, raisins, and chia seeds.

Toasted Coconut + Vanilla Bean

: Crunch almonds and flaky toasted coconut with hints of vanilla and a sprinkling of sea salt. The

coconut

is never processed, and the bar is crunchy and chewy.

Peanut Butter

Chocolate

+

Butterscotch:

The original Taos Bake flavor. Fresh-ground peanut butter, grains, flax, and chia seeds topped with fair-trade chocolate and butterscotch.

Carame

l Pecan +

Cranberry

:

A blend of savory, sweet, and tart. Organic pecans drizzled in honey, mixed with cranberries, chia seeds, and blackstrap molasses, and balanced with sea salt.

Pecan Praline

+ Maple Syrup:

Almonds and pecans with maple syrup, honey, and a dash of cinnamon.

Pi

ñon

Coffee + Dark Chocolate:

Pi

ñ

on Coffee has a bold first impression and caffeinated punch. This mixed with crunchy almonds, New Mexico pinon nuts, and coffee with a dark chocolate drizzle.