Blood Orange, Radicchio, & Butter Lettuce Salad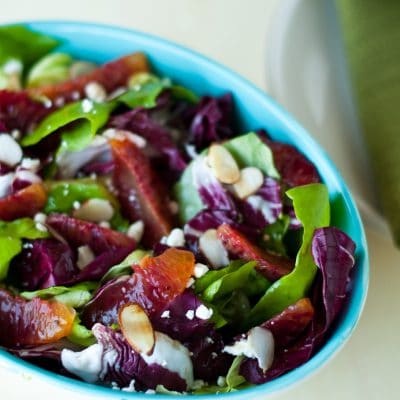 Serving Size: Serves 4
This fairly simple yet colorful salad plays on different textures and flavors of bitter radicchio, sweet butter lettuce, and tart blood orange.
Ingredients
Salad
1 head butter lettuce, torn into pieces
1 small head of radicchio, torn into pieces
2 blood oranges
¼ C slivered almonds, toasted
½ C feta cheese, crumbled
Dressing
¼ C blood orange juice
1 T shallots, finely chopped
1 T sherry vinegar
1 t. Dijon mustard
½ t. honey
2⁄3 C extra virgin olive oil
Salt and freshly ground black pepper
Preparation
Whisk blood orange juice, shallots, vinegar, mustard, and honey in a small bowl. Gradually whisk in the oil. Season dressing to taste with salt and pepper.
Using a small sharp knife, peel the blood oranges and remove all of the bitter pith. Working over a small bowl, cut between membranes to release orange segments. Toss butter lettuce and radicchio in a large bowl and divide the mixture among four plates. Divide orange segments, almonds, and feta cheese among plates. Drizzle dressing over salad and serve.