From Double R Ranch and Snake River Farms beef and Carlton Farms pork to Draper Valley chicken and Reister Farms lamb, our full-service meat departments feature the best, freshest meats available. Each of our meats is sourced from a single company that we consider to be the best in their specialty. Through our collaborations, we've developed a close partnership with each of these vendors. Read more about our relationships with specific farms and ranches below.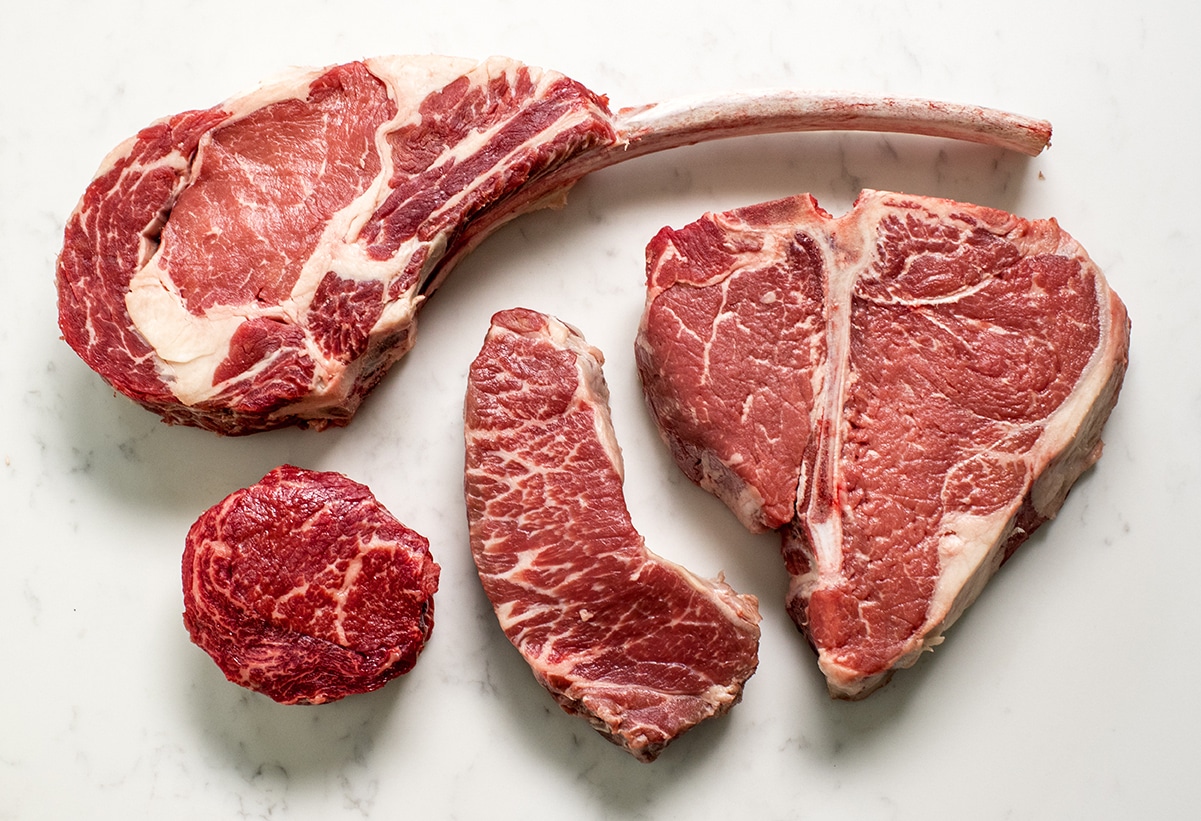 Our Beef
Zupan's Markets meat department is proud to offer a unique selection of cuts that simply cannot be found in other grocery stores. Available every day, these steak cuts are perfect when you're looking to create a special meal to impress or simply  looking for a great tasting steak.
Double R RAnch beef:
Located in the Okanogan region of Washington State, Double R Ranch is committed to sustainable farming & ranching practices. The mild climate, open spaces and abundance of natural resources in the Pacific Northwest provide for cattle health and comfort. Additionally, the temperate climate increases access to a diverse range of sustainable feed ingredients. Double R Ranch beef is hand-selected to include only USDA Choice and higher levels of marbling.
SNake River FArms beef:
One of the most famous types of beef, 

Wagyu is 

known throughout the world for its intense marbling, rich flavor, and supreme tenderness. 

Raised 

along the high plain of the Snake River in Eastern Idaho

, Snake Rivers Farms cattle is considered one of the most highly regarded groups of American Wagyu cattle in the world. Utilizing the heritage-steeped

 Japanese feeding method

,

 which takes 

three 

times longer than the typical U.S. techniques

, results in beef that is sweeter with a more buttery flavor and mouthfeel.

 

Zupan's currently offers Snake River Farms American Wagyu Beef in a variety of steak cuts plus fresh-ground beef and gourmet frankfurters.
Grading system & terms:
Choice or Prime
This grading system is used to measure the amount of marbling in a piece of beef. Marbling refers to the white flecks and streaks of fat within the lean sections of meat. Marbling is what gives beef its flavor, juiciness, and tenderness. Prime beef has the most marbling, while Choice cuts have a little less.
Source-Verified
Product can be traced back to its place of origin.
Certified Angus
Only the best of the USDA Choice and Prime grades are considered for the Certified Angus label. This grade ensures each piece of beef is incredibly flavorful, tender, and juicy due to the high amounts of marbling per cut.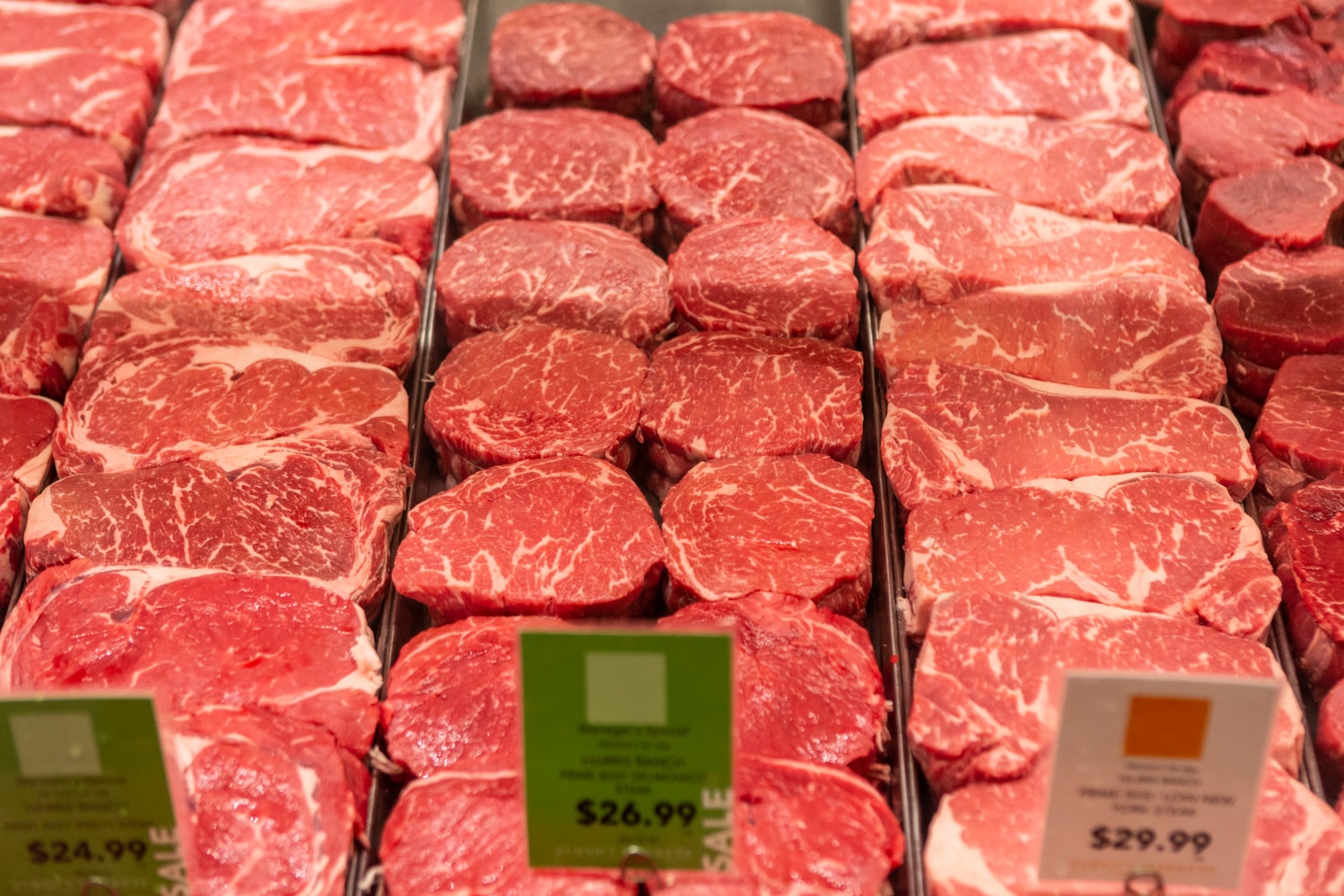 Our Pork & Carlton Farms
Local and family-owned, Carlton Farms partners with a multitude of growers throughout the Pacific Northwest. We chose Carlton Farms for our pork because we believe they produce the best tasting, healthiest product in the industry.
Carlton Farms pork is:
All-natural
Free of antibiotics and hormones
Raised on a grain-based vegetarian diet
Pork is delivered to Zupan's twice a week to ensure freshness.
Zupan's Honey-Cured Spiral-Sliced Hams are created especially for us by Carlton Farms.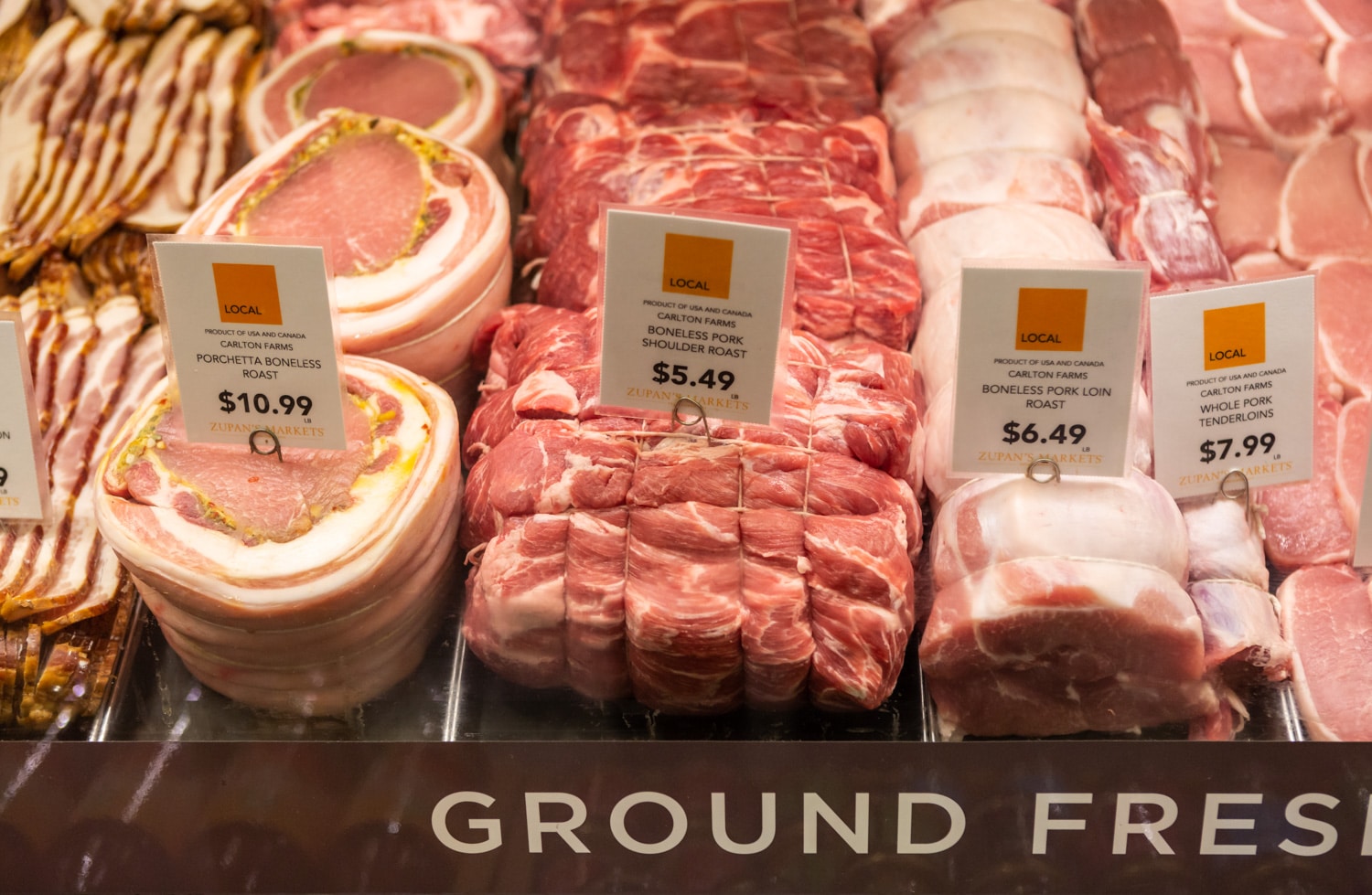 Our Chicken & Draper Valley
All Zupan's locations feature Draper's "Ranger" (a free range Non-GMO verified poultry) in our service case and Draper's "Roxy" ( an organic Non-GMO verified poultry) line in our self-service case.
Draper Valley Farms chicken is:
Northwest grown and raised
All-natural
Vegetarian fed
Hormone and antibiotic-free
Air chilled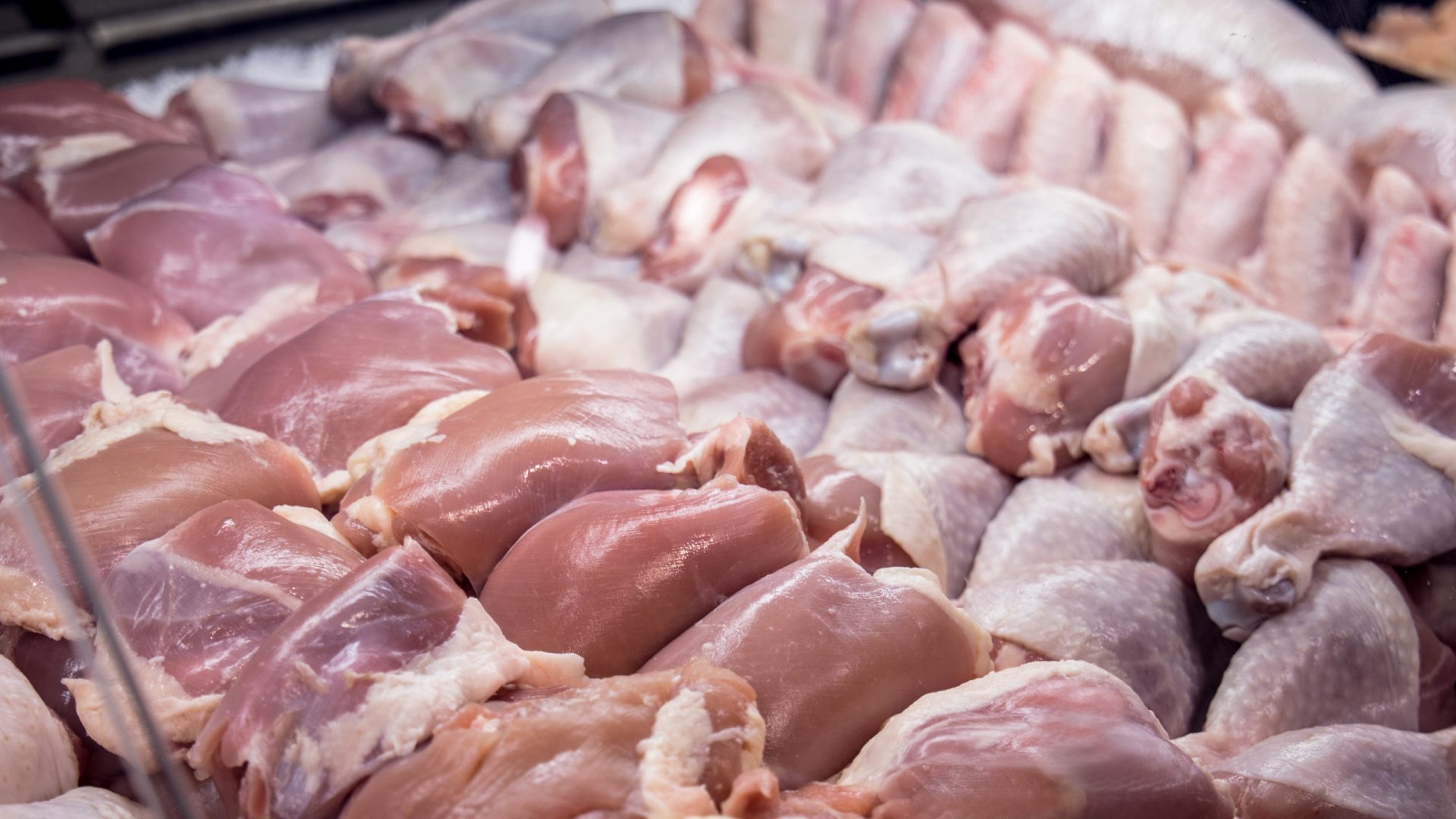 Our Turkey & Shelton's
Zupan's is a partner with Shelton's, a family-owned company that has specialized in turkeys since 1924. These free range turkeys are all-natural, vegetarian fed, raised with no antibiotics, hormones, or animal proteins, and are never injected with saline solution.
Our turkeys are stamped USDA grade "A" (which indicates the highest quality available), and are virtually free from defects.
Turkeys are available in 8 to 36 pound sizes throughout the holidays.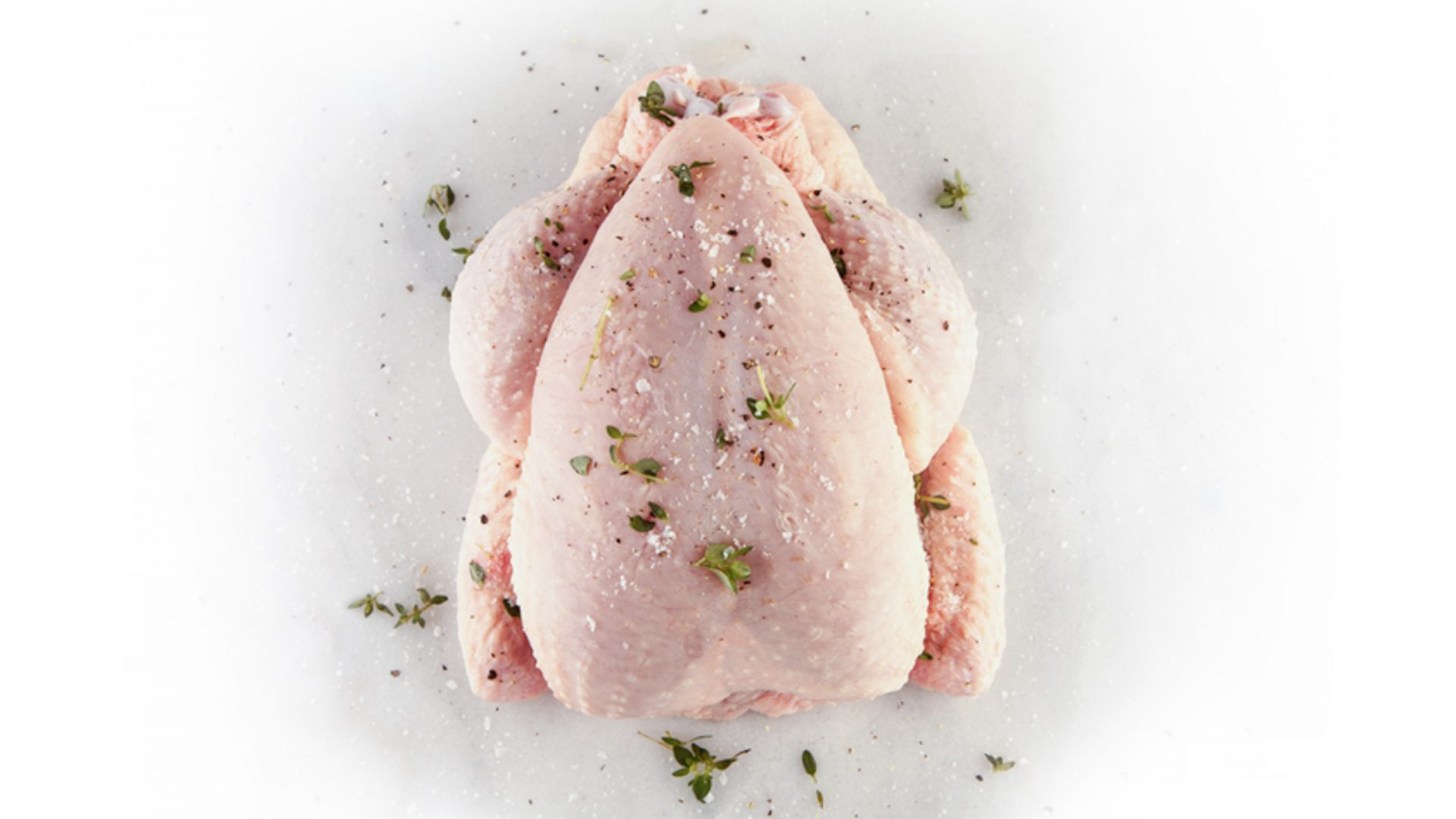 Our Lamb & Anderson Ranch
Based in Brownsville, Oregon, Anderson Ranch is the product of five generations of lamb-raising expertise and care. Reed and Robyn Anderson produce the highest quality meat – tender, juicy and delicious – while growing their business in ways that support and protect the land they love.
Anderson lambs are processed locally, within 1-10 miles of the pastures they were raised, and in an USDA-inspected plant. 100% grass-fed and Certified Humane, Anderson Lamb really is a cut above.
anderson ranch lamb is:
Raised in Oregon on a family-owned ranch
100% grass-fed
Certified Humane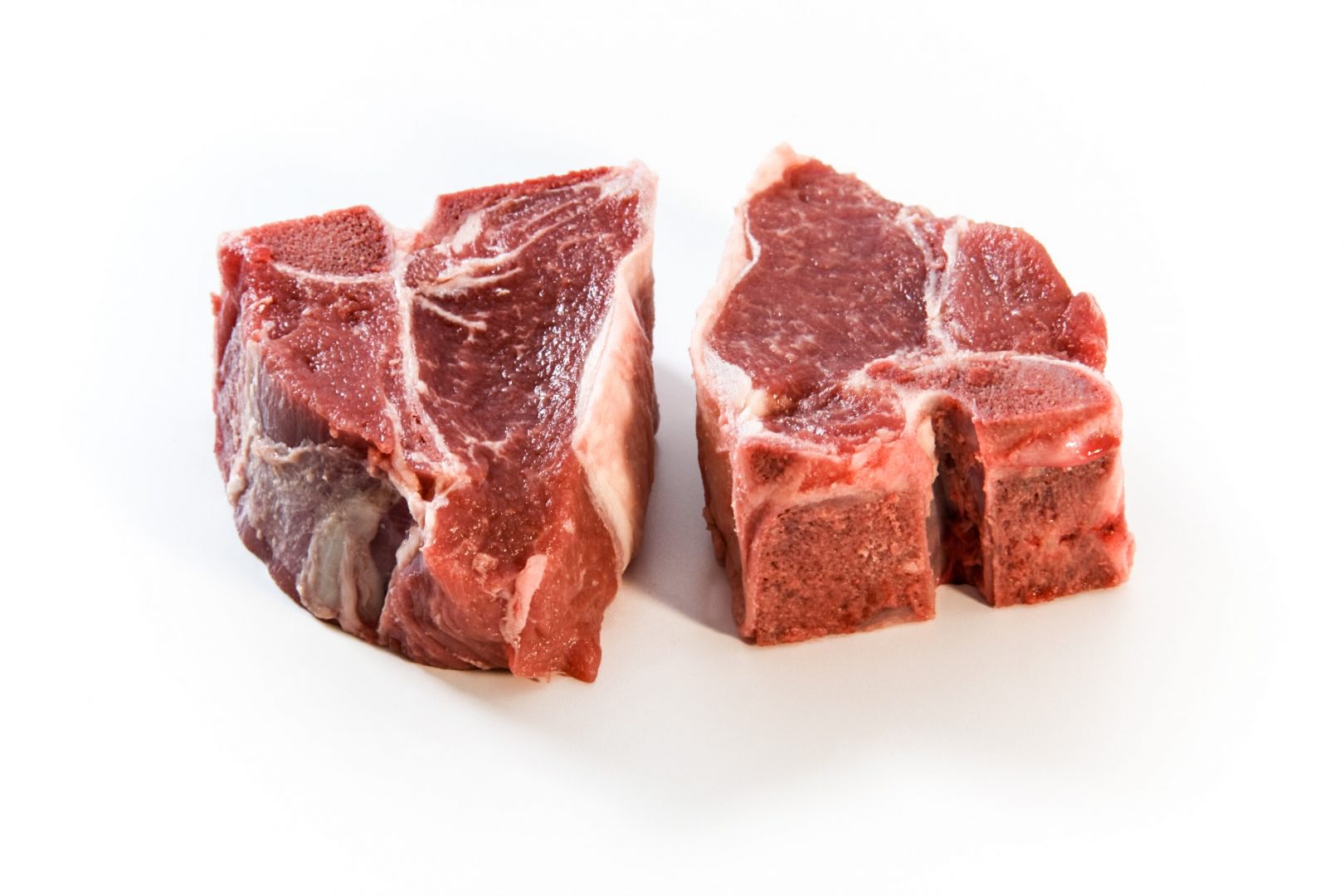 Our Handmade Sausages
Zupan's sausages are handmade fresh from all-natural Carlton Farms pork and Draper Valley Ranger boneless skinless chicken drumsticks. Sausages are seasoned with exclusive blends created by the Oregon Spice Company. There are 12 varieties featured daily, including rotating seasonal "sausages of the month."
Sausages of the Month – Beer Brats
Pfriem Potato & Raclette Beer Brat
Occidental Smoky Beer Brat
Seattle Cider Caramelized Onion & Apple Cider Brat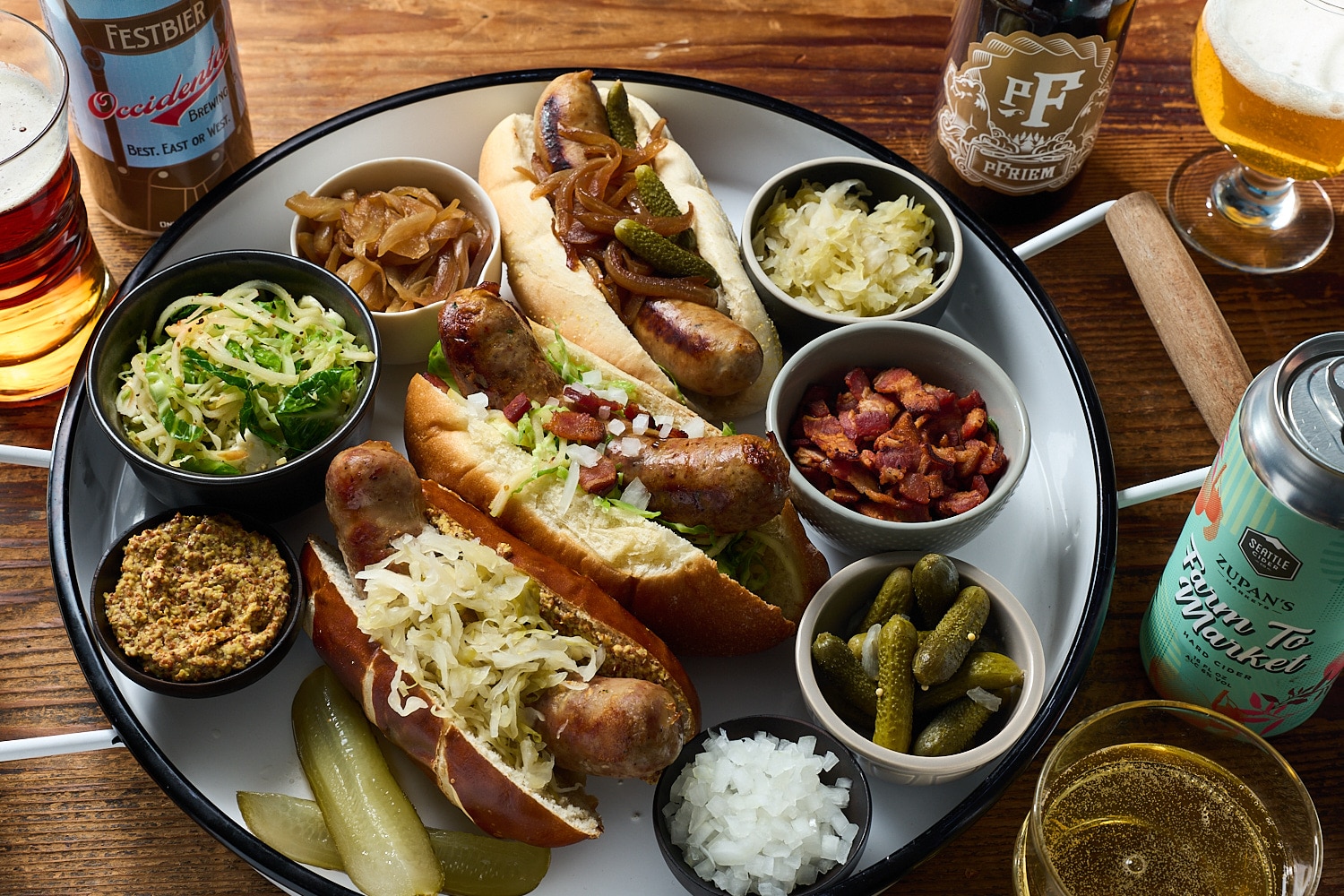 And More
Our meat department also features:
100% Grass Fed Beef from Grass Run Farms. USDA Choice Graded, Born & Raised in the U.S.A.
Ground lamb, veal, pork, turkey, and chicken.
13 varieties of marinated kabobs in chicken, beef, pork, and lamb.
Bulk bacon sliced to order from Carlton Farms and Nueske's.
Handmade patties and sliders in a variety of flavors.
A wide selection of game meats available by special order, including Buffalo, Elk, Venison, Wild Boar, Alligator, and Emu.
Duck, duck breast, rabbit, quail, and poussin throughout the year.