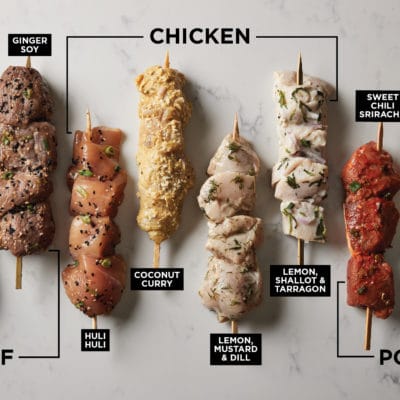 Our housemade marinated kabobs are delicious all year long and are available in CHICKEN – created from Draper Valley's Ranger boneless, skinless chicken breasts, PORK – created from Carlton Farms pork tenderloins, and BEEF – created from Harris Ranch Teres Majors (shoulder tender). Mix and match to find your favorite flavor.
What makes our marinated kabobs really stand out? The meat is tumbled, making it especially delicious! Here, the solid meat and marinade is placed in a mechanical tumbler that rotates slowly, allowing the meat to knock together as well as on the sides of the tumbler. Tumbling loosens the protein strands in the meat, allowing the fat and muscle fibers to absorb liquid. Tumbling is the best way to get the full flavor of the marinade through the meat – up to 10% or more of the marinade will make it into the meat, whereas traditional marinating methods only allow for 1-2%!
Our kabobs are available in 8 different flavors:
CHICKEN
Coconut Curry : Created with coconut milk, Korma curry simmer sauce, Thai green curry paste & yellow curry powder.
Lemon, Mustard & Dill: Lemon mustard dill sauce, fresh dill, lemon juice & lemon zest.
Lemon Shallot & Tarragon: Created with French vinaigrette, hot Dijon mustard, lemon juice, lemon zest, fresh tarragon & sliced shallots.
Huli Huli : A taste of the islands with Huli Huli teriyaki marinade and toasted sesame seeds.
BEEF
Ginger Soy : Created with Tom Douglas ginger pineapple teriyaki sauce and toasted sesame seeds.
Chimichurri : Created with chimichurri sauce, minced garlic, crushed red chili flakes & toasted sesame seeds.
PORK
Sweet & Hot Honey Mustard : Bone Suckin' sweet & hot mustard, honey, fresh chopped rosemary, and red chili flakes.
Sweet Chilli & Sriracha: Sweet hot chilli sauce combined with spicy sriracha.
How to Prepare
Kabobs are perfect for the grill, but also taste great broiled in the oven.
Grill Method:
Heat grill to medium-high heat and grill for 4-5 minutes per side, until desired doneness.
Oven Method:
Turn oven on broil, place kabobs on broiler or baking pan and broil for 6-8 minutes per side, until desired doneness.
Don't forget your meat thermometer is the best way to ensure your kabobs are cooked thoroughly. When cooking a variety of proteins, cooking times will vary between proteins.