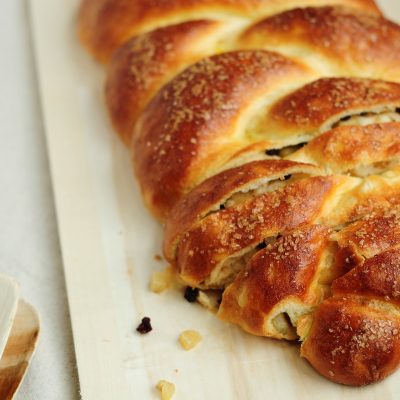 Serving Size: Makes one 1½–2lb loaf
Challah filled with apples and currants is perfect for the fall season.
Ingredients
Dough:
¼ C water (lukewarm 100-110°)
2½ t. active dry yeast
2 large eggs, beaten, at room temperature
3 T vegetable oil
3 T sugar
½ t. salt
3 C bread flour
Filling:
3 Granny Smith apples, peeled, cored, and diced
½ C dried currants
Juice of 1 lemon
2 T honey
½ t. ground cinnamon
1 egg, beaten, for the wash
2 T demerara (unrefined, granulated brown sugar) or granulated sugar
1 T unsalted butter, melted
Preparation
1. To prepare the filling: combine the apples with dried currants, lemon juice, honey, and cinnamon in a medium bowl. Toss to coat evenly. Cover with plastic wrap and chill until ready to use for filling the dough. Drain excess juices before using.
2. To make the dough: dissolve the yeast in lukewarm water in a large mixing bowl for 10 minutes to let it puff up slightly. Combine eggs and vegetable oil, mix together until cohesive and then add to the yeast along with the sugar and salt. Gradually add flour and knead with your hands or stir using a wooden spoon until the dough comes together. If using a standing mixer, beat the dough on medium speed until smooth, about 5 minutes. Otherwise, turn dough on floured surface and knead until the dough is smooth and firm.
3. Place dough in a large greased bowl, turning to grease top. Cover with plastic wrap and let rise for about one hour in a warm place, free of drafts. When it doubles in size, gently deflate the dough by punching down the center. Turn the dough out onto a lightly floured work surface. Divide it into 3 equal portions. Roll each portion into a 12″x 4″ rectangle. Brush with melted butter and place 1⁄3 of the filling down the center of each strip. Starting from a long edge, roll up each rectangle jelly roll fashion, and pinch the seam to seal.
4. Line a baking sheet with parchment paper. Place the 3 ropes, seam sides down and parallel to each other. Begin braiding, alternating the outside ropes over the center. Place the challah on the baking sheet. Brush the top with egg wash and cover lightly with greased plastic wrap. Let rise at room temperature until doubled in bulk, 45 minutes to 1 hour. Before baking, sprinkle the top with the sugar.
5. Bake in a preheated 350° oven for about 35 to 40 minutes, or until golden brown. Cool on a rack and enjoy.