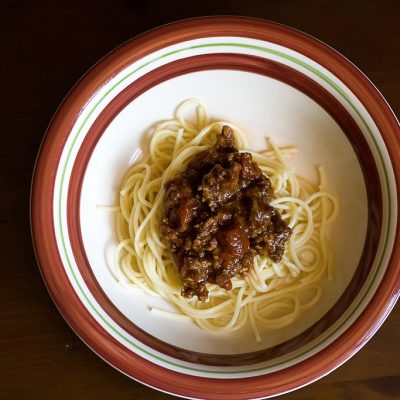 Classic, classic, classic! My significant other often makes me Bolognese in the winter as a comfort food. It's one of my favorites for the two of us (with plenty of leftovers!) to curl up in front of a movie with. This is important: do not skip the nutmeg! It makes all the difference, with freshly grated being the superb choice.
Ingredients
2 T extra virgin olive oil
1 C whole milk
¼ C butter
¼ t. grated nutmeg
½ C onion, chopped
1 C white wine (optional)
1 28 oz. can crushed tomatoes
1 lb. ground beef, or ½ lb. ground beef and ½ lb. ground pork
Salt and pepper to taste
Freshly cooked pasta
Preparation
Sauté the onion in the extra virgin olive oil until it becomes translucent. Add the ground meat, salt, and pepper. Add the milk and butter and allow it to simmer gently, until it has been absorbed into the meat.
Add the nutmeg and stir thoroughly. Add wine and simmer for about fifteen minutes.
Add the tomatoes and stir. When the tomatoes begin to bubble, turn the heat to low and cook slowly, for three hours or more. The liquid will evaporate. Stir now and then to keep the sauce from burning.
Serve on top of freshly cooked pasta.