Butternut Squash & Coconut Soup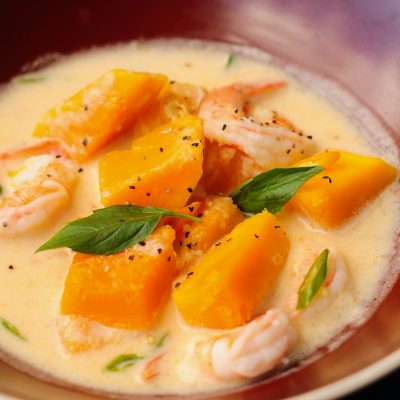 Serving Size: 4-6
A flavorful Asian-inspired soup made with butternut squash.
Ingredients
1 lb. butternut squash
2 garlic cloves, crushed
4 shallots, finely chopped
½ C red bell pepper, diced
2 T canola oil
2½ C chicken stock
2½ C coconut milk
2 T Thai fish sauce
1 t. granulated sugar
4 oz. small shrimp, shelled and cooked
Salt and freshly ground black pepper
2 T lime juice
To garnish:
2 fresh red chilies, seeded and thinly sliced
10-12 fresh Thai basil leaves
Preparation
1. Peel the butternut squash, cut in half, scoop out the seeds, and discard. Cut squash into 1″ chunks and set aside.
2. Place the garlic, shallots, and red bell pepper in a food processor and process to a paste.
3. Heat 2 T of oil in a large wok or skillet over medium-high heat. Add the paste and cook until it gives off its aroma, approximately 2-3 minutes, stirring constantly. Add the chicken stock and bring to a boil.
4. Add the squash chunks, bring to a boil, then turn down to a simmer. Let it simmer for 8-10 minutes or until the squash is tender but still firm.
5. Stir in the coconut milk, then bring the soup back to a simmering point; do not let it boil. Add the fish sauce, sugar, salt, and ground pepper to taste.
6. Add the shrimp and cook for a further 2-3 minutes, until they are heated through. Before serving, stir in lime juice and garnish with chilies and basil leaves.