Chana Aloo Masala (Chickpea and Potato Curry)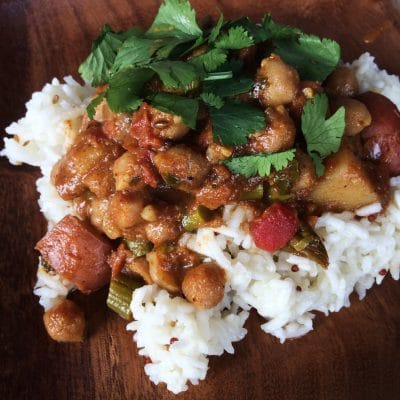 Ingredients
1 tablespoon ghee or vegetable oil
1 large onion, minced
3 cloves garlic, minced
2 teaspoons grated fresh ginger
1 serrano chile, minced
1 tablespoon each hot Indian curry powder, garam masala, ground coriander + cumin
1 teaspoon, ground turmeric
2 cups chopped canned or boxed tomatoes
2 (15-ounce) cans chickpeas, drained and rinsed
10 red potatoes, chopped
2/3 cup cream
1/2 lb. asparagus, chopped
1/2 cup cilantro, chopped plus more for serving
1/2 lemon, juiced plus more for seasoning
Preparation
Heat ghee in a large skillet. Add onion, garlic, ginger and serrano and sauté over medium heat until browned, about 5 minutes.
Turn heat down to medium-low and add the coriander, cumin, curry powder, turmeric, and garam masala.
Cook onion mixture with spiced for a minute or two, then add the tomatoes, scraping up any bits that have stuck to the pan.
Add the potatoes, chickpeas, cream and  1 1/2 cups of water. Simmer uncovered for 30-40 minutes or until the potatoes are soft, then stir in lemon juice. Add in asparagus and chopped cilantro and cook for 10 more minutes.
Taste and season with salt, more lemon juice and garam masala. It should be quite a strong flavor so don't be afraid of the spice blend!
Serve with cooked basmati rice, yogurt and fresh chopped cilantro. Yum!