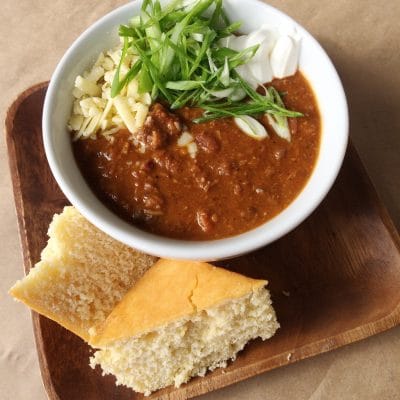 Calling everyone who likes spicy food! This hot & spicy chili recipe will make your taste buds dance!
Ingredients
4 ounces dried, whole New Mexico, ancho, or pasilla chiles, or a combination (6 to 8 chiles)
16-24oz dried beans, like Anasazi or Pinto beans
5 tbsp. vegetable oil
4 pounds boneless beef chuck, well trimmed and cut into 1/4-inch cubes
2 tbsp. each, kosher salt, chili powder and Just Cook Herbed Coffee Rub
1/2 large onion, chopped
3 large cloves garlic, minced
2 each celery stalks and carrots, chopped
1-2 serrano chili, minced
2 tbsp. tomato paste
2 cups chicken/beef stock
1 tablespoon firmly packed dark brown sugar
1 1/2 tablespoons apple cider vinegar vinegar
Preparation
Soak your beans overnight in cold clean water. You can use as many as you like depending on how beany you want your chili to be.
Place the chiles in a bowl and cover them with very hot water and soak until soft, 15 to 45 minutes, turning once or twice.
Drain the chiles; place in the bowl of a blender/food processor and add 1 tablespoon salt and 1/4 cup of soaking water. Purée the mixture, adding more water as needed, until a smooth, slightly fluid paste forms. Set the chile paste aside.
Toss beef in spice/salt mixture. Over medium-high heat add 2 tablespoons of the oil. Lightly brown beef in batches then transfer to a bowl and repeat with 2 tbsp. of fresh oil.
Add the remaining 1 tablespoon of oil in the pot; add the onion, carrot, celery serrano and garlic and cook gently for 3 to 4 minutes, stirring occasionally. Add the tomato paste and reserved chile paste. Stir in the the reserved beef, beans and stock and bring to a boil then reduce to simmer and cook, stirring occasionally, until the meat and beans are tender but still somewhat firm and 1 1/2 to 2 cups of thickened but still liquid sauce surrounds the cubes of meat, about 2 1/2 to 3 hours.
Stir in the brown sugar and vinegar thoroughly and add more salt to taste; gently simmer 10 minutes more.