Individual Pear-Ginger Charlotte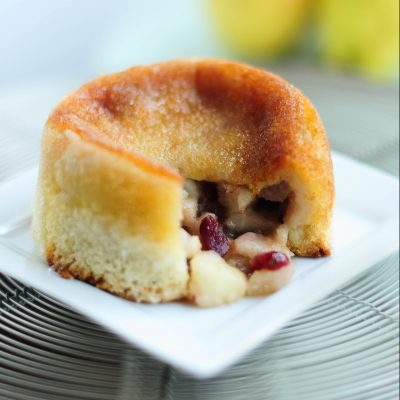 Serving Size: 8
A charlotte is usually made with apples, but this time pears are used with cranberries in this individually-sized charlotte.
Ingredients
Filling:
3 lbs. firm but ripe Bosc pears (6 to 7 pears)
1 lemon, rinsed
2 t. ground ginger
¼ t. ground nutmeg
¼ t. ground allspice

2

⁄

3

C dried cranberries
5 T unsalted butter
¼ C granulated sugar
1 T pear brandy
Crust:
1 large loaf brioche bread, sliced
½ lb. (1 C) unsalted butter
¾ C granulated sugar
Crème fraîche or vanilla ice cream for serving
Preparation
1. To make the filling: Peel, core, and dice the pears into ¼" pieces (will yield about 6½ C). Using a vegetable peeler, peel the zest off half the lemon in long strips, taking care to avoid the bitter white pith. In a large bowl, toss the pears, lemon zest, ginger, nutmeg, allspice, and dried cranberries.
2. In a large skillet or Dutch oven, melt the butter over medium-high heat and then add the sugar. When the sugar is fully moistened, add the pear filling and cook, stirring constantly, until the pears are soft but still a bit firm, about 4 minutes. Set the pear mixture aside to cool slightly and then add the pear brandy.
3. To prepare the crust: Position a rack in the middle of the oven; preheat oven to 475°. Trim the crusts of the brioche bread. Cut eight rounds to fit the bottoms of eight 8-oz. ramekins. Use the remaining bread to cut enough rectangles to line the sides, the bread pieces should come to within at least ¾" of the ramekin's rim. Melt the butter in a medium skillet and put the sugar in a shallow dish. Brush the insides of the ramekins with butter. Generously dip both sides of each piece of bread in butter followed by sugar on one side. Lay one round in each ramekin, sugared side down. Line the sides of each ramekin with bread rectangles, sugared sides facing outward toward the ramekin.
4. Assemble and bake: Pick the lemon zest out of the pear filling and fill each ramekin, pressing on the filling to get rid of air pockets. Be generous; the filling will cook down. Set the ramekins on a rimmed baking sheet, leaving a few inches in between each, and cover snugly with one sheet of foil. Bake for 40 minutes. To see if the charlottes are done, run a knife around the sides, knock on the ramekin bottom, and invert a ramekin onto a plate to check the bottom; it should be caramelized more than the sides. If they are not done yet, return them to the oven for a few more minutes. Unmold and serve alongside a spoonful of crème fraîche or a scoop of vanilla ice cream.