Mushroom Ravioli Olio with Parmesan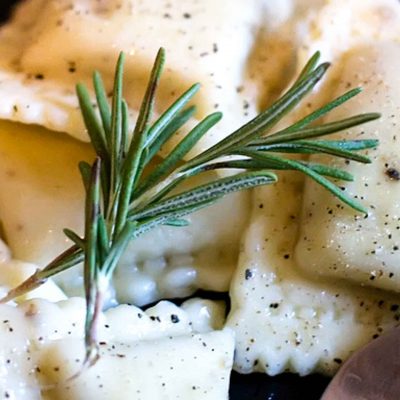 Aside from being ridiculously fun to say, Ravioli Olio is ridiculously easy to make. I recommend it as a starter pasta to make from scratch, as it looks much harder than it actually is. This recipe would also be great with a browned butter sauce.
Ingredients
1 t. salt
2 C all-purpose flour
1 t. extra virgin olive oil
3 eggs
3 T water
¾ lb. portobello mushrooms
½ lb. crimini mushrooms
1 onion
¼ C butter
Salt and pepper to taste
Rosemary sprigs for garnish
Preparation
Begin with the pasta. Mix the salt and flour, then pile into a large mound, forming a well in the middle.
Beat olive oil, two of the eggs, and 2 T of water together.
Adding half the egg mixture at a time, slowly pour into the flour well and mix with one hand. Once the flour and egg mixture forms a dough, knead until smooth. Refrigerate dough while you prepare the filling.
Dice the mushrooms and finely chop the onion.
Melt butter in a pan and sauté the onion until it becomes translucent. Add mushrooms and cook over medium heat until the liquid in the pan has evaporated. Turn heat to low and cook for another five minutes. Remove from heat and allow mixture to cool while you prepare the pasta.
Get your dough from the fridge and roll out until it is about ¼" thick. Beat the last egg and tablespoon of water to create an egg wash. Cut the dough into squares or circles, brush with egg wash, and then drop the filling on individual squares, sealing with a second square on top. To seal, press edges of the two halves of pasta firmly together.
Cook in boiling water until the ravioli float to the top. Drain. Top with strong extra virgin olive oil, salt, and pepper to taste. Garnish with rosemary.