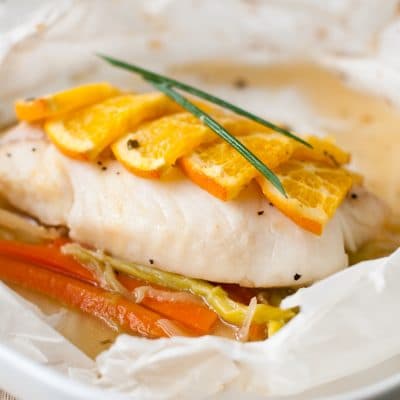 Serving Size: Serves 4
Cooking fish in parchment means that the fish will cook gently and stay succulent. The lemon and orange along with vegetables and herbs create a deliciously scented sauce.
Ingredients
4 (6-ounce) cod fillets, 1″ thick
Salt and freshly ground black pepper
1 carrot, cut into matchsticks
½ leek, rinsed and thinly sliced
1 fennel bulb, halved, cored, and thinly sliced
4 tablespoons orange juice
1 orange, thinly sliced and seeds removed
Lemon-chive butter (recipe following)
Parchment paper
Lemon-chive butter
4 tablespoons unsalted butter, softened to room temperature
2 teaspoons chives, minced
Juice and zest of 1 lemon
Salt and freshly ground black pepper, to taste
Preparation
Preheat oven to 400°. Pat fillets dry with a paper towel; sprinkle evenly with salt and pepper.
Cut 4 squares of baking parchment, each large enough to wrap around and enclose the fillets.
Divide the carrot, leek, and fennel slices between the sheets of baking parchment. Lay each fillet on top of vegetable medley, in its piece of parchment, then top with slices of orange and dot with a few tablespoon of lemon-chive butter. Sprinkle each fillet with 1 tablespoon of orange juice. Fold the parchment, making overlapping pleats to seal the open sides; seal all edges well with narrow folds.
Place fish packets on a baking sheet and bake for 15 minutes or until just firm to touch. Serve fish immediately and directly from packet, or remove the packet and serve the fish and sauce over rice or pasta.
Lemon-chive butter
In a small bowl, mix the butter, chives, lemon juice, zest, salt, and a few grinds of black pepper in a small bowl. Set aside while the fish is being prepared. Wrap any leftover Lemon-chive Butter with plastic wrap and store in the refrigerator for up to 3 weeks.