Pan Seared Steelhead with Meyer Lemon Gremolata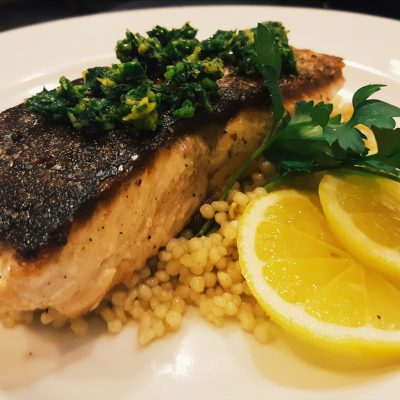 Serving Size: 4
This quick Steelhead recipe is perfect for a fresh & easy weeknight meal.
Ingredients
2 LB Steelhead, Skin on, divided into 4 pieces
Grapeseed oil for frying
2 Meyer lemons, zested and juiced
1/2 C Flat leaf parsley, chopped fine
1 Clove garlic, minced
Black pepper
2 T Salt
2 T EVOO
Preparation
Gremolata
Mix together the chopped parsley, garlic, Meyer lemon zest, salt and pepper (to taste).
Steelhead
Heat skillet till very hot and add a healthy pour of grapeseed oil. It should almost be smoking.
Add fish skin side down. Cook without moving until flesh starts to turn opaque (approximately 3 minutes).
Flip the fish and sear flesh side down until just cooked through.
Season with salt and pepper.
Serve skin side up over couscous or rice topped with the Gremolata, fresh squeezed lemon juice and a drizzle of olive oil.