Parmesan-Crusted Grilled Cheese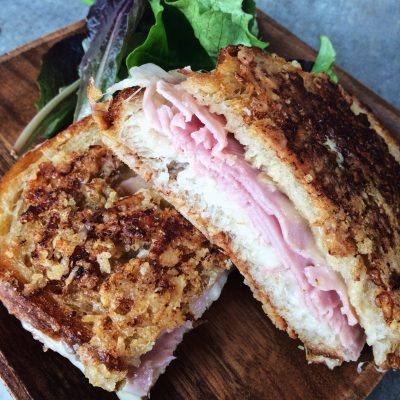 A gourmet twist on a classic sandwich.
Ingredients
Mayonnaise
4 large slices crusty Grand Central bread
4 slices aged provolone cheese
4 slices sharp white cheddar cheese
2 slices ham, French or Black Forest
1 Tbsp. Mustard, your choice
1/2-3/4 cup Parmigiano-Reggiano cheese, shredded
Oil or butter for pan
Preparation
Spread mayonnaise on one side of each slice of bread.  Place the Parmigiano-Reggiano in a shallow dish. Gently but firmly press the mayonnaise-coated side of each slice of bread into the cheese so the surface is well coated. Set aside.
Heat a lightly oiled or buttered non-stick sauté pan over medium-high heat. For each sandwich, lay one slice of bread in the pan, cheese side down. Top with mustard, two slices of cheddar and two slices of provolone and 1 slice of ham. Place another slide of bread, cheese side up, on the top. Cook until golden-brown and crispy on the bottom. Gently flip sandwich and cook until the second side is browned and crispy.
Try different cheeses, a slice of turkey, or your favorite sandwich spread to form endless tasty combinations.