Pepper Jelly Glazed Sweetheart Ham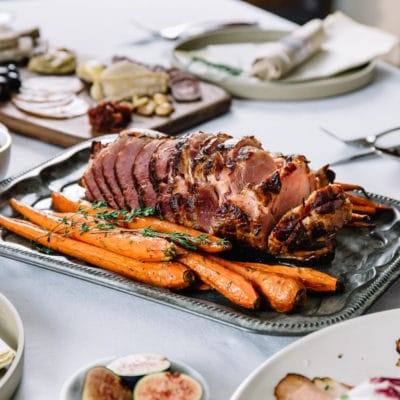 Just in time for your Easter meal, this glaze will take your holiday ham to the next level of gourmet deliciousness. Featuring local Kelly's Jelly & Olympia Provisions Sweetheart ham.
Photo Credit: Carly Diaz
Ingredients
3/4 Cups Kelly's Habanero Pepper Jelly
1/2 cup orange juice
5 whole cloves
Salt & pepper, to taste
1 cup white wine
1 Olympia Provisions Sweetheart Ham
Preparation
Preheat oven to 350F.
Combine pepper jelly, orange juice and cloves in a small saucepan over medium heat. Bring to a simmer, whisking until it combines. Season to taste with salt and pepper.
Pour the white wine into a dutch oven, or similar cooking pot with a tightly fitting lid. Add the ham, cover airtight and roast for 30 minutes. Remove lid, pour 1/3 of the glaze over the ham and cook another 10 minutes. Repeat with the final 1/3 of the glaze, cooking a final 10 minutes.
The internal temperature should be 140F. Remove from the oven & let sit for 5 minutes, then slice and serve.