Potato and Shishito Pepper Hash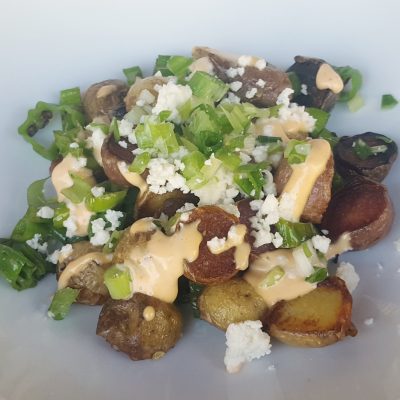 Ingredients
1 1/2 lbs. small red potatoes (or mixed small potatoes)
1 clove garlic
1/2 C mayonnaise
1 1/2 t sriracha sauce
1 t fresh lemon juice
kosher salt
1/3 C vegetable oil
4 oz. shishito peppers, chopped
1/4 C crumbled queso fresco
2 scallions, thinly sliced
Preparation
Preheat oven to 400.
Place potatoes on a baking sheet and roast until tender (30-45 min). Let cool slightly, then cut potatoes in half.
Meanwhile mix the mayonnaise with the garlic, lemon juice and sriracha. Season with salt.
Heat oil in skillet. Place potatoes in skillet cut side down (do not over crowd the pan) and let them cook undisturbed until they are brown and crispy on the cut side.
Add shishito peppers and cook until they are lightly blistered in spots (2 min.)
Using a slotted spoon transfer potatoes and peppers to a large bowl. Add the sriracha mayo, toss to combine & season with salt.
Transfer to a platter and top with crumbled queso fresco and scallions.