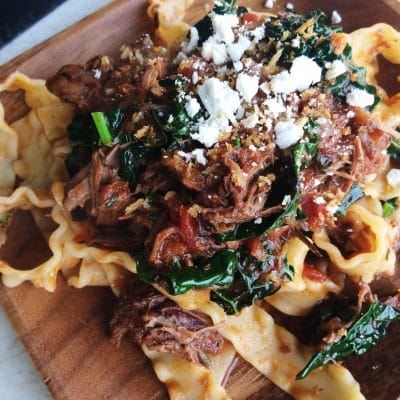 This pasta with braised beef sauce makes a hearty weeknight meal.
Ingredients
6 Tbsp. Olive Oil
1 2.5-pound boneless chuck roast, cut into 2 inch cubes
Flour for dusting
1 onion, halved, thinly sliced
2 cloves garlic, thinly sliced
1 750ml bottle Chianti or other fruity Italian wine
1 Jar Zupan's Tomato Basil Sauce
1 sprig each Rosemary and Thyme
1/2 Tbsp. Red chili flakes
1 lb. Riccia pasta, cooked to package instructions
1 bunch Nero Kale, ribbed and roughly chopped
Optional: Crumbled Myzithra cheese, toasted breadcrumbs, basil etc.
Preparation
Preheat oven to 400.F 1. Heat oil in large ovenproof pot over medium heat. Sprinkle beef with salt, flour and pepper. Working in batches, cook beef until browned, about 4 minutes per batch. Transfer beef to large bowl.
Reduce heat to medium. Add onions and garlic and cook until soft, stirring frequently, about 5 minutes.
Return beef and any accumulated juices to pot. Add wine, Zupan's Tomato Basil sauce, chili flakes and herbs. Bring to boil, cover, and transfer to oven.
Braise beef until tender, about 2 hours.
Meanwhile, quickly saute Kale until it is slightly tender4-5 minutes.
Using slotted spoon, transfer beef to bowl. Using 2 forks, shred beef. Return beef and cooked kale to pot. Season to taste with salt and pepper.
Divide pasta among serving bowls, spoon meat sauce over, and serve. Do ahead: Can be made 3 days ahead. Chill uncovered until cold, then cover and keep chilled. Rewarm before serving.
Serve with cheese, breadcrumbs and chopped fresh basil if using. Yum!