Roasted Beet Salad with Chèvre & Fennel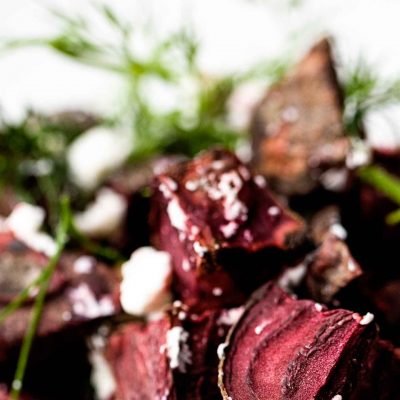 Roasted beets are ultimate comfort food for me. With rich beet flavor and that hint of fruity, earthy spice that beets inherently possess, I could nosh on this salad every day and be content. The best part is that this is truly one of the most simple salads to prepare!
Ingredients
2 large beets, of any color
A handful of fennel fronds, to taste
1 oz. goat cheese, crumbled
Sea salt, to taste
Freshly ground black pepper, to taste
Preparation
Chop the beets into medium-sized chunks. (I like a more rustic look, rather than uniform cubes.) Sprinkle liberally with salt, then pop into a 375˚ oven.
Roast beets for 15-20 minutes, until you can poke through them easily with a knife.
Allow the beets to cool, then combine with cheese and fennel. Sprinkle with black pepper and serve immediately.