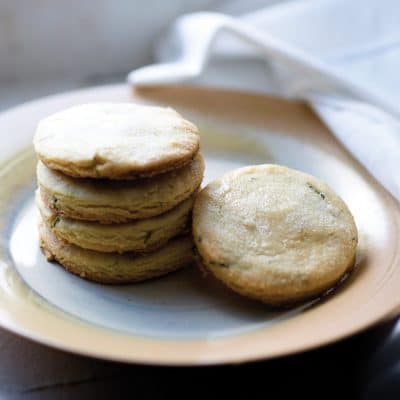 It's such a unique mix: savory herbs in a sweet cookie. But these cookies have such a lovely, delicate flavor and texture bound to make those tasting take a second bite. And then a third, and a fourth…
Ingredients
½ C butter
1 C sugar
4 T lemon juice
2 t. fresh rosemary
1 egg
1½ C flour
Preparation
Preheat the oven to 350˚.
Cream the butter and ½ C sugar until very pale. Add lemon juice, then the yolk of the egg, reserving the white. Beat swiftly. Stir in the fresh rosemary.
Add the flour, bringing together with your fingers, gently. Chill the dough for 30 minutes in the refrigerator.
Roll out the dough thinly, then stamp or cut out shapes before arranging them on a greased cookie sheet.
Whisk the egg white, then glaze each cookie. Sprinkle each cookie thickly with sugar.
Bake for 15 minutes at 350˚. Allow cookies to cool before serving.