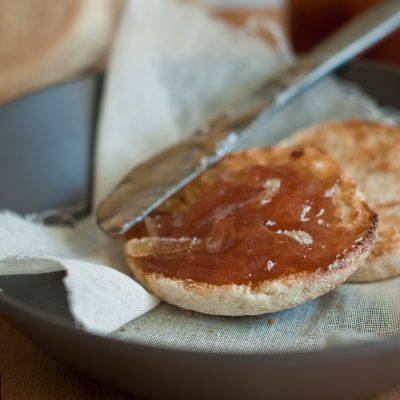 Serving Size: Makes about 1½ lbs.
The delicate flavor of pears is enhanced with spices and finished off with crystallized ginger to add a kick to this otherwise mellow butter.
Ingredients
2 lbs. pears, peeled & cored
3 lemons, juiced
1¼ C water
½ t. dried ginger
1 t. ground cinnamon
1⁄8 t. allspice
1⁄8 t. nutmeg
3¼ C sugar
1⁄3 C crystallized ginger, sliced thinly
Preparation
Place pears in a large pot with lemon juice and water over medium heat. Bring to a boil, then cover and simmer for 10 minutes. Uncover the pan and continue cooking for another 15 minutes, or until the pears are very soft.
Purée pears with lemon and water in a food processor or blender until very smooth. Press purée through a fine sieve into a large pot. Add sugar and spices except crystallized ginger. Warm the pear mixture over low heat until sugar is dissolved, stirring often. Increase the heat to a rolling boil, cook for 15 minutes (or until the mixture is very thick and translucent) stirring frequently. To test, place a teaspoon of the mixture onto a cold plate. It should hold its form and not be runny. Remove from heat, stir in crystallized ginger.
Spoon the pear butter into small, warmed, sterilized jars. Seal, label, and store in a refrigerator for at least 2 days before serving. Once opened, it should be kept in the refrigerator. Use within 3 months.