Sunchoke Soup with Pepitas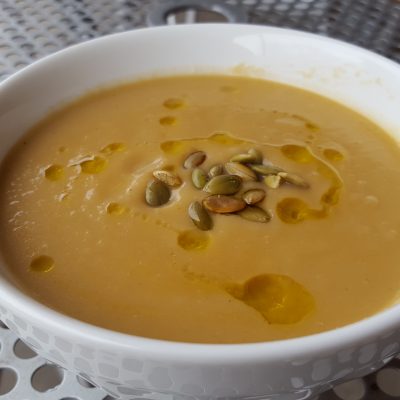 Ingredients
8 C water
2 t white vinegar
2 lbs. sunchokes (also called Jerusalem artichokes)
3 T butter
1 C onion, chopped
1 medium leek chopped (white & light green only)
2 cloves garlic, minced
7 C vegetable broth
1/2 C cream
1-2 t salt
Toasted pumpkin seeds (pepitas)
Pistachio or pumpkin seed oil
White pepper, to taste
Preparation
Peel sunchokes & place in water with vinegar to keep them from discoloring. Set aside.
Melt  butter in soup pot. Add onions & leeks, then saute until soft. Add garlic & cook gently for two minutes. Drain sunchokes and add to onion mixture with vegetable broth. Bring to a boil. Reduce heat and simmer until sunchokes are tender, approximately 20 to 25 minutes.
With an immersion blender or food processor, blend soup until very smooth. Add cream and blend. Add salt & white pepper, to taste.
Drizzle the soup with oil and top with toasted pepitas.
Enjoy!