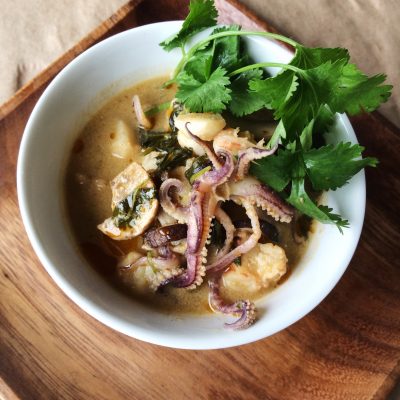 Use whatever seafood you like or have in your fridge for this simple Thai soup dish.
Ingredients
1 small onion, sliced thin
1 inch fresh ginger, minced
3 garlic cloves, minced
1 jar red curry paste
1 can unsweetened coconut milk
2 jars clam juice
2 cups chicken/fish stock
1 bunch cilantro, divided
1 serrano chili, halved
1 lime, zest and juice
1 Tbsp. fish sauce
1/2 pound mushrooms, crimini or shittake, sliced
1/4 cup basil, chopped
1/4 cup small raw shrimp
1/4 cup cod, chopped into bite sized pieces
1/4 cup squid, tubes and tenticles, cut into small pieces
Other seafood that works: scallops, clams, mussels and salmon
Preparation
Saute first three ingredients in a small amount of oil until just tender, add curry sauce, coconut milk, stock and clam juice. Into the soup add half of the cilantro (stems included), serrano, zest, fish sauce and lime juice.
Bring to a boil then reduce to a simmer for 20 minutes. Saute mushrooms in a separate pan until golden brown.
Using an immersion blender, or carefully using a bar blender, buzz the soup (serrano and cilantro included) until it is all smooth and silky.
Add mushrooms, remaining cilantro leaves, basil and all seafood to broth. Cook for 7 more minutes until all seafood is fully cooked through.
Taste broth and add fish sauce to season (approx. 1 more Tbsp.), until it tastes delicious. Serve alone or with rice. Yum!