Three-Cheese Macaroni & Cheese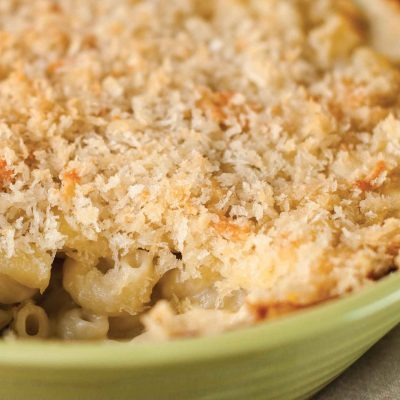 Serving Size: Serves 6 to 8
The ultimate comfort food of all time, cheesy and creamy; this is certainly everyone's favorite. The cheese combination used here heightens the flavor up a notch.
Ingredients
2½ C (9 oz.) elbow macaroni
2½ C whole milk
1 slice onion
1 bay leaf
A few sprigs of parsley
4 T unsalted butter
¼ C all-purpose flour
½ t. dry mustard
¼ t. nutmeg, freshly grated
Salt and freshly ground black pepper
8 oz. sharp white Cheddar cheese, grated (about 2½ C)
3 oz. Italian fontina cheese, grated (about 1 C)
3 oz. Emmenthal cheese, grated (about 1 C)
Topping
2 T unsalted butter
1 C panko (Japanese breadcrumbs) or coarse, dry breadcrumbs
Preparation
Preheat the oven to 400°. Generously butter a 3-quart shallow baking dish. Fill a large pot with salted water ¾ full and bring to a boil for macaroni.
Combine all the cheeses in one bowl, reserving 1 T for the topping.
Pour the milk into a small saucepan with the onion slice, bay leaf, and parsley. Bring just to a low boil over medium heat, remove from the heat, and let sit to infuse for 10 to 15 minutes.
Make the cheese sauce: Melt the butter in a large saucepan over medium heat. Whisk in the flour, dry mustard, and nutmeg. Cook roux, whisking constantly for about 1 to 2 minutes. Strain the warm milk into the pan and whisk to blend. Continue to cook the sauce, whisking often to avoid lumps, until it thickens, about 5 minutes. Turn off the heat and gradually whisk in the cheeses until fully melted. Season the sauce to taste with salt and pepper, cover the sauce with wax paper while cooking the pasta.
Cook macaroni in boiling water until al dente, about 5 to 8 minutes. Drain the pasta. In a large bowl, combine hot pasta with the cheese sauce. Transfer mixture to the baking dish.
Make the topping: Melt the butter and mix with panko, or coarse breadcrumbs, and reserved cheese mixture until combined well.
Sprinkle the breadcrumbs evenly over macaroni. Bake until the macaroni and cheese is bubbling hot and the top is nicely browned, about 30 to 45 minutes. Let sit for about 15 minutes before serving.