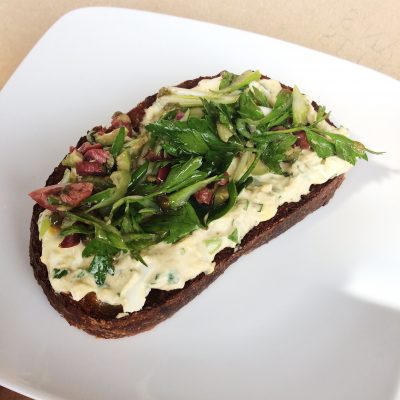 Serving Size: 2-4
Step up your toast game with this recipe featuring Zupan's albacore tuna.
Ingredients
Tonnato:
2 cans Zupan's tuna
1/2 t. fish sauce
1/3 C mayonnaise
1/4 C Zupan's Olive Oil
1 T fresh Lemon juice
Topping:
4 large hard-boiled eggs, peeled, coarsely chopped
2 T chopped Italian parsley plus 1 cup leaves
1 T coarsely chopped capers
1 scallion, thinly sliced
1/4 C quartered pitted nicoise olives
4 – 1/2-inch-thick slices rustic bread
1 garlic clove, halved
Preparation
To make the tonnato:
Place the tuna and fish sauce into the bowl of a food processor and blend until smooth. Add the mayo and blend again until its a little creamy.
With the motor still running, drizzle in the olive oil and lemon juice.
Taste and season with more mayo, fish sauce and lemon juice if needed. You can keep this sauce in the fridge for up to a week. It is great as a dip for crudite.
For the toast:
Combine eggs, 1/2 cup tonnato, 1 Tbsp. oil, 2 Tbsp. chopped parsley, and 1 Tbsp. lemon juice in a medium bowl. Using a fork, mash until a lumpy paste forms. Season with salt and pepper. You can add more tonnato if you like it a little creamier.
Toss 2 Tbsp. oil, 1 cup parsley leaves, 1 Tbsp. lemon juice, tomatoes, capers, scallions and olives in a medium bowl. Season with salt, pepper, and more lemon juice, if desired.
Toast bread; rub 1 side with cut end of garlic. Spread egg salad on top of each slice, dividing equally. Top with olive mixture.