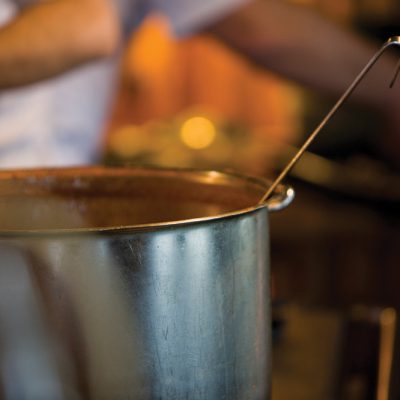 Serving Size: 4
Ingredients
1 lb. ground lamb
1 lb. dry cannellini beans
1 bunch red kale
2 medium carrots
2 large stalks celery
2 white onions
½ gallon whole milk
1 pint heavy whipping cream
1 pint sour cream
1 lb. Zupan's Point Reyes Blue Cheese Dip
1 bottle Coastal Estates Pinot Noir
1 t. salt
1 t. pepper
2 T chopped fresh oregano
Roux
8 T unsalted butter
8 T white flour
Preparation
Soak beans in water overnight. Slowly boil beans until somewhat soft. Cook ground lamb meat in red wine (save wine).
For roux, melt butter on low for 5 minutes or so. Add flour, stir, and cook for 10 minutes. Let cool before adding to soup.
In a separate pan sauté your carrots, onions, and celery. When your onions are translucent, add milk, heavy whipping cream, sour cream, and dip (any creamy dip such as dill dip, alfredo or ranch would work great). Do not boil.
Add beans and cooked lamb.
Remove stem from kale and cut to bite-sized pieces. Sauté kale with the saved wine, then drain and add kale to soup.
Add any or all of the following seasoning or seasonings of your choice: salt, pepper, dill, garlic, oregano, parsley.