Yukon Gold Potatoes with Crème Fraiche & Caviar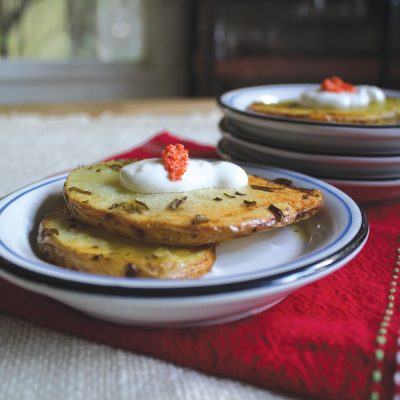 Serving Size: Serves 8
Both comforting and elegant, this packs all the goodness of land and sea into one decadent bite. Your guests will love the interplay of tastes and textures—earthy, creamy, smooth, and delicately fruity from good olive oil. Go ahead and prepare the potatoes ahead of time, then at party time, set out a pretty dish of the cream topped with caviar on ice.
Ingredients
2 pounds Yukon Gold potatoes, cut into 1″ slices
1 tablespoon olive oil
Kosher salt and freshly ground black pepper
1 tablespoon fresh rosemary, minced
1 cup crème fraîche (can substitute sour cream)
1 ounce caviar
Preparation
Preheat oven to 400˚. Toss potato slices with olive oil, salt, pepper, and rosemary. Roast on a cookie sheet until browned and crisp, approximately 40 minutes. Allow potatoes to cool before topping them with dollops of crème fraîche and lobster roe.