Zupan's Albacore Tuna & Cherry Tomato Bites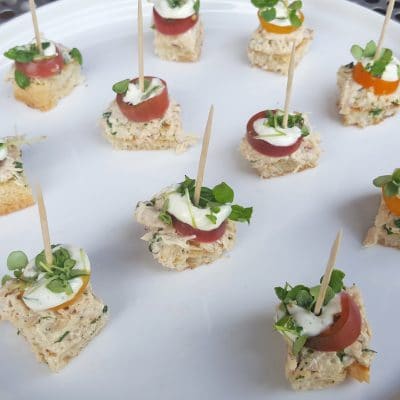 Ingredients
1 can Zupan's albacore tuna
1 T finely chopped red onion
2 T finely chopped tarragon, divided
2 T finely chopped chives, divided
1/4 t salt
1 C.mayonnaise
2 t fresh lemon juice
2 C cherry tomatoes, sliced
1 pint basil (or your choice) microgreens
ciabatta bread
Preparation
Mix tuna with the red onion, 1 T chives, 1 T tarragon and salt.
Mix mayonnaise with the lemon juice, 1 T tarragon and 1 T chives. Mix 1/2 C.of the mayonnaise with the tuna.
Toast the ciabatta bread. Spread with some tuna. Cut the bread with tuna into bite size pieces.
Top each piece with cherry tomatoes. Put a dollop of mayonnaise over the tomatoes, then add some microgreens.
Enjoy!