As one of the most versatile and neutral grapes in the world, the many flavors and textures of Chardonnay make it easy to enjoy. Learn More about the most widely planted grape variety in the world.
Originating from Southern Burgundy France, Chardonnay is one of the most well-known wines in the world. Chardonnay is now produced in over 40 countries and covers almost 500,000 acres worldwide with the United States being the second largest grower. Chardonnay originally made a name for itself in the United States in Northern California; however, its popularity has grown, and it is now spreading to cooler regions in both California and Oregon. As one of the most versatile and neutral grapes in the world, the flavor profile is largely influenced by the climate, soil, and creative license of the winemaker during the fermentation and barreling process. As a result, Chardonnay style wine can vary from rich and creamy to brighter with more acidity. This wide array of flavors and textures makes it easy to enjoy for many different palettes appealing to both connoisseurs and beginners.
The early productions of United States New World Chardonnay took the traditional flavor profile and texture of oaky, bold and buttery to the next level by barreling the varietal in heavily toasted American oak barrels. This expression led to more bold flavors of oak and butter and to what we now know as the ABC (Anything But Chardonnay) movement. This classic American style led to many consumers writing off Chardonnay altogether. However, as Chardonnay continued to expand throughout the West Coast new styles and techniques started to influence the production and taste of domestic Chardonnay.

Today you can find many winemakers in California and Oregon using French oak, stainless steel or a combination of both to achieve depth and texture, while also providing a crisper and brighter flavor profile. These new practices are a surprise on the palette and create much more depth to what Chardonnay can offer. The wide range of styles means the options are endless when it comes to taste preference, pairing with foods, or enjoying on its own. Whether you are looking for the creamy rich expression of Chardonnay or want to try a more acid-driven experience there is an option for you! Explore the unique varieties of domestic Chardonnay this weekend with 20% off.
EXPLORE THE TASTE OF CHARDONNAY
Chardonnay is one of the most misunderstood grapes and is one of the most diverse wines when it comes to flavors and texture. Unlike many other grape varietals, Chardonnay can be grown in both warmer and cooler climates and comes off the vine with more neutral flavor characteristics. This is the beauty of Chardonnay, the blank canvas allows each winemaker to use their creative discretion to shape and influence the flavors and texture, making each bottle distinctive.
Three elements that play a large role in the flavor and texture are climate, barreling style, and the fermentation process. Understanding how each of these influences the wine making process will help with making a selection in the market to fit best with your preferences and food pairings.
QUICK TIP: If you are looking for a brighter and lighter Chardonnay explore cool regions with an unoaked or combination of French oak barreling process. If you are looking for a fuller-bodied Chardonnay explore Chardonnay from warmer climates with oaked barreling.
CLIMATE
Warm Region Chardonnay
Typically found In: Napa, Paso Robles
Warm region Chardonnay is fuller-bodied, higher in alcohol content and produces ripe fruit and more tropical fruit flavors from papaya to pineapple.
Cool Region Chardonnay
Typically Found In: Oregon, Sonoma Coast, Anderson Valley
Cooler climate Chardonnay is more acidic, lighter-bodied and has a lower alcohol content. The flavor profile is citrus-forward with a mineral character.

OAKED VS UNOAKED

Oaked Barrel
Oak-aging enhances the flavors and complexity of Chardonnay. The oak barrel produces secondary flavors such as vanilla and spices. The prominence of these flavors is dependent on the type of oak barrel used. French oak barrels produce a more subtle spice flavor with a creamy, elegant texture. While American oak has a more pronounced flavor of vanilla and butter.
Unoaked Barrel
Unoaked means the wine is stored and fermented in stainless steel barrels. As a result, less oxygen is exposed to the grapes and leads to a crisper and brighter Chardonnay. A winemaker can also ferment grapes in a stainless steel barrel and then age the wine in an oaked barrel.
MALOLACTIC FERMENTATION
The malolactic fermentation process is responsible for the texture in a Chardonnay. While not all winemakers use this process, it is often used to create a softer wine which leads to creamier notes. The process is a stylistic tool and is used to polish wines from cooler regions that typically have sharper edges.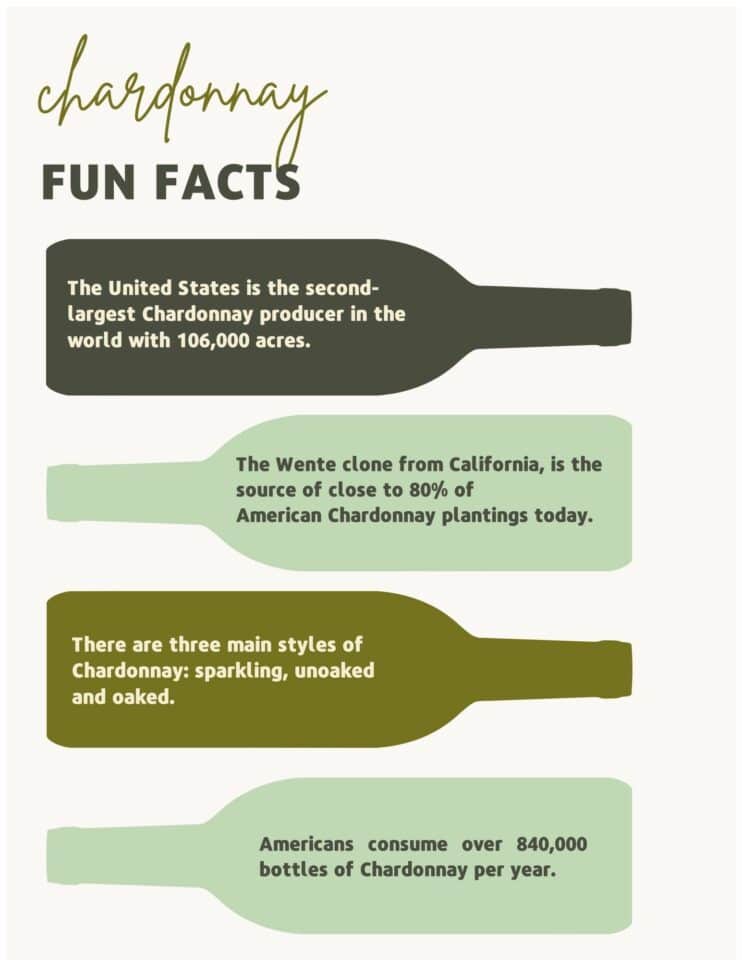 The many ways to enjoy chardonnay
Chardonnay is a food friendly wine that can be enjoyed with many types of foods from highly refined seafood dishes to fried foods and macaroni and cheese. The depth of Chardonnay flavor profiles makes it a wine cellar staple and can be pulled out at any time!
Crisp and Dry Unoaked Chardonnay
The lighter body and more mineral style pairs well with more delicate dishes especially bright and fresh seafood dishes. Semi hard and goat cheese, shellfish, flaky white delicate fish, oysters, mussels, light and fresh chicken dishes, vegetables, and salads.
Fuller-bodied Oaked Chardonnay
The complexity of this type of Chardonnay pairs well with heavy and rich dishes. These are melt in your mouth dishes with heavy creams, cheese and butters! Fatty salmon, lobster with butter, chicken with cream sauce, creamy pastas, creamy soup, and soft aged cheeses that have a nutty and creamy flavor.
Sparkling Chardonnay
The dryness, bubbles and fruitiness mean food pairings are endless with sparkling Chardonnay. Younger sparkling pairs well with lighter foods, while aged sparkling lends itself to creamier dishes. Deep fried foods, shellfish, potato chips, prosciutto-wrapped appetizers, egg-based hors d'oeuvres and truffle popcorn.
TEMPERATURE CHECK:

Serving temperature: 50–55°F
Note: Crisp, dry unoaked can be served on the warmer side of the range, while fuller-bodied oaked is best served colder.
It can take about 1 hour to cool the wine to the appropriate temperature.
ZUPAN'S CHARDONNAY INSPIRED CHEESE BOARD