Delicious local Maryhill peaches have arrived from Gunkel Orchards.
The beauty of summer means enjoying the bounty of beautiful summer fruits. And what screams summer? PEACHES! There is nothing like them.
Zupan's features local peaches from Maryhill Brand Peaches, which are grown and produced by Gunkel Orchards in Goldendale, WA. Gunkel Orchards is a family-run farm that was founded in 1936 by Daniel Gunkel. His grandsons Ron and Dan now operate the orchard. Committed to growing and shipping the most mature fruit possible, each peach is hand-picked and placed into small buckets instead of bins, which allows the fruit to mature to peak sugar levels before harvest. Maryhill Brand Peaches are named after the area along the Columbia River where they are grown. This area only has an average of 8 inches of rainfall each year, which creates a perfect climate for growing peaches, cherries, nectarines, apricots, and grapes for wine.
Gunkel Orchards grows approximately 40 varieties of peaches, including classic yellow-flesh peaches, white-flesh peaches, and others that are more acidic. Growing such a wide variety of peaches allows Gunkel Orchards to meet the high demand for this popular fruit since each variety ripens at a different point during the season.
How to Store Peaches
Store fruit in an open bowl at room temperature. To speed up ripening process, place in brown paper bag. If you want them to last a little longer, you can refrigerate them. And when you're ready to enjoy them, sink your teeth into the sweet, juicy goodness and savor it!
How to Choose Peaches
Gently squeeze on shoulders of stem side; they should yield slightly. Looks for fruit with no green or wrinkly patches.
Best Uses
Wonderful eaten out of hand. Peaches can also be roasted, poached, grilled, or sauteed.
Learn more about Gunkel Orchards.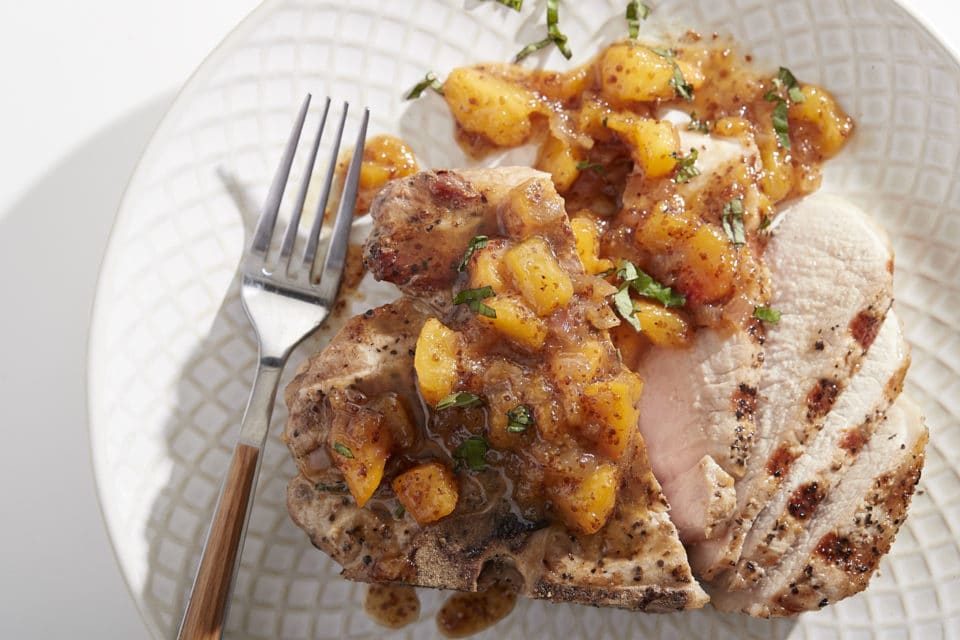 Main Dishes
Grilled Pork Chops with Peach Mostarda
Author: Margi, Burnside Foodie
Serves: 4
This sweet Italian condiment is a perfect pairing for grilled pork chops, fish or chicken and ideal for summer's fresh peach season.