Join us for a culinary journey through Spain. Discover new Spanish ingredients and hear the story of Spanish producers now featured on our shelves.
Spanish cuisine be described as diverse and unique, incorporating an abundance of meat, seafood, fresh fruits, and vegetables. The country's large land mass makes it ideal for growing fresh foods and raising cattle and pigs. And because it is surrounded by water, fresh-caught fish is prevalent in the area. Looking at the history of this old-world country, it is evident that Spain's culinary traditions have been heavily influenced by many different cultures throughout the centuries.
Current Spanish fare reflects the Muslim culture, which occupied a large percentage of the country for hundreds of years. Gazpacho and pickled fish were some of the main foods to come out of this empire, but the olive culture greatly expanded under the Muslim reign as well. As Christians entered the region, Spanish food began to change again. They helped develop the delicious process of dry-curing ham, a gastronomy staple that continues today. As new world ingredients like potatoes, tomatoes, peppers, and cocoa were discovered, symbolic dishes like tortilla de patatas, pantumaca, and patatas bravas were developed.
One thing is certain: the food of Spain will take you on a journey of decadent flavors and textures, unlike any other country in the world.

The Spices
Spain has a variety of essential herbs and spices, the most notable being saffron and pimentón (paprika). Saffron, known as "red gold" is obtained from pulling tiny pistils out of crocus flowers. Its flavor, color, and aroma are an important part of many Spanish dishes, especially paella. Smoked pimentón, or paprika, is a Mediterranean diet staple that is used for color and flavor in Spanish cuisine. Smoked in special smokehouses or in oak wood-burning stoves, the spice is often used in patatas bravas and gambas al Ajillo.

The Olives
Olives are everywhere in Spain – throughout the countryside, in bars, in restaurants, and on home dinner tables. Olive trees were first brought to Spain 3,000 years ago, with Andalusia being the home of Spanish olives.
Cured the natural and traditional way with just water and salt these Dequmana Olives are named after the old Roman road named Decumano that ran from the Andalucian town of Carmona (where these olives are produced) to Rome. Much of the olives and olive oil used by the Romans came from Spain and traveled this road.
Arbequina – cured for 3-4 months, firm and loaded with the buttery flavor characteristic of this small olive with a high oil content.
Gordal – Firm and succulent. Grown mostly in Andalucia, it ripens early and is used exclusively as a table olive due to its lower oil content and many sugars that help in the fermentation process.
Fine Herbs Olive Mix – a perfect combination of Hojiblanca, Gordal, Cuquillo, and Arbequina olives, herbs and natural red pepper following a traditional recipe used in Andalucian homes each year upon the arrival of the harvest.
Perfect as a snack or appetizer, used atop salads, or paired well with a cold beer or sherry.

The Sauces
Regions around Spain have their own signature sauces that come from recipes that have been developed and perfected over generations.
Matiz Garlic Spread – A garlic lovers dream, this spread is delicious paired with meat, seafood, vegetables. Cook with it, use it as a dip, or spread it on sandwiches. Or try the fiery variety featuring a kick of cayenne, red pepper, and pimenton for those who like to spice it up.
Matiz Olive Spread – Made from the unique Empeltre olive, this spread will liven up any sandwich, cracker, fresh vegetable, or cheese. Or pan-fry halibut or salmon with an olivada crust.
Matiz Romesco Sauce – A must-have in any Spanish kitchen, romesco sauce is a delightful accompaniment to seafood, meat, eggs & vegetables. Crafted with roasted tomatoes, garlic, and toasted almonds this gluten and dairy-free sauce can be used as a dip, spread on sandwiches, or used in cooking.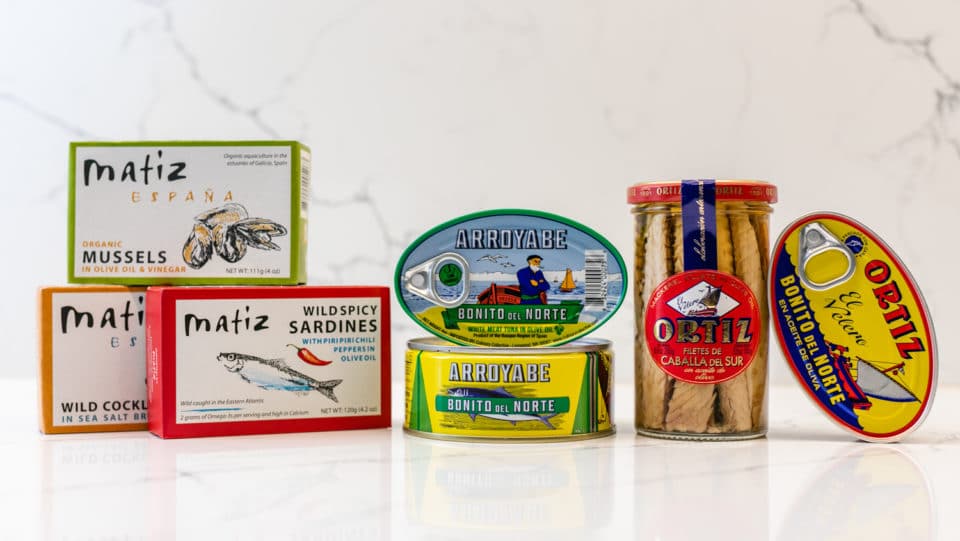 The Canned Seafood
Canned seafood, also known as 'conservas' is a delicacy in Spain. Canning is the best way to capture the flavor and nutrients at its peak, and because of that, conservas make their way into the everyday cuisine of the region. Writing in the New Yorker, Lauren Collins said Spain is "perhaps the only country in the world where it is desirable to serve food that comes in a can." She meant it as a compliment—it's delicious. Some of the most popular melt-in-your-mouth varieties include anchovies, sardines, tuna, and octopus. Conservas are commonly served on sandwiches, stuffed in piquillo peppers, or straight out of the can with crusty bread.
Featuring selections from the Matiz España providing high-quality fish and shellfish from the Galicia region of northwest Spain in addition to anchovies and tuna from fourth-generation family firm Conservas Ortiz. Ortiz's fish are all line-caught—not netted—hand cleaned and tinned in good olive oil. The olive oil is key. It adds flavor and makes the texture silky over time.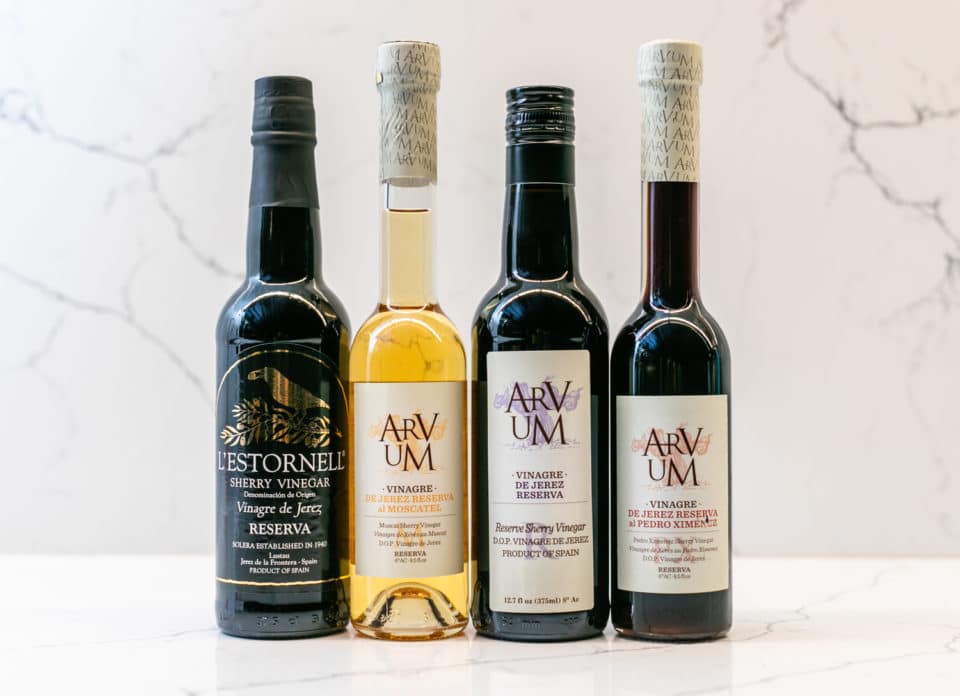 The Vinegars
Wine vinegar was originally created after an error in the winemaking process. This 'sour wine' is aromatic and complex in flavor, playing an important role in Spain's food history. Today, the average Spaniard consumes up to 2 liters of vinegar a year, primarily in pickled vegetables and in traditional gazpacho. Quality vinegars are found throughout the entire region of Spain, with sherry vinegars being one of the most popular. Whisk these elegant vinegars into a vinaigrette, drizzle over roasted vegetables, or add a splash to soup.

L'Estornell Sherry Vinegar – Aged for 25 years in multiple oak casks. A pantry staple for dressing greens, warm salads, in sauces, and as a finish to soups and legumes.
Arvum Moscatel Vinegar – Semi-sweet full flavored vinegar from the region of Jerez. Ideal for marinades and sauce reductions
Arvum Reserve Sherry Vinegar – Produced from wine made from palomino fino grapes, grown in the unique microclimate of the Jerez (sherry) region in Spain.
Arvum Pedro Ximenez Vinegar – Produced from sherry vinegar and combined with robust, late-harvest Pedro Ximenez grapes grown in southern Spain. Adds a rich, fruity flavor to all dressings and marinades, or use it as a base for a zesty demi-glace.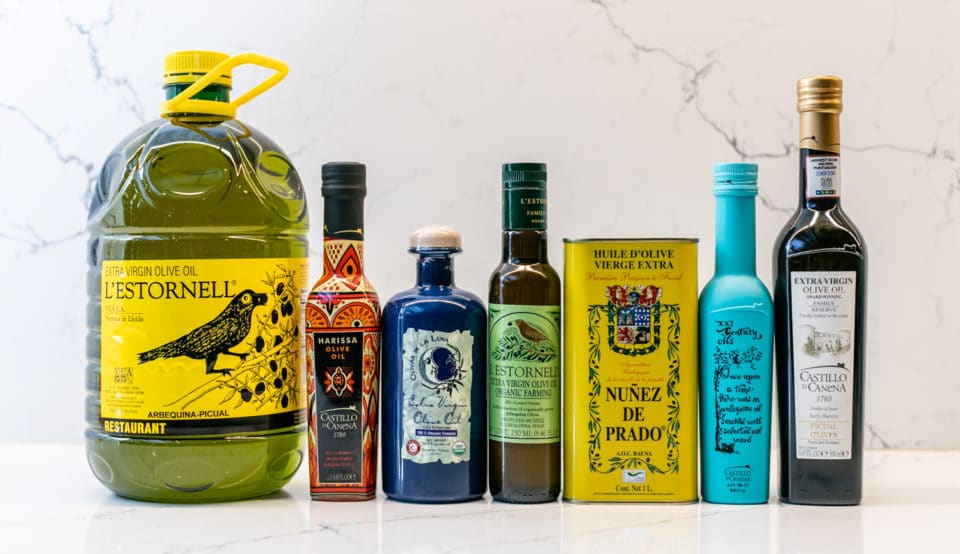 The Olive Oils
The number one producer of olive oil in the world, Spanish olive oil typically has a golden yellow color with a fruity, nutty flavor. Introduced to the country from the Near East many centuries ago, Spain has continued to perfect the art of crafting olive oil, making it an integral part of all Spanish cuisine. This liquid gold is a staple in any kitchen, used in everything including breakfast tostadas, salad dressings for lunch, and for sautéing patatas bravas as part of a diverse tapas dinner.
L'Estornell Arbequina Olive Oil – Delicate, fruity/sweet with a clean, bright deep color. Ideal for salads, vegetables, fish, and in soups. Use for most hot dishes!
Castillo de Canena Harissa Olive Oil – Arbequina oil infused with dried red pepper, cayenne, garlic, coriander, and caraway. Spice up your pasta, barbecues, salads, pizza, corn & hamburgers.
Castillo de Canena Smoked Olive Oil – Cold-smoked with aromas of apple and almond, with a touch of caramel and vanilla. Perfect for drizzling over meat, fish & veggies or toss with pasta for a delicious smoky flavor.
Castillo de Canena Piqual Olive Oil – A deep green oil with intense fruitiness.Tastes of artichoke, tomato leaf & apple. Use for salad dressings, tomato soup, cured hams and cheeses, and grilled meats.

The Rice
Rice is cooked in a variety of ways throughout Spain, but paella has become a Spanish cuisine icon that is imitated everywhere around the world. Rice dishes originated in the Valencia region of Spain, with the most common paella recipe being paella Valenciana. This dish is robust in flavor, combining chicken, rabbit, and a variety of native green beans.
Grown in the rich soils of the national protected L'Albufera Park of Valencia, both of these short-grain rices from Matiz España make the perfect ingredient for paella, arroz negro and risotto. Their high absorption rates (Bomba absorbs one-third more water than the traditional) allows them to soak up and hold the abundance of flavors in all of your favorite rice dishes.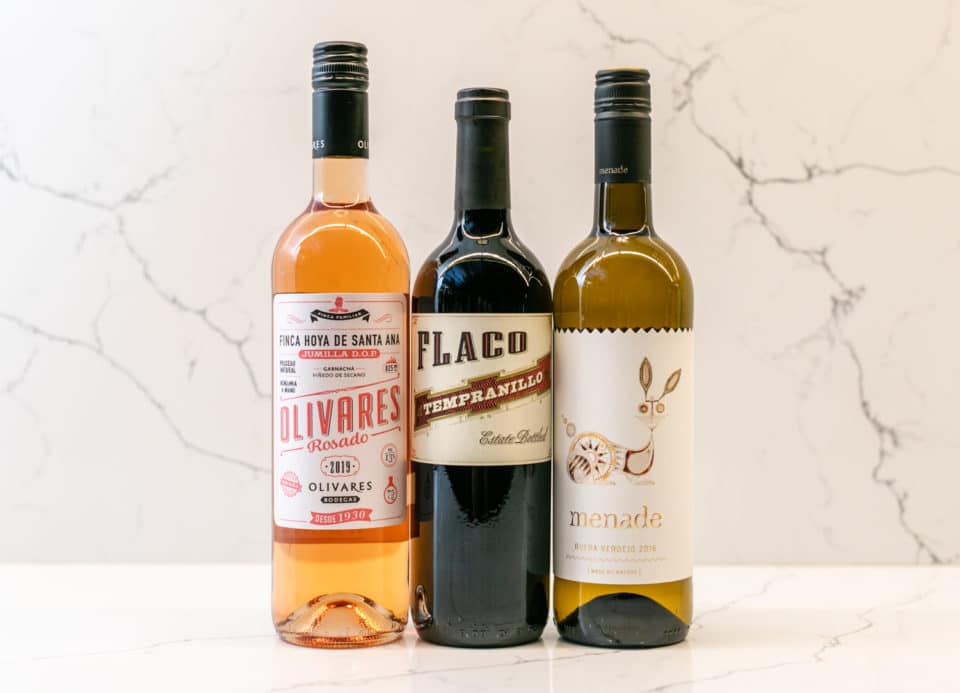 The Wine
Discover the exciting world of Spanish wine: an industry booming with thousands of years of heritage, quality, diversity, and value. With over 2.9 million acres of vineyards planted, Spain is the most widely planted wine-producing nation and the third-largest producer of wine in the world followed by Italy and France.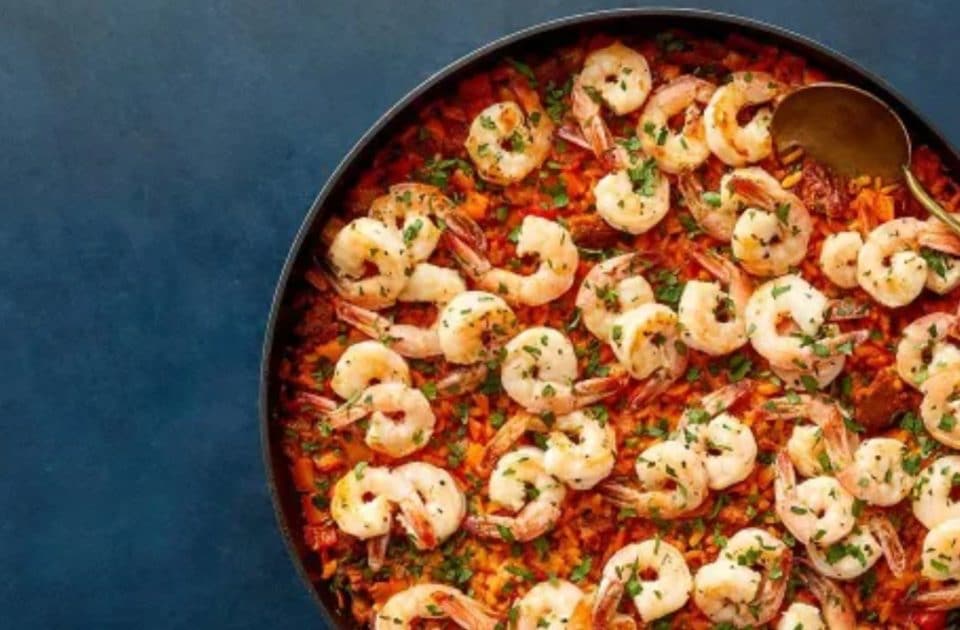 Main Dishes
Classic Paella
Author: John Eisenhart
Serves: 4
A Spanish cuisine icon featuring chorizo & shrimp.