Braised Salmon with Tomato & Coconut Sambal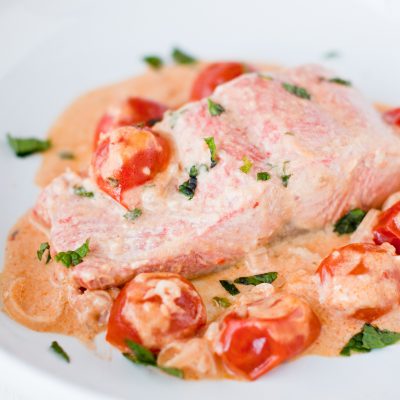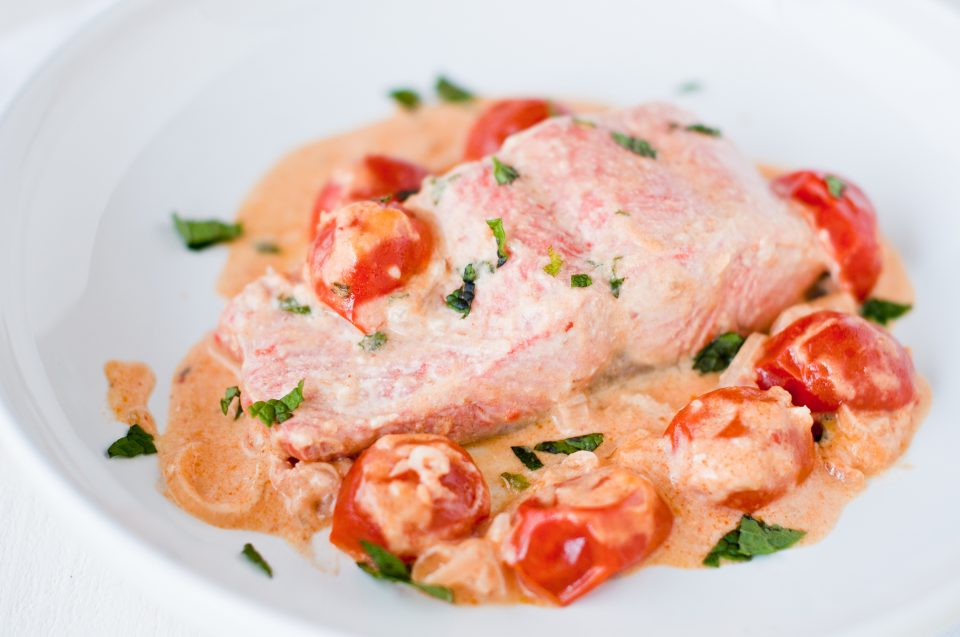 Serving Size: 4
Red curry paste, tomato, and coconut milk make a slightly spicy and rich sauce to go with salmon.
Ingredients
4 (6-oz.) salmon fillets
2 T canola oil
1 shallot, thinly sliced
1 garlic clove, thinly sliced
1″ piece of ginger, peeled & grated
1 t. ground cumin
2 t. red curry paste
7 oz. cherry tomatoes, cut into halves
1 C coconut milk
Juice of 1 lime
½ t. salt
¼ t. freshly ground pepper
10 mint leaves, chopped
Preparation
Heat oil in a large skillet over medium-high heat; add shallot, garlic, ginger, cumin. Saute for 2 minutes, add curry paste. Keep stirring for 2 more minutes.
Add tomatoes, coconut milk, lime juice, salt & pepper. Cook for 2- 3 minutes.
Place salmon fillets over sauce, spoon some sauce over salmon and cover; continue cooking for 4-5 minutes or until the fish flakes easily. Adjust seasoning if needed.
Stir in the mint leaves and serve.