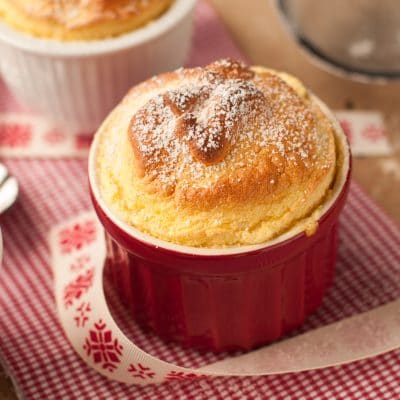 Serving Size: Serves 4
Don't be afraid to try making soufflés, just make sure you set up all the ingredients before you start baking.
Ingredients
Soufflé
3 large eggs
3 T + 1 t. granulated sugar
Grated zest of ½ orange
2 T orange juice
Orange curd ingredients
1 large egg
2 T granulated sugar
Grated zest of ½ orange
2-3 T orange juice
2 T cold, unsalted butter, cut into small cubes
1 t. cornstarch
Confectioners sugar for sprinkling
Preparation
Preheat the oven to 325°. Butter four 2½" ramekins, set them on a baking sheet.
Make the curd: In a medium saucepan, combine all the ingredients over medium-low heat. Stir continuously until the mixture thickens, about 2-3 minutes. Turn heat to low and let the curd simmer for another 1 minute while still whisking it. It's fine if it looks curdled, since it will melt when the soufflés are baked. Remove from heat and divide the curd between the buttered ramekins.
Make the soufflés: Separate the eggs, putting the yolks into a medium bowl and the whites into a clean, large bowl. Using an electric mixer, beat the whites until foamy, then add 1 t. sugar to the whites and continue mixing until stiff peak forms. Next, add the zest, juice, and remaining 3 T of sugar to the yolks and mix them briefly. Take a spoonful of the whites, fold it into the yolks, then fold the rest of the whites in. Use folding movement when mixing these 2 mixtures, working as quickly as possible.
Spoon the mixture into prepared ramekins, piling it high, then run a finger around the inside rim of each one. Bake for 15 to 17 minutes, or until the tops are golden. Remove them and let them cool about 5 minutes. They will sink a bit which is normal. Just before serving, sprinkle the tops of soufflés with confectioners sugar.