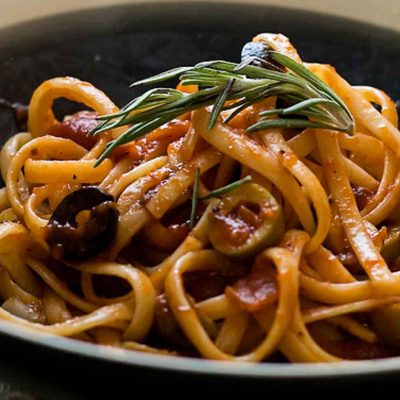 This is a family staple we all get excited about. Typically we're a little "hush-hush" about the exact ingredients and recipe, but after a little cajoling, I was given permission to share it with all of you. After all, as I explained to the family, what's the point of having the perfect Puttanesca recipe if you don't share it with the world? Just remember: when your friends and family praise you for this delicious dish, under no circumstances should you let them know how easy it is!
Ingredients
1 T butter
1 T extra virgin olive oil
½ white onion, diced
1 T anchovy paste or 5 anchovy fillets, chopped
5 cloves garlic
½ t. red pepper flakes
1 large can crushed tomatoes
2 T capers
¾ C olives, chopped (you can use all Kalamata, or a mix of green and Kalamata)
Salt and pepper to taste
1 lb. spaghetti
Preparation
Heat the butter and olive oil in a large pan. Add onion, anchovies (or anchovy paste), garlic, and pepper flakes. Cook until the onions are translucent. Add crushed tomatoes. Cook 5 minutes.
Add capers, olives, salt, and pepper. Cook for a minimum of 45 minutes, although over an hour on low heat will just make it better.
Cook spaghetti according to directions. Add to the sauce and serve.