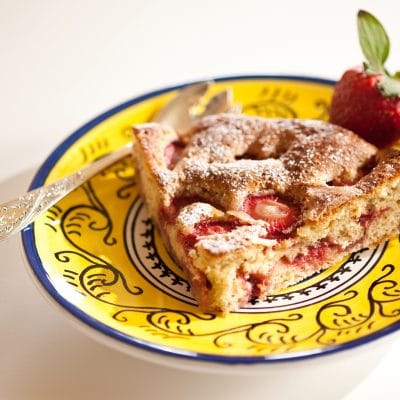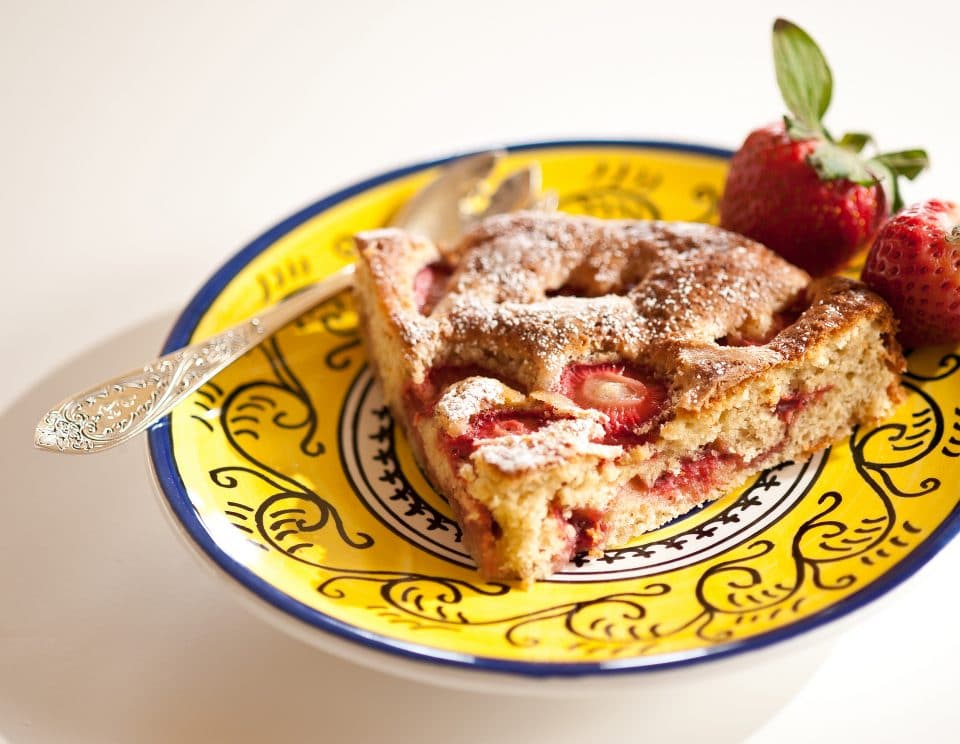 Serving Size: 6-8
Italian food lover and cookbook author Faith Willinger told me she improvised this unusual recipe when she had a rather empty larder and company coming for dinner. You might think the "anarchy" is in putting salad dressing ingredients—olive oil and balsamic vinegar—in the cake, but it goes beyond that. The idea is to act like an Italian—pretty much do whatever you want and it will still come out beautifully—the sign of a really good recipe.
[This recipe comes from Zupan's Markets Summer 2012 issue of Indulge Magazine (Vol. 5, Issue 1) — reprinted with author permission.] 
Ingredients
1½ C fresh, sliced strawberries (see Note)
½ C plus 1 or 2 T superfine sugar (granulated works in a pinch)
¾ C cake flour or pastry flour (all-purpose flour works in a pinch)
¾ t. baking powder
Pinch of salt
1 large egg
¼ t. fresh lemon zest, finely grated
¼ C extra-virgin olive oil
¼ C milk
½ t. balsamic vinegar
Powdered sugar for dusting
Note: Other fresh fruit can be used, such as peaches, apricots, or plums (neatness does not count); if using cherries, pit them.
Preparation
Preheat the oven to 350˚. Line the bottom of an 8″ springform pan with parchment paper, brush with oil, and lightly flour.
In a bowl, gently toss the fruit with 1 T of the sugar, and set aside. In another bowl, combine the flour, baking powder, and salt and set aside.
Using an electric mixer, beat the egg with the ½ C sugar and the lemon zest, until light, fluffy, and pale in color. This could take as long as 5 minutes. Add the oil, then the milk and balsamic vinegar, beating until fully combined. Using a rubber spatula, fold in the flour mixture. Pour the batter into the prepared pan and drop the fruit over the top. Sprinkle with the remaining 1 T sugar. Bake for 50 minutes, or until the top is a beautiful golden brown and a knife blade inserted in the center comes out clean. Cool on a wire rack for about 5 minutes, then remove the sides of the pan. Dust with powdered sugar and serve warm or at room temperature.