Rogue Creamery is an Oregon original and is famous throughout the world for its fine blue cheeses.
One of Oregon's longest operating dairies, Rogue Creamery started as a local job producer and World War II troop feeder. And now, it's a world-class cheese maker with numerous international awards.
The Rogue Creamery dairy is located in Central Point, Oregon, and was founded in the 1930s by Tom Vella. What started off as a small production plant has blossomed into a major regional facility that supplies much of the country (and the world) with some of the finest blue cheeses the world has to offer.
Rogue Creamery is USDA Certified Organic and a Certified B Corp.
Featured Cheese:

Rogue River Blue – Coming Soon
Named the Best Cheese in the World for 2019/2020 at the World Cheese Awards in Bergamo, Italy. After 9 to 11 months of careful aging, each wheel is hand-wrapped in organic, biodynamic Syrah grape leaves that have soaked in pear spirits.
Pair With: Needing no accompaniment, Rogue River Blue shines spectacularly when on its own or with a simple fruit compote. Added to salads or meats, it lifts cuisine to new heights. For wine pairings, choose wines of age and distinction: Viognier, classic French or German Gewurztraminers, Syrah, Cabernet Franc, and Sauternes are favorite pairings. Hazelnut Porter or Chocolate Stout bring out nuanced, earthy and nutty flavors, as do pear brandy, whiskey, and bourbon.


Oregon Blue
Rogue Creamery's classic, signature blue cheese. First created in 1954, this was the first cave-aged, Roquefort-style blue cheese made on the West coast. Approachable and fruity with a moderate blue flavor and hint of sweet forest honey. It has a rich, creamy texture and savory-sweet finish.
Pair With: A delicious addition to salads, appetizers, and mains. It adds a great touch of tanginess to meats and is particularly good with lamb, burgers, and steak. Pairs well with a wide variety of wines particularly Viognier, Riesling, and Pinot Noir. Equally versatile with beer, shining besides IPAs, Weissbier, and Pale Ales.


Caveman Blue
A favorite of cheesemongers and connoisseurs alike, organic Caveman Blue is a cheese platter favorite. The natural rind allows this cheese to release moisture while cave-aging, developing a fudgy, creamy texture with earthy notes of shitake mushroom, sweet golden beets, brown butter, and a moderate blue flavor.
This cheese pulls inspiration from Southern Oregon's extensive cave systems and the occasional Bigfoot sighting in Grants Pass and Josephine County in Southern Oregon.
Pair With: Fruit and nut studded crisps, stewed shallots, or a contrasting bright orange marmalade. The addition of Caveman Blue can elevate a variety of dishes such as otherwise-simple sides. The earthy backbones shine best with bold reds like Zinfandel and Syrah, dessert wines, and full-flavored stout beers.


Smokey Blue
Inspired by Smokey the Bear, this American original is cold-smoked for many ours over hazelnut shells which infuses the cheese with unique aromas of barrel-aged vanilla, bread pudding, and candied bacon. This cheese has spicy-sweet flavors of honey, apple, and nectarine along with a mild blue finish. Creamy, buttery, and crumbly with mild tannins.
Pair With: Simple foods such as burgers and deviled eggs. A unique addition to any cheese board, best served with nut brittle or preserved fruits. Stands up well to bigger red wines, including Cabernet Franc and Zinfandel, as well as white wines exhibiting a hint of sweetness, and a favorite pairing with American whiskey.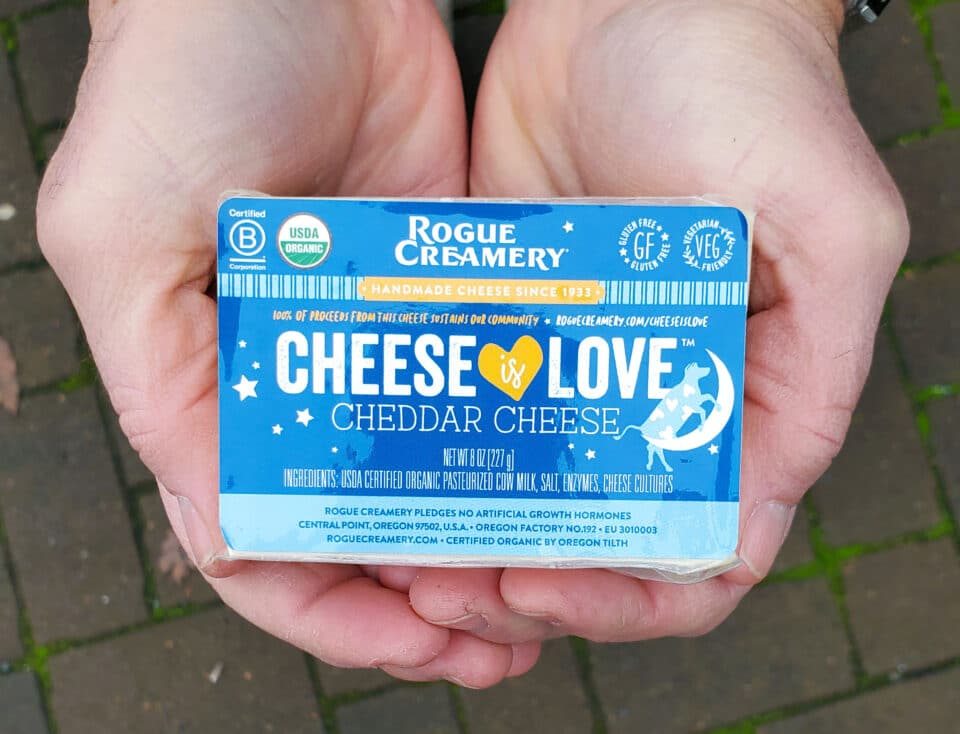 Cheese is love
This three-year aged version of Rogue Creamery's classic Jefferson Cheddar is truly made with love: for everything brick purchased, another is donated to Oregon food banks. Sharp, nutty, and complex, this cheddar is a great addition to your cheese and charcuterie platter.
Pair With: While delicious when grated into a casserole or bowl of chili, we most enjoy this nuanced, aged cheese on a cheese plate alongside dried fruit, nuts, and cured meat. This cheddar pairs well with Pinot Noir or a supple, medium-bodied red wine such as Syrah or a Bordeaux blend. We also love it with a malty amber ale.
Learn more about Rogue Creamery.
Purveyors, New Items, Featured Items
Big Table Farm
One of the newest labels to be added to the Zupan's Markets wine collection, this Willamette Valley favorite located in Carlton features delicious Pinot Noir, Chardonnay, and Rosé.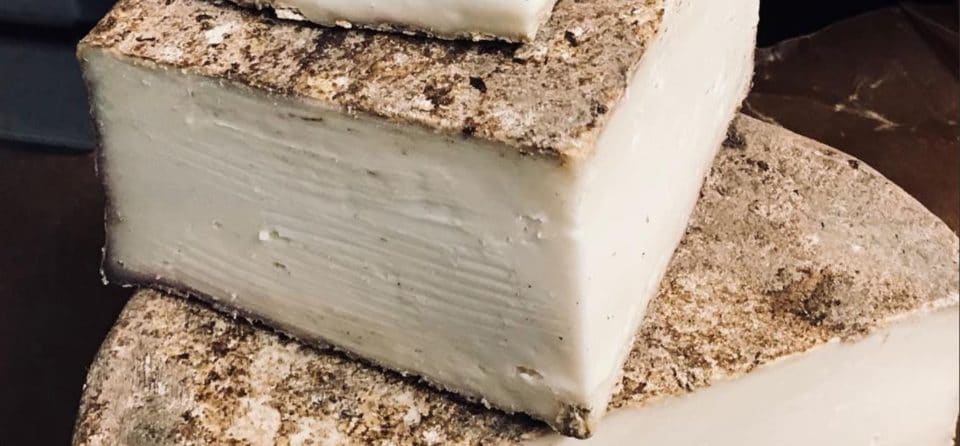 Purveyors, Featured Items
Goldin Artisan Goat Cheese
Located in Molalla, Goldin crafts French-style goat cheese in small batches from the high-quality milk of her resident Alpine herd.