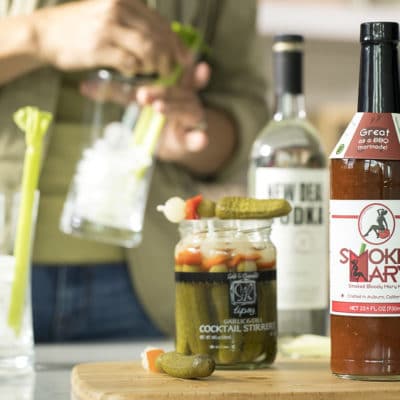 Shake up your Sunday morning brunch routine with Smokin' Mary Bloody Mary mix. This family-owned company was born of a love of tomatoes, a fondness for the Bloody Mary and frustration with commercial Bloody Mary mixes. Created by Laurie & Marc in Auburn, CA, Smokin' Mary is the result when you marry fresh tomatoes, a smoker, and a love for entertaining.
Unlike most Bloody Mary Mixes which consist of reconstituted tomato juice, Smokin' Mary starts with a whole lot of whole, crushed tomatoes. Add a bit of Worcestershire, Horseradish & Cayenne sauce with Natural Smoke Flavor and you've got a Bloody Mary with the perfect amount of kick. With its thicker tomato consistency, Smokin' Mary is also a great ingredient in chili, barbecue marinades, mole & more!
Learn more at the Smokin' Mary website.