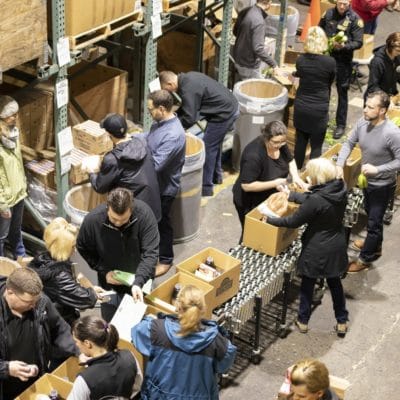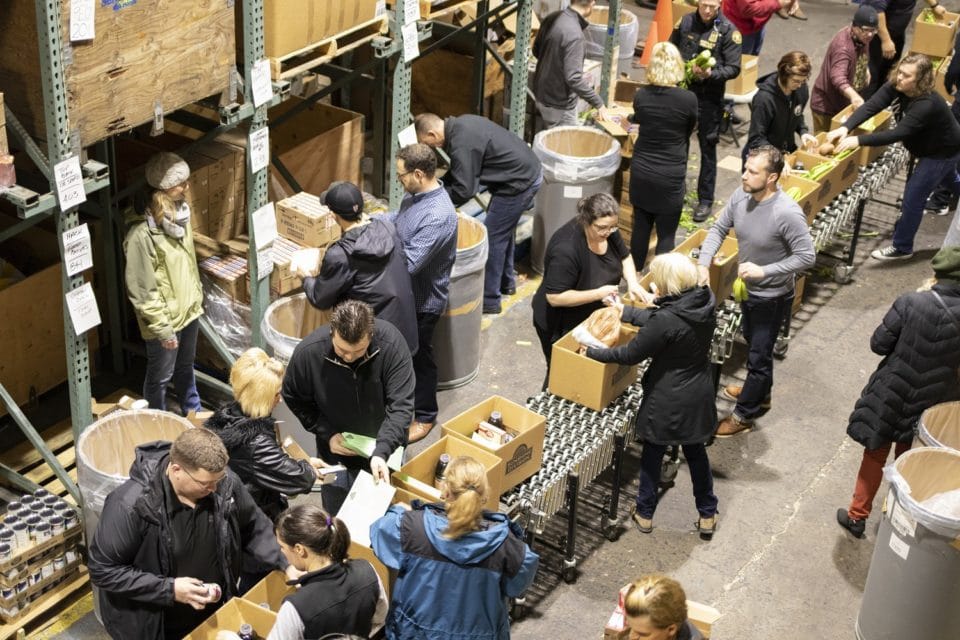 This year we are inviting customers once again to be a part of Zupan's Thanksgiving Food Box program. We will be creating 500 boxes for Portland families. Each box feeds a family of 6-8 people and costs just $20, thanks to the relationships and donations by Zupan's vendors and items provided by the Sunshine Division.
Donations in any amount will be accepted at the register through Thanksgiving. After Thanksgiving, we will continue to take donations for the Sunshine Division through December 31, which will help to provide food for their programs throughout the next year.
Zupan's Markets is proud to have partnered with the Portland Police Bureau Sunshine Division for over 26 years, helping to provide year-round food donations. In addition, 14 years ago the Thanksgiving Food Box Program was established to provide local families with a Thanksgiving meal. This program is funded solely by Zupan's Markets and would not exist without the donations from Zupan's customers and associates. Food for the boxes is purchased by Zupan's Markets and packed on the Monday before Thanksgiving by Zupan's associates. Due to COVID-19 this year, boxes will be packed and distributed solely by the Sunshine Division staff.
For the past 98 years, the Sunshine Division has been providing food and clothing assistance to local families and individuals at no cost. They are the only police-initiated food relief nonprofit partnering closely with first responders. This partnership allows the Sunshine Division to address hunger issues 24/7. In times of crisis, anyone in Portland can call the police non-emergency line to receive a Sunshine Division food box at any time, day or night (when all other resources are closed).
Since March, the economic fallout from COVID-19 has driven hundreds of people and families to seek food assistance, many for the first time. To meet this growing need, Sunshine Division found an innovative way to safely provide food assistance for those most in need by expanding and launching their emergency food delivery program. This program transports boxes of nutritious food every week to people who are homebound or manage medical conditions that make them more at risk for COVID-19. Within the first 6 months of launching their home delivery program, over 3 million meals were provided to more than 120,000 households.
The need has increased by more than 10 times what Sunshine Division provided during this same time frame last year. Sunshine Division has also adapted its special programs to fit the constraints of COVID-19, ensuring that children in need continue to receive free clothing and school supplies through our Izzy's Kids program and students at Community Transitional School. As nearly all of these children are experiencing some form of homelessness, our programs help to ensure these children have a stable food source to get them through the week.
They have received eight consecutive 4-out-of-4 star ratings by Charity Navigator for fiscal transparency and efficiency. This rating ranks them among the top 4% of charities nationwide for program efficiency.
The Sunshine Division is more than just a food bank or a place to "house" food.  They also offer several food assistance services to help make food more accessible to those that need support. In November 2017, Sunshine Division opened a second food pantry and clothing room facility (four days a week) at 12436 SE Stark to address the growing needs of outer East Portland in a neighborhood known as a "food desert".  Their N Thompson food pantry is open 6 days a week allowing clients to access food that fits their family's dietary and cultural needs. They deliver food boxes to the doors of households during the holidays, offer a summer food box program to address the absence of free and reduced school meals for kids during the summer months, as well as offer food box programs assisting veterans and active military families. In addition, they work side-by-side with Portland Police Bureau officers in a first-responder capacity, bringing food to the families who need emergency assistance at times when they can't access food on their own.