A culinary journey through Italy most
certainly must start with pasta. One of the
integral
parts of Italy's food scene, th
e
history of Ital
ian
pasta goes back hundreds if not thou
sand
s of years.
Typically made from durum wheat flour (semolina) mixed with water or
eggs, and
formed into various shapes or sheets.
Pasta can be enjoyed simply with a drizzle of extra virgin olive oil and a sprinkle of
parmesan or
paired with
your
favorite sauce.
This month we are excited to feature a number of authentic Italian pasta lines to our store, each highlighting the best Italian ingredients from the region where it is produced.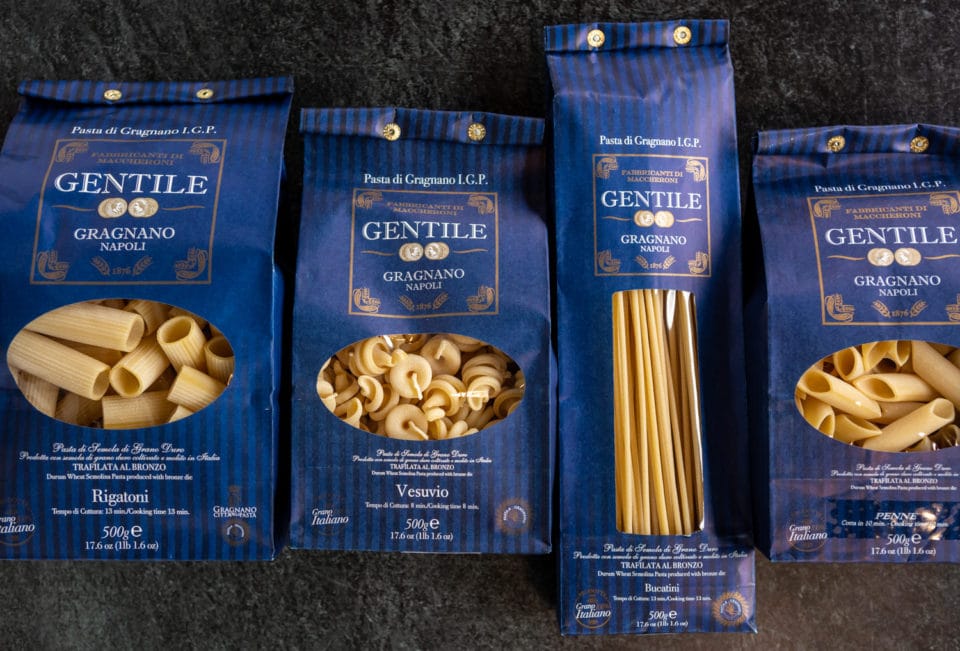 Gentile:
Located in the city of Gragnano in Naples, Italy, Pastificio Gentile first opened its doors in 1876 and is one of the only remaining historic, artisanal pasta producers that helped to establish Gragnano as the city of pasta. Today, Gentile remains a small family-owned company. Their pastas are created with 100% native Italian semolina, bronze cut and slow dried over a period of two days. Their pastas are also marked with the IGP certification "Pasta di Gragnano," ensuring that the pasta was produced in Gragnano and because of its unique characteristics could not be mimicked anywhere else in the world.
Featuring: Bucatini, Casarecce, Linguine, Penne, Rigatoni, Spaghetti, Vesuvio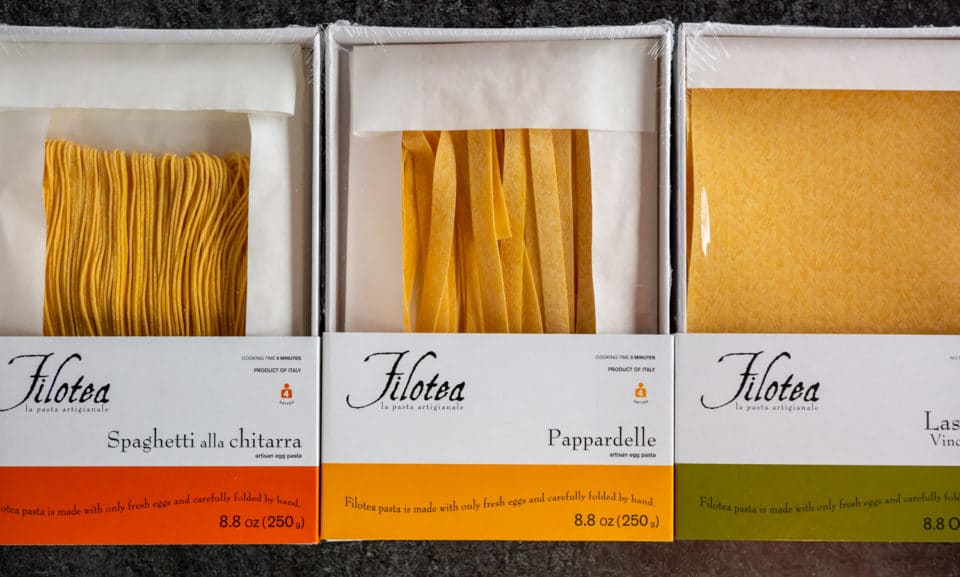 Filotea:
This pasta line comes from Ancona, the Adriatic-jutting elbow of the Italian region Le Marche. Ancona is a superb city for food, and it's the only Italian city where you can see the sunrise and set on the sea. Inspired by the thousand-year-old tradition of producing egg pasta and following the ancient local recipe, Fioltea pasta is handcrafted with a mix of flour, durum wheat semolina, and fresh eggs from free-range Le Marche chickens.
Filotea pasta features a line of traditional straight-cut and nested varieties including Linguine, Tagliatelle, Pappardelle, Lasagna Vinigrassi, Chitarra.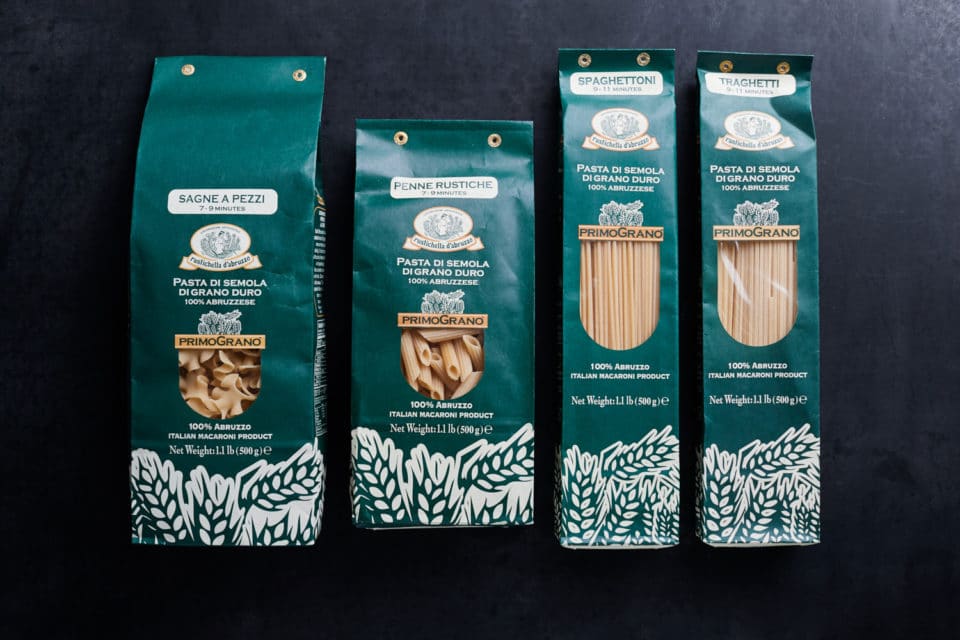 PrimoGrano:
Translated in Italian as "first grain" PrimoGrano pasta is made with 100% durum wheat from Abruzzo, Italy. Gianluigi Peduzzi, Rustichella d'Abruzzo's owner, and master pasta maker wanted to bring back the taste and authenticity of pasta made with this distinct wheat, just as his grandfather had done at the turn of the last century.
Each November Gianluigi and a small group of farmers plant 148 acres of three heirloom wheat varieties. The wheat is harvested in early June and immediately taken to a mill where it is ground into semolina used to make traditional Abruzzo shaped pasta – both short and long.
Created in just a single batch once a year, PrimoGrano has a soft texture and unique flavor. This pasta is best drizzled with extra virgin olive oil or a light sauce, allowing you to taste its unique flavors.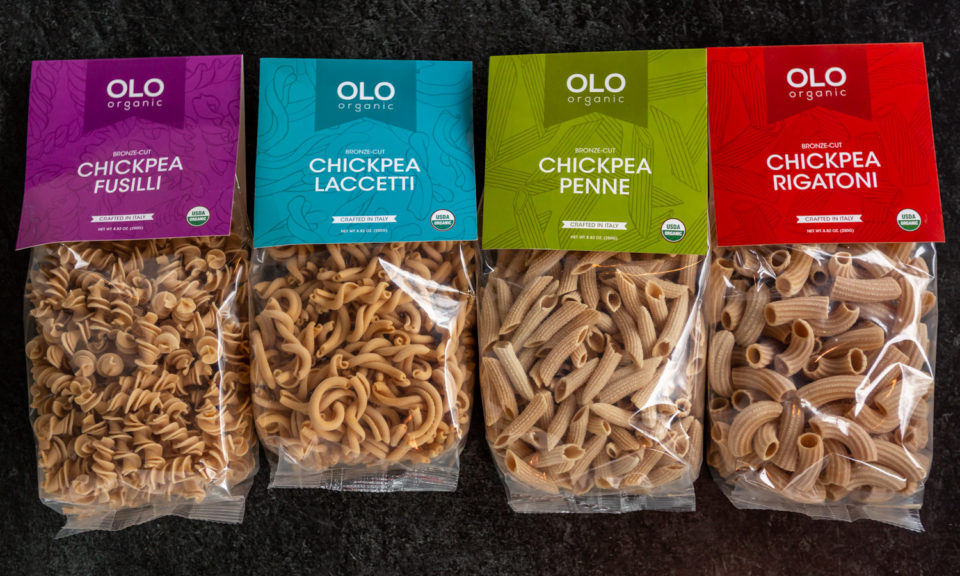 Olo:
Not your traditional pasta variety, Olo's organic legume pastas start with sustainably sourced beans from the Sibillini Mountains in the heart of Italy. The rich climate of this area creates a certified organic chickpea that is rich in nutrients.
The legume flour is stone milled, produced "raw", and cut with traditional bronze die plates which allow for the preservation of taste and an incredible texture for sauce to grip onto. The pasta is then slow-dried at a low temperature, which means you get fresh dried pasta with all the healthy nutrients from the legumes. Unlike other pasta alternatives, Olo is created with just legume flour and water, making it free of thickeners, binding agents, fillers or preservatives.
Featuring: Fusilli, Lacetti, Penne, Rigatoni
Chef John's Pasta Cooking Tips
Pasta needs room to move around

while

c

ooking. It is always best to have more water than less in your pot.

For each

pound of pasta

,

we recommend 2 gallons of water and

3 tablespoons of salt

.

Boil your water, then add salt.

Save a bit of the pasta water to add to your sauce before straining. The sauce absorbs the

starch

from the water making for a richer pasta.

Strain

your

pasta then dump into your sauce

. Never rinse pasta.

Have

your

sauce ready before

the

pasta is done

. P

asta s

hould never

wait

.

Undercook the pasta and let it finish cooking in the sauce

.

Undercook vegetables when adding to pasta and add some of the vegetable water when you combine the ingredients.