Prized for their intense aroma and flavor, Italian truffles or Tartufo in Italy, are used throughout Italian cuisine and able to transform a seemingly simple dish into a culinary delight.
A delicacy that has been around the culinary world for all of history, many chefs refer to truffles as the 'Diamond of the Kitchen'. Plentiful in the remote parts of Umbria, Marche & Tuscany, truffles are exported worldwide as a secret culinary weapon able to turn a good meal into a sensational one. But, what is a truffle, and why are Italian truffles so good? 
Truffle is a hypogeum fungus that grows underground, closely linked to certain kinds of plants, from which it absorbs nutrition by means of an extensive root system. The fruit is in the form of a tuber and consists of a fleshy mass, whose color varies from white to grey tending towards brown, depending on the roots it is absorbing nutrients from.
Available in a number of varieties across the country, this seasonal item is typically found and foraged by specially trained animals – usually dogs or pigs – who literally sniff them out, The finest white truffles are said to come from the area near Alba in Piedmont however different varieties can be found across the northern and central regions of Italy where the microclimates and soil composition provide the best conditions for them to grow.
Typically shaved and served fresh over pasta & meats, the demand for truffle products has grown as the delicacy continues to gain popularity.
About TartufLanghe
Since 1975 TartufLanghe has contributed to the development of Italian gastronomic creativity, creating many truffle products.
The story of TartufLanghe is one steeped in history and adventure. After sailing and exploring the old & new worlds, Beppe Montanaro settled back in Alba his hometown in Italy's Langhe territory and opened a restaurant that would bring fame to the region, and specifically, fame focused on white truffle. "Da Beppe" (the restaurant) began to attract so many local and foreign truffle fanatics, Beppe and his wife Domenica made it their mission to meet the needs of truffle tourism. Thus, TartufLanghe was born. They began to ask the question could truffle products be available outside of the fresh truffle season in Italy?
Slowly, over the years, Beppe and Domenica began to answer this question by producing the world's first shelf stable truffle pasta. Since then, the TartufLanghe line has expanded to include a plethora of truffle products, from sauces and oils to potato chips and powders.
Today, TartufLanghe cultivates more than 20 acres of truffle fields between Langhe, Roero, and Monferrato. Once delivered to TartufLanghe, truffles are checked one by one, cataloged according to both, physical as well as aesthetic, characteristics. The best among fresh truffles are then sold and shipped all over the world, while a percentage of them are integrated into TartufLanghe specialties, thanks to the processes created by the company's team.
FEATURED PRODUCTS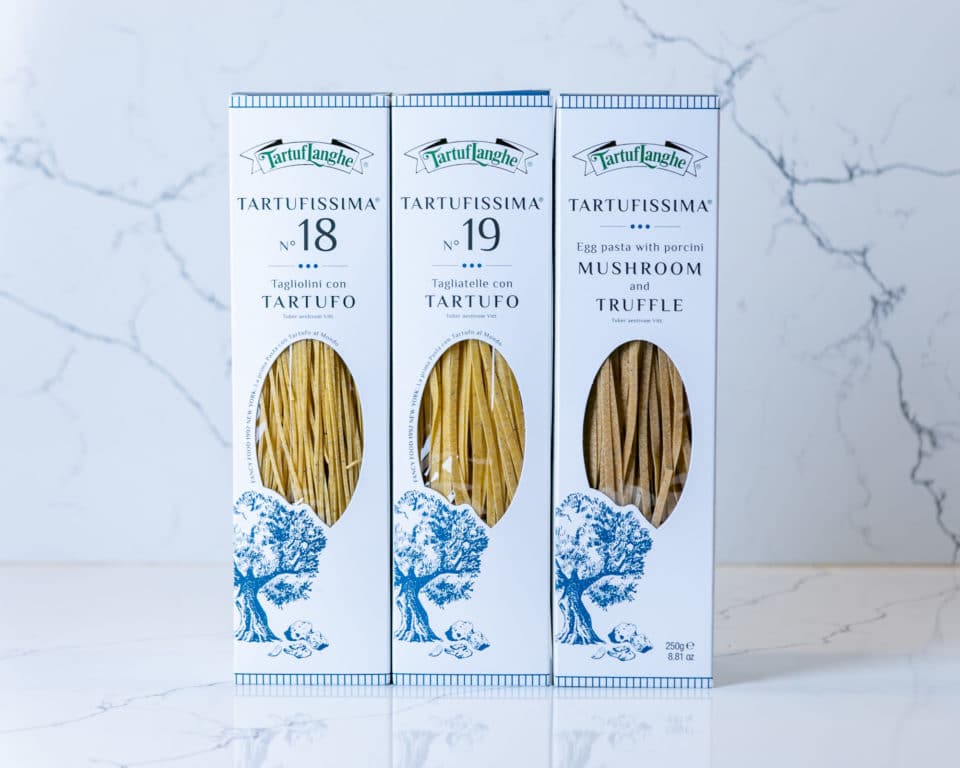 Tartufissima Truffle Pasta
The mainstay of TartufLanghe truffle products, this pasta has an extraordinary texture given by the bronze extrusion of the dough, the handmade shape, the high percentage of truffle, and the great quantity of eggs which enhances the truffle flavor. Created in 1990 as the first shelf stable pasta with truffle ever produced in the world and awarded the best new product of the year at the Summer Fancy Food Show in New York. The pasta also was included on "Oprah's Favorite Things" in 2012.
Tartufissima pasta is so rich in flavor, it does not need any additional sauce. To enjoy it at its best, simply season it with a little extra virgin olive oil or a dollop of butter.
Featuring:
Tagliatelle with 7% truffle
Tagliolini with 7% truffle
Tagliatelle with Porcini and truffle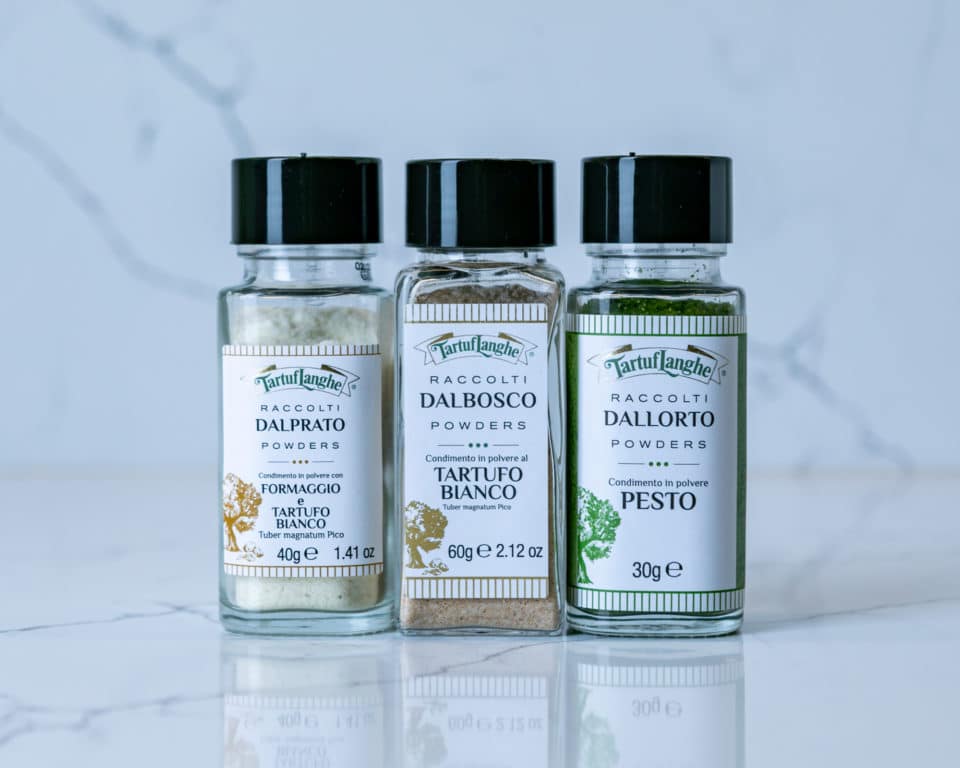 Truffle Powder
An incredible seasoning with the distinctive white truffle aroma, this product is unique in its recipe thanks to a masterful blend of fragrances and flavors. All ingredients are freeze-dried in order to keep their authentic taste and freshness.
Featuring
White truffle powder
Parmigiano cheese & truffle powder
Sprinkle it on popcorn, chips or nachos, pasta, pizza, salads, vegetables, cheese, eggs, potatoes, meat & fish. Use it as a spice to enrich your recipes or to create tasty sauces, vinaigrettes, and condiments.
Pesto Powder
Prepared just like authentic Italian Pesto sauce with fresh basil from Genova, Parmigiano Reggiano and Pecorino Romano cheese, pine nuts and garlic. The ingredients are blended and then reduced in powder. This freeze-dry technique keeps the freshness of the ingredients alive as well as the bright green color. Try it on pizza, pasta, mozzarella, burrata cheese, Caprese salads, and vegetable soups.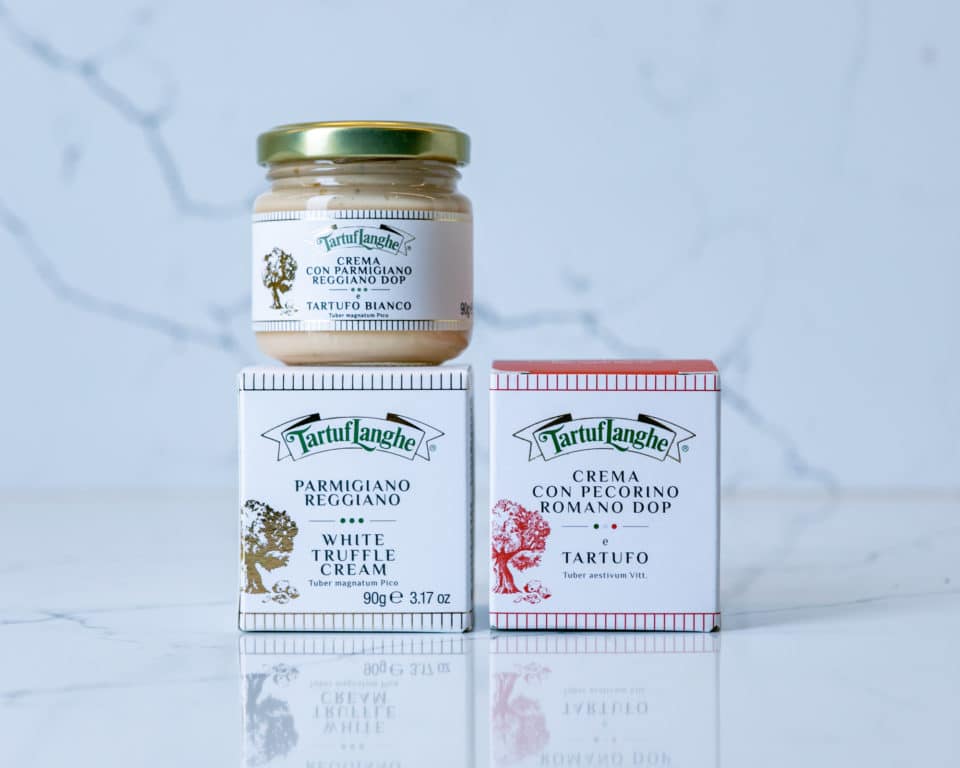 Truffle Cream
These sauces feature a blend of two Italian signature ingredients, cheese and truffles. Available in a variety of combinations, try tossed with pasta, as a topping for grilled meat, or integrated into risotto to intensify the flavor. Delicious also spread on toast or blinis.
Featuring
Parmigiano Reggiano Truffle Cream
Parmigiano Reggiano White Truffle Cream
Pecorino Romano Cheese and Truffle Cream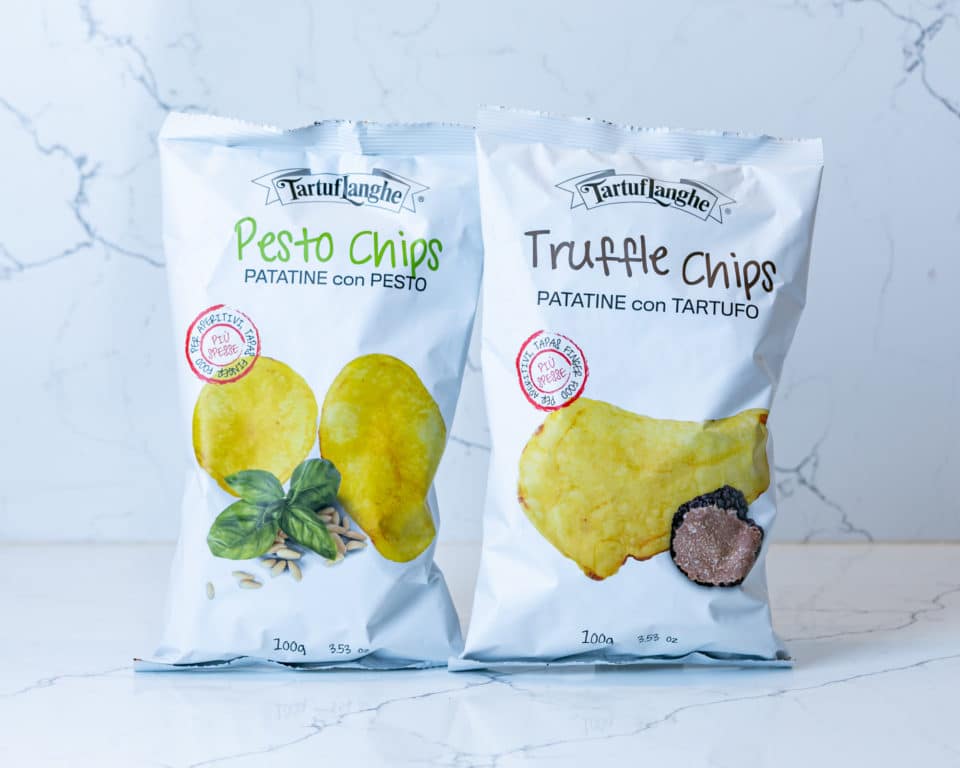 Truffle Chips
Made simply from potatoes and Italian summer truffle, these chips are thicker than traditional potato chips. Dip in gourmet mixes like cream and fresh herbs, fresh cheese & dill, or with salmon eggs. Or try crumbling them atop a salad for an extra flavorful crunch.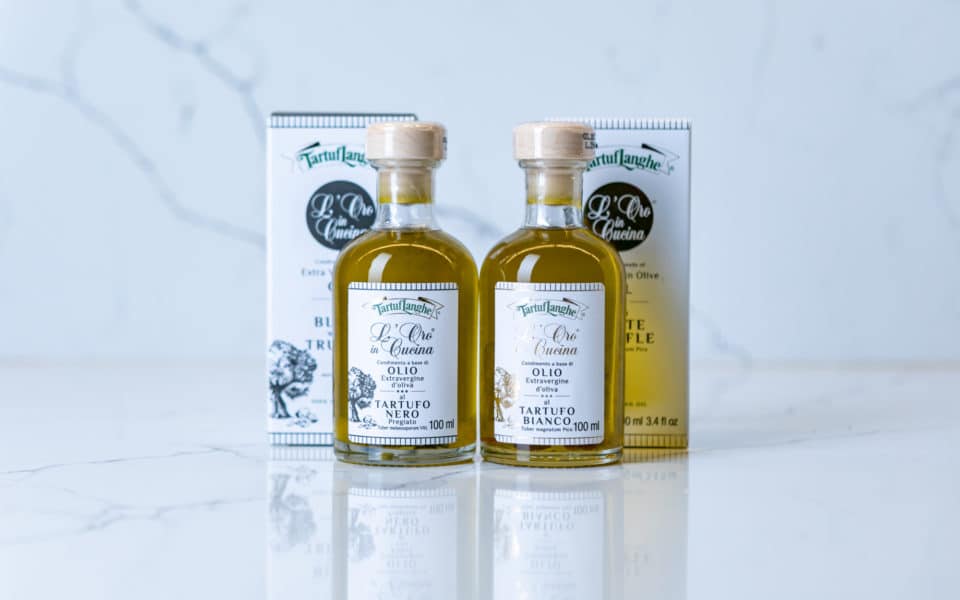 Truffle Oil
Featuring extra virgin olive oil with slices of white and black winter truffle. The fruity and delicate composition of the oil pairs beautifully with sliced truffle. Ideal for dressing salads, or as a finishing oil on meat and pasta.
Featuring
Extra Virgin Olive Oil with White Truffle Slices
Extra Virgin Olive Oil with Winter Black Truffle Slices
Learn more about TartufLanghe.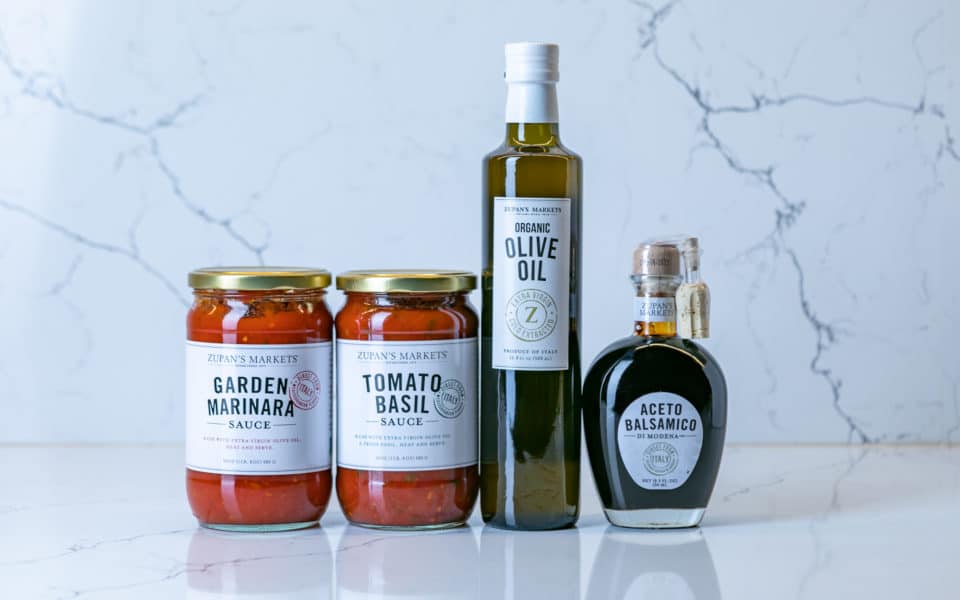 News
Zupan's Italian Products
Zupan's is proud to carry a lineup of Italian Made products in our Private Label Collection. Featuring marinara sauce, organic olive oil, and balsamic vinegar.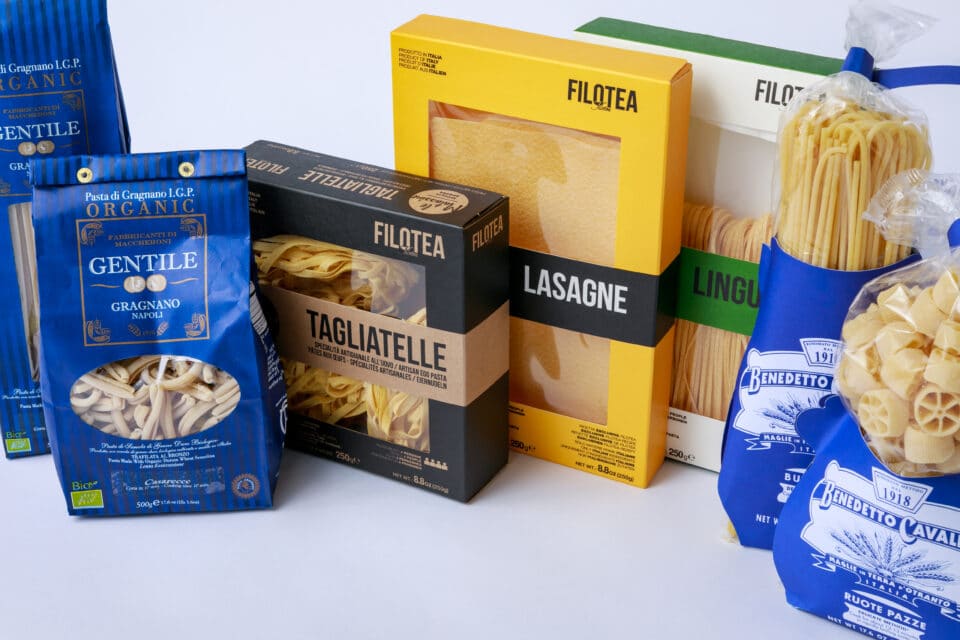 Must Try
Italian Pasta
A culinary journey through Italy most certainly must start with pasta. One of the integral parts of Italy's food scene, the history of Italian pasta goes back hundreds if not thousands of years.