A culinary journey through Italy most certainly must start with pasta. One of the integral parts of Italy's food scene, the history of Italian pasta goes back hundreds if not thousands of years. Typically made from durum wheat flour (semolina) mixed with water or
eggs, and
formed into various shapes or sheets. Pasta can be enjoyed simply with a drizzle of extra virgin olive oil and a sprinkle of parmesan or paired with your favorite sauce.
Featured Products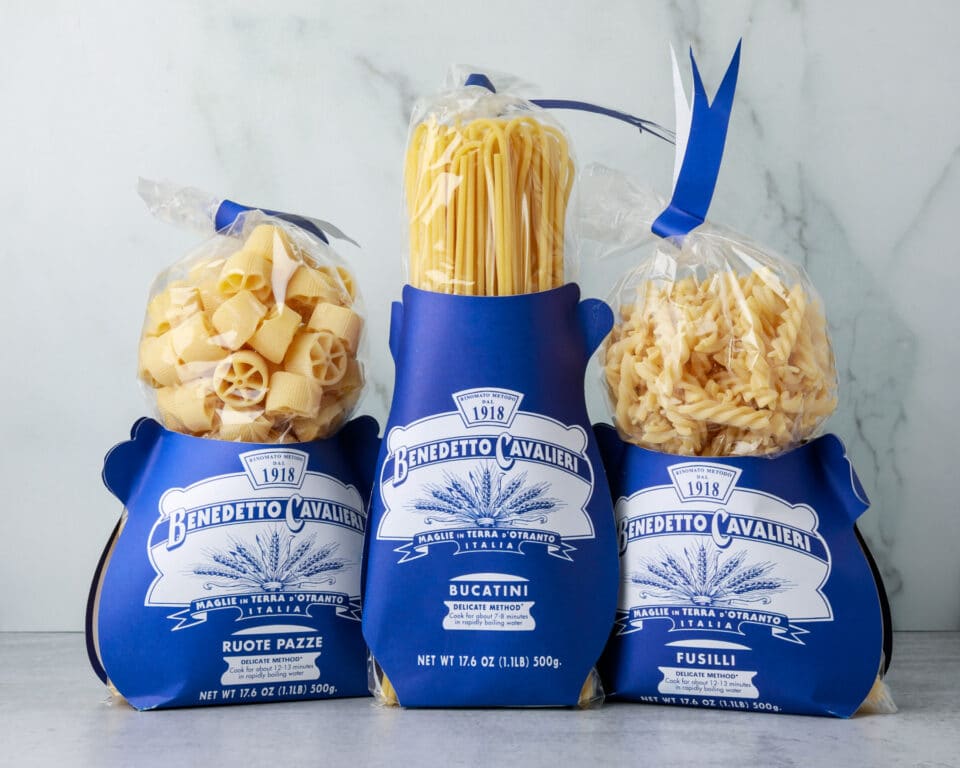 benedetto cavalieri
After the agricultural crisis of 1861 in Italy, the Cavalieri family shifted their focus from wheat-growing to now include wheat processing. What began as creating millstones for milling the best durum wheat turned into the Pasta Factory of Benedetto Cavalieri in 1918. With a history of sourcing and milling the best durum wheat, the family operation set its sights on creating pasta from the best durum wheat in southern Italy.
Benedetto Cavalieri pasta is made with durum wheat from the Apulia hills of southern Italy. Pasta dough is kneaded and molded by a special bronze alloy to achieve delicate shapes and dried at low temperatures for 40 hours. Each Benedetto Cavalieri pasta is rough in texture helping sauce cling to the noodles and giving it a richer taste.
Featuring:
Spaghettoni
Tagliatelle
Bucatini
Ruote Pazze
Fusilli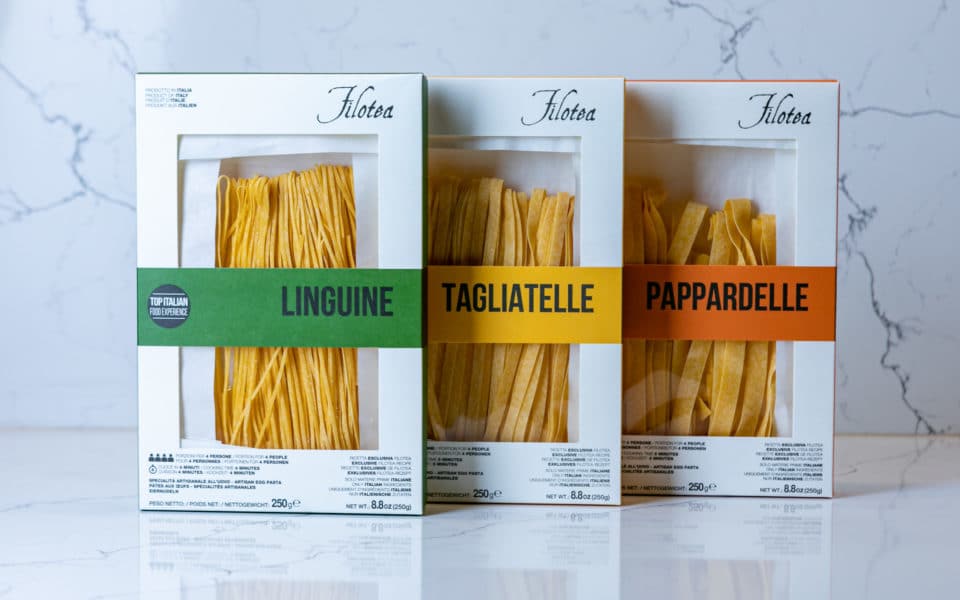 Filotea
This pasta line comes from Ancona, the Adriatic-jutting elbow of the Italian region Le Marche. Ancona is a superb city for food, and it's the only Italian city where you can see the sunrise and set on the sea. Inspired by the thousand-year-old tradition of producing egg pasta and following the ancient local recipe, Filotea pasta is handcrafted with a mix of flour, durum wheat semolina, and fresh eggs from free-range Le Marche chickens.
Filotea pasta features a line of traditional straight-cut and nested varieties including Linguine, Tagliatelle, Pappardelle, Lasagna Vinigrassi, Chitarra.
Featuring:
Spaghetti
Linguine
Pappardelle
Tagliatelle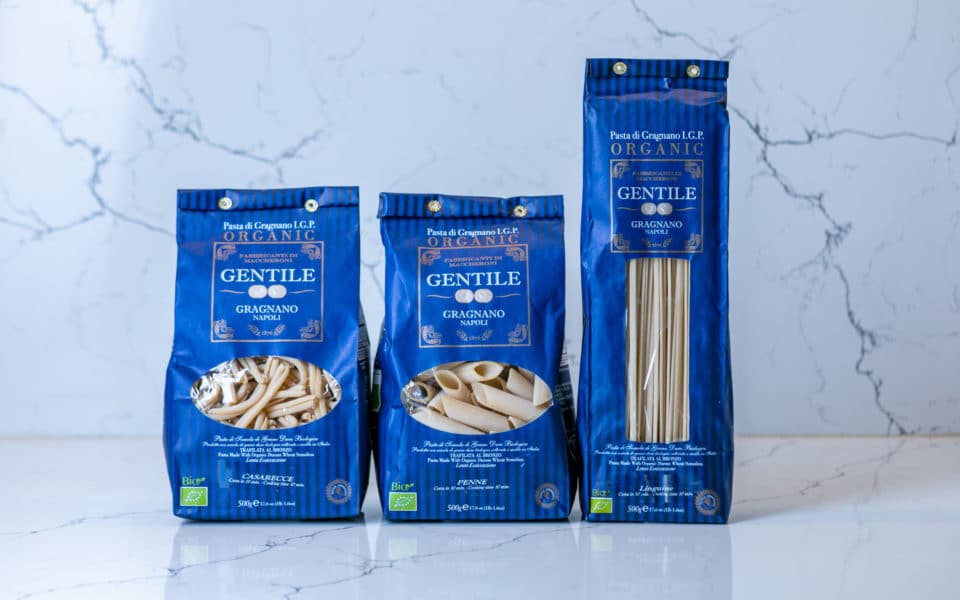 Gentile
Located in the city of Gragnano in Naples, Italy, Pastificio Gentile first opened its doors in 1876 and is one of the only remaining historic, artisanal pasta producers that helped to establish Gragnano as the city of pasta. Today, Gentile remains a small family-owned company. Their pastas are created with 100% native Italian semolina, bronze cut and slow dried over a period of two days. Their pastas are also marked with the IGP certification "Pasta di Gragnano," ensuring that the pasta was produced in Gragnano and because of its unique characteristics could not be mimicked anywhere else in the world.
Featuring
Casarecce
Linguine
Papiri
Spaghetti
Vesuvio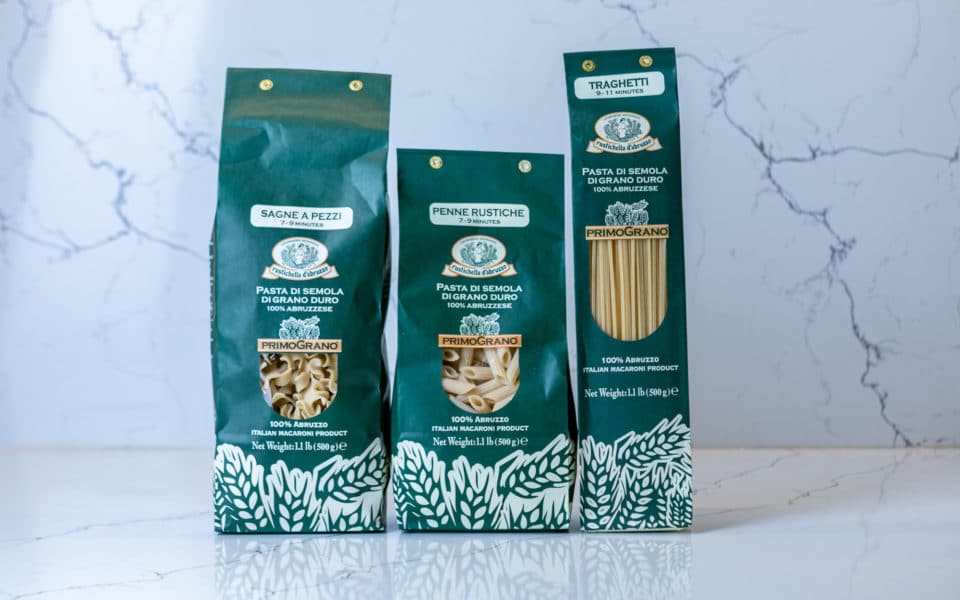 Rustichella
D'Abruzzo
Primo
Grano
Translated in Italian as "first grain" PrimoGrano pasta is made with 100% durum wheat from Abruzzo, Italy. Gianluigi Peduzzi, Rustichella d'Abruzzo's owner, and master pasta maker wanted to bring back the taste and authenticity of pasta made with this distinct wheat, just as his grandfather had done at the turn of the last century.
Each November Gianluigi and a small group of farmers plant 148 acres of three heirloom wheat varieties. The wheat is harvested in early June and immediately taken to a mill where it is ground into semolina used to make traditional Abruzzo shaped pasta – both short and long.
Created in just a single batch once a year, PrimoGrano has a soft texture and unique flavor. This pasta is best drizzled with extra virgin olive oil or a light sauce, allowing you to taste its unique flavors.
Featuring:
Penne Lisce
Sagne A Pezze
Spaghettoni
Traghetti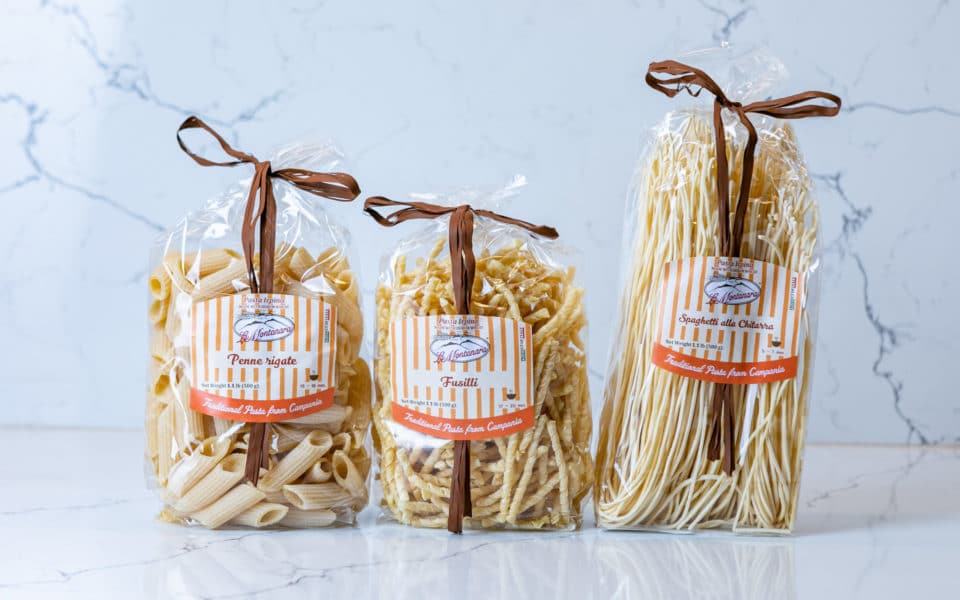 La
Montanara
Started by his grandmother's homemade pasta production in the 70's, Michele Repucci runs La Montanara, a pasta company focused on the tradition of Irpinia pasta production. In their Irpanian (a district outside of Naples) family home, Repucci's grandmother had a vision to showcase the Irpinia pasta flavors outside of their kitchen walls. She began to produce pasta for their small village. Now, Repucci runs the business created by his grandmother and has expanded its reach far beyond their small village. An accountant by day and entertainer by night, Repucci brings vibrancy to the business, as well as flavor and authenticity. Each cut of pasta is unique but is made from 100% top quality Italian wheat. Repucci highlights tradition where it matters, and bends the rules in other ways.
Featuring
Spaghetti
Fusilli
Rigatoni
Penne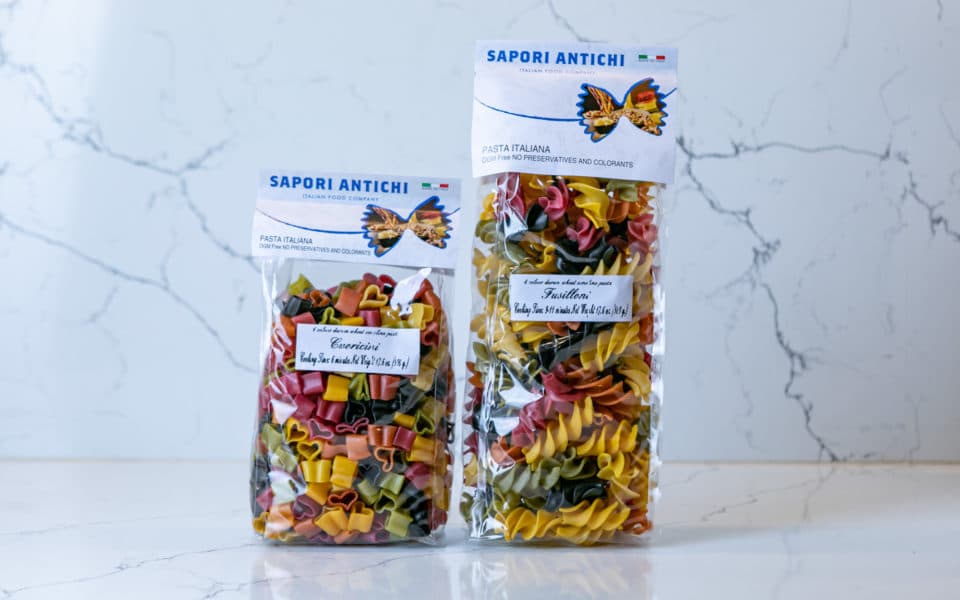 Sapori
Antichi
Add some fun to your meal with this colored pasta! Passion, a strong tie with the land, quality, and innovation are the foundations of success met by Sapori Antichi, based in the province of Udine, Italy. Unique shapes allow for this pasta to soak up all the flavor of a good sauce. Sapori Antichi pasta is make with the finest ingredients Italy has to offer, and therefore retain their texture and color when cooked. The natural color of Sapori Antichi comes from ingredients like turmeric, paprika, spinach, beetroot and sepia. Mixed with durum wheat semolina, this pasta creates a perfect combination of colors and flavors, as well as visual delight. Try tossing this pasta with your favorite chunky sauce!
Featuring
Multicolored Cuorcini
Multicolored Fusilloni
Chef John's Pasta Cooking Tips
Pasta needs room to move around while cooking. It is always best to have more water than less in your pot.

For each pound of pasta, we recommend 2 gallons of water and 3 tablespoons of salt.
Boil your water, then add salt.

Save a bit of the pasta water to add to your sauce before straining. The sauce absorbs the starch from the water making for a richer pasta.

Strain your pasta then dump into your sauce. Never rinse pasta.

Have your sauce ready before the pasta is done. Pasta should never wait.
Undercook the pasta and let it finish cooking in the sauce.

Undercook vegetables when adding to pasta and add some of the vegetable water when you combine the ingredients.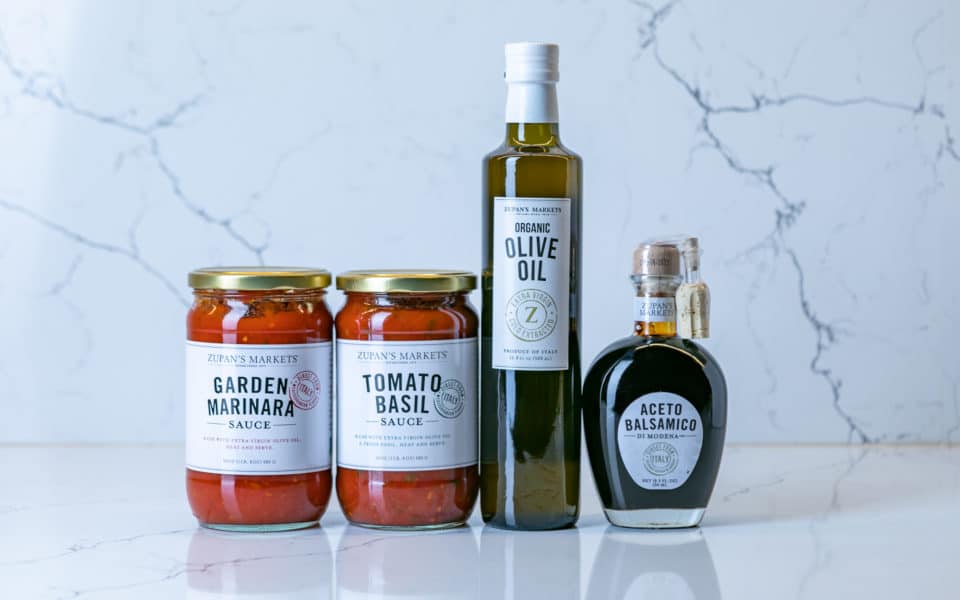 News
Zupan's Italian Products
Zupan's is proud to carry a lineup of Italian Made products in our Private Label Collection. Featuring marinara sauce, organic olive oil, and balsamic vinegar.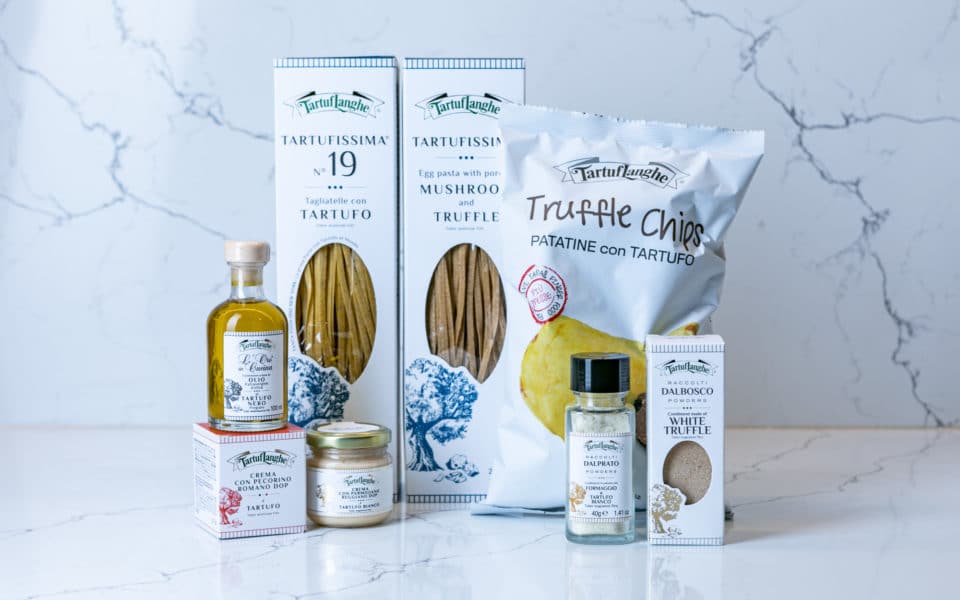 News, Purveyors, Featured Items
Truffle & TartufLanghe
Get a taste of this culinary treasure deeply rooted in Italian history. From truffle pasta to powders and creams, Italian truffle is the tradition you can taste.