One of our favorite Portlands cookie makers, Bluebird Bakers was started in 2009 and features delicious cookies, tea breads, and now fresh-baked scones.
Bluebird Bakers was started in Portland in 2009 by Chickie Massa, a passionate baker who wanted to do more than make a good cookie. Chickie wanted to make the very best versions of traditional cookies she could and insisted on using ingredients that were the best for everyone.
Because of that Bluebird uses only the purest of ingredients including certified humanely produced eggs and rBST-free butter and milk. By providing a few bags of cookies to one local store, and learning what customers really liked, she was able to expand the business over time to include 50 stores in Portland and beyond, including Zupan's Markets.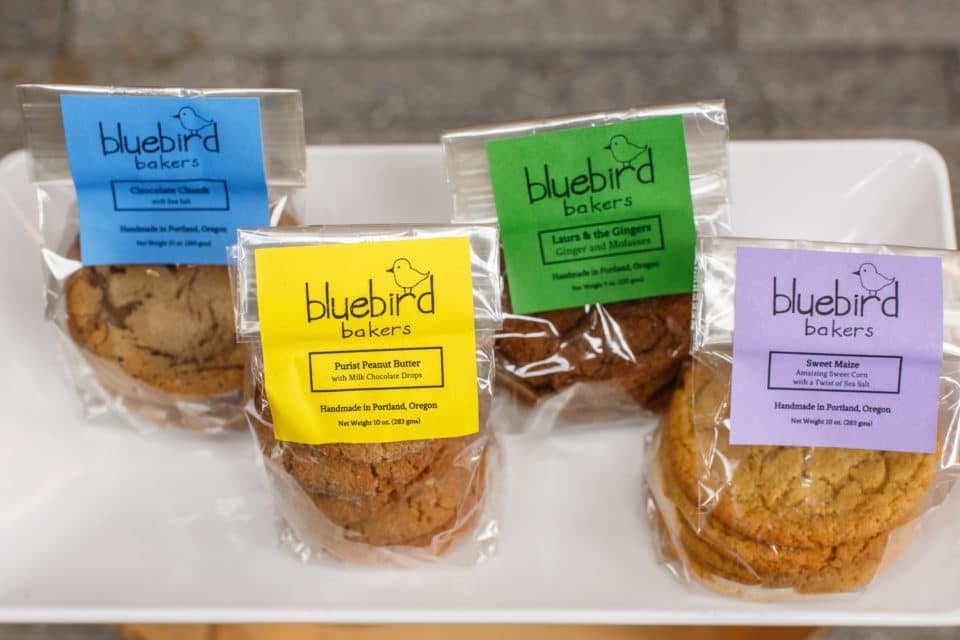 Today Bluebird's cookie line-up features over 10 flavors which include chocolate chunk with sea salt, brown butter oatmeal with toasted pecans and cranberries, and sweet maize. You can also bake up Bluebird cookies in your own oven. Available exclusively at Zupan's Markets – Chocolate Chunk, Ginger Molasses & Brown Buttered Oatmeal cookie dough now available both refrigerated and frozen.
Additionally Zupan's Markets has also worked with Bluebird Bakers to develop our Z Cookie. These delicious cookies are fresh-baked and served WARM in our bakery. Created with HUGE chunks of Belgian chocolate and finished with a sprinkling of sea salt. Available with or without toasted walnuts.
And now, Portland's favorite cookie maker has expanded to include delicious scones. Handmade and the perfect balance of sweet and savory, these giant scones are the perfect breakfast pastry to share…or not.
Featuring: Marionberry, Toasted Coconut, Cinnamon Raisin Pecan, and Cheddar & Green Onion.
Learn more about Bluebird Bakers.