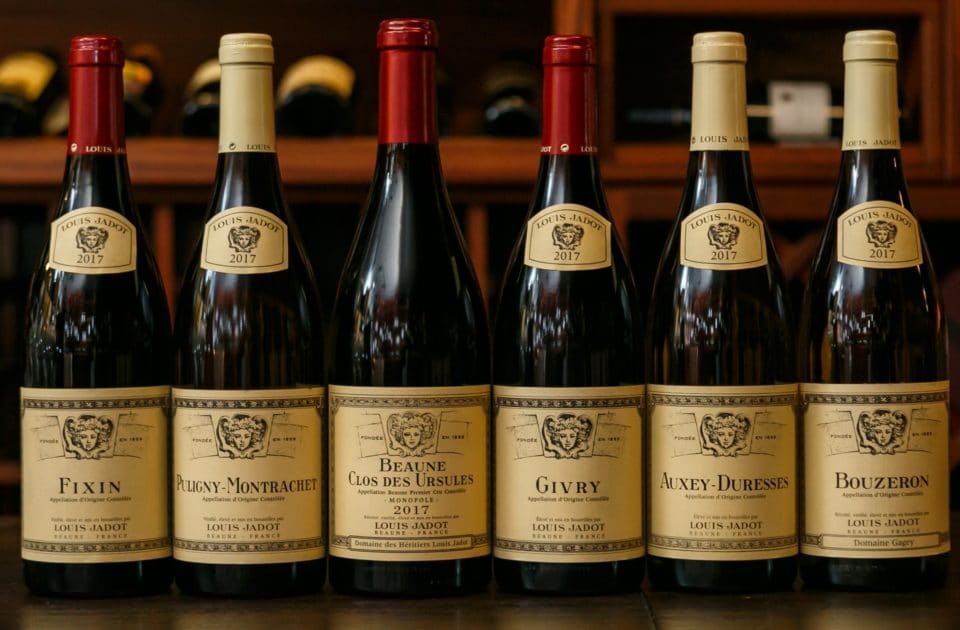 The House of Louis Jadot has been producing exceptional Burgundy wines since its founding in 1859 by Louis Henry Denis Jadot. For the past 150 years, Louis Jadot has continued as one of the great names of Burgundy and has gained an international reputation for its superb red and white Burgundy wines. Louis Jadot is not only one of the largest producers of estate Burgundies of the Côte d'Or, but it is also one of the most celebrated exporters of premium Burgundies, owning close to 140 acres of vineyards from 24 of the most prestigious sites in Burgundy.

2017 Louis Jadot, Fixin Pinot Noir
Côte de Nuits, France
With solid tannic and acidic structure, Fixin is a wine of power, able to mature for five to eight years in the bottle.
Pair with: Coq Au Vin, boeuf bourguignon, hare, game and other strongly flavored dishes.

2017 Louis Jadot, Puligny-Montrachet Chardonnay
Côte de Beaune , France
"92" Burghound – Plenty of floral influence on the essence of spiced apple and discreet citrus nuances. There is excellent volume to the palate coating and solidly concentrated medium-bodied flavors that offer outstanding depth and persistence for a villages level wine. One to buy and in quantity.
Pair with: Shellfish, creamed and poached fish, poultry liver pâté, and strong-smelling cheeses.

2017 Louis Jadot, Beaune Clos des Ursules Pinot Noir
Côte de Beaune, France
The 2017 Beaune 1er Cru Clos des Ursules is the high point of Jadot's Beaune portfolio, with a bouquet of raspberries, plums, candied peel, licorice, grilled meats, and warm spices. The wine is medium to full-bodied, deep and layered, with an ample core of structured fruit, concluding with a long finish.
Pair with: Delicate meat dishes and most cheeses

2017 Louis Jadot, Givry, Pinot Noir
Côte Chalonnaise, France
Tart and energetic red with chewy mouthfeel and pleasant bitter almond notes at the finish, long with bright acids and good concentration.
Pair with: Charcuterie, pâté, savory pies, grilled or roasted meats, poultry and pressed cheeses.
2017 Louis Jadot, Auxey-Duress Blanc Chardonnay
Côte de Beaune, France
Authoritative and energetic entry on the palate; classic lemon curd, hazelnut and stony earth nuances. Neighboring terroir is Meursault with similar characteristic for fraction of the cost.
Pair with: Chicken or turkey

2017 Louis Jadot, Bouzeron Aligote
Côte Chalonnaise, France
Well structured, with hints of peaches. This wine is very fresh and lively. Bouzeron only produces white wines exclusively with the Aligote grape. This grape is very old in Burgundy (17th century) and has been replaced everywhere by the Chardonnay grape.
Pair with: Charcuterie or as an aperitif