From Our Cellar Collection
Break out the bubbly and cheers to 2019 with hot deals on large format champagnes from our cellar collection.
Prices valid through December 31, 2018.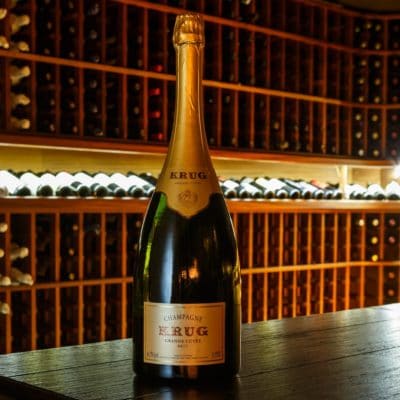 KRUG GRANDE CUVÉE, 3L
$1,250, reg. price $1,499
Complexity from the very outset with praline, honey, grilled-hazelnut and nougat aromas leading to a fresh background of peaches, lemons and grapefruit. Chardonnay leads on the nose for now. The palate has finesse, fleshy appeal and terrific focus.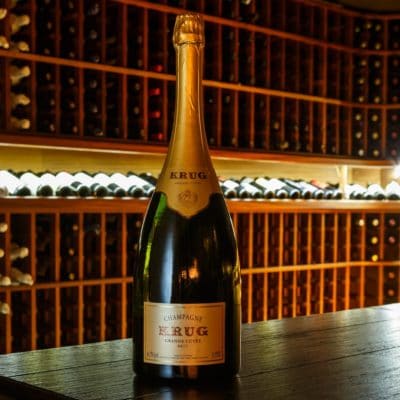 2003 K
RUG Clos Du Mesnil, 1.5L
$2,495
97 Points Wine Spectator – Incredibly fresh and vibrant, this stunning Champagne weaves a tightly knit skein of ripe pear and tangy yellow plum fruit flavors together, with accents of rich pastry cream, toasted brioche, elderflower, ground cardamom and coffee liqueur. Shows a beautiful texture. A thread of salinity winds through to the lasting finish. Disgorged fall 2013. Drink now through 2029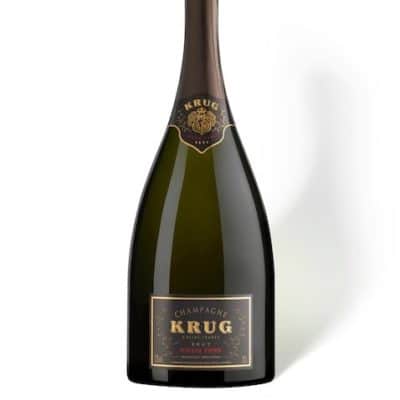 1995 KRUG VINTAGE, 1.5L
$665, reg. price $860
98 Points Wine Spectator -A very youthful '95. Delicate. Intense aromas of ginger, citrus, candied berry and multigrain bread turn to honey, roasted almonds and graphite on the palate. It's all underscored by a precise structure and creamy texture.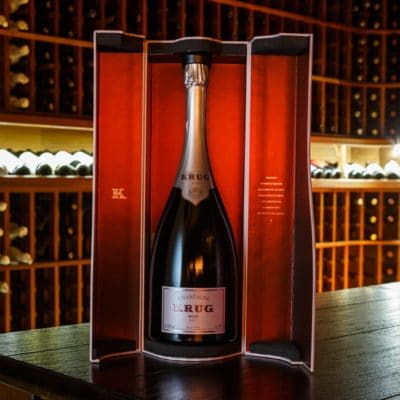 KRUG ROSÉ, 1.5L
$799, reg. price $829.99
96 Points Wine Spectator – A lovely, creamy rosé Champagne, seamlessly layering vivid acidity with dried fig, poached apricot and Mandarin orange peel fruit notes. Offering exotic accents of grilled nut, curry spice, and dogwood blossom that expand and echo on the finish.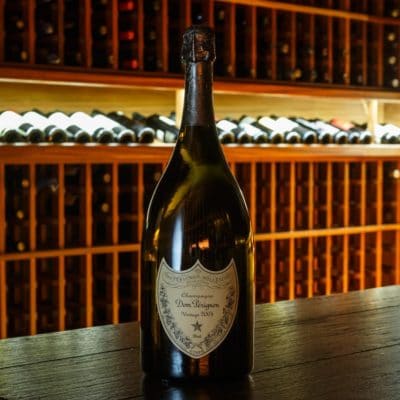 2004 DOM PÉRIGNON BRUT, 1.5L
$499, reg. price $679
95 Points Wine Spectator – A graceful Champagne, with mineral drive. Firm acidity and a rich vein of smoky mineral meshes with the plush texture, offering finely woven flavors of mirabelle jam, toasted brioche, crunchy pear, honey and smoked almond. Delivers a long, mouthwatering finish. Drink now through 2029.
2007 Louis Roederer Cristal, 1.5L
$599, reg. price $650
95 Points Robert Parker – Cristal is Roederer's prestige cuvée, based on chalk soils. In 2007, the wine is all about chalk in its tension and length. Its white fruit races with electricity, a spark of energy driving the pale scent of nectarine and fresh apple. Presented to you in a beautiful wood box, sealed with a leather strap for a perfect holiday gift.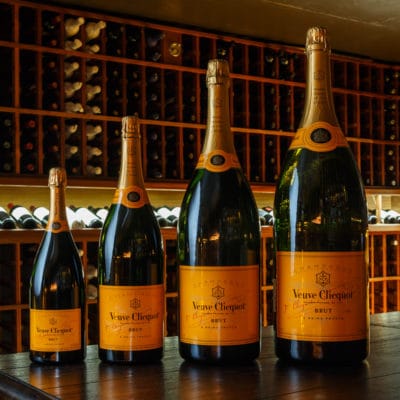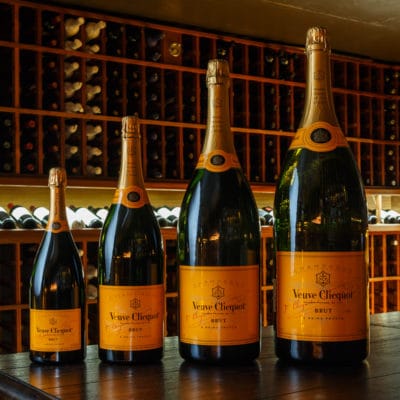 VEUVE CLICQUOT Yellow Label,
1.5L, 3L, 6L, 9L
1.5L – $109.97, reg. price $139.97
3L – $299, reg. price $399
6L – $649, reg. price $699
9L – $999.97, reg. price $1299
One of the most famous Champagnes in the world. The well known "Yellow Label" represents quality to so many people. The layers of citrus and minerality from the Chardonnay, bramble berry from the Pinot Meunier, and the refined full structure from the Pinot Noir, which is the dominant variety in this blend, makes this an outstanding Non-Vintage Champagne.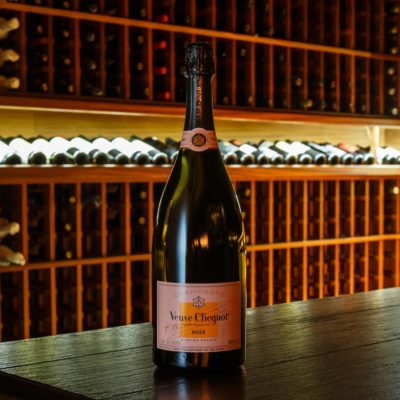 VEUVE CLICQUOT ROSÉ, 1.5L & 3L
1.5L – $149.97, reg. price $159.99
3L – $399.97, reg. price $499
This mouthwatering rosé Champagne shows textural density. Sitting like raw silk on the palate and offering flavors of dried white cherry, grapefruit granita and ground ginger, with a light and lingering toast note.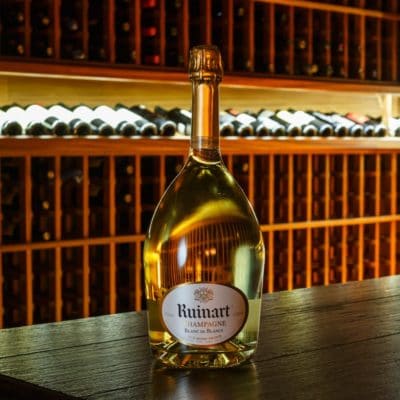 RUINART BLANC DE BLANCS, 1.5L
$179.97, reg. price $220
Crisp with a delicious line of acidity and ripe with apple and lemon flavors. This wine balances freshness with hints of maturity from aging in Ruinart's subterranean cellars. It's both taut with the tension of cool-climate Chardonnay & shows signs of toastiness.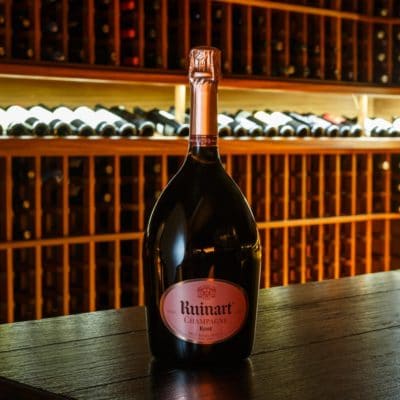 RUINART ROSÉ, 1.5L
$199.97, reg. price $230
A fresh and focused rosé Champagne, with a satiny mousse and a subtle streak of smoke underscoring the well-knit flavors of white raspberry and wild strawberry fruit, pastry cream, and candied orange zest.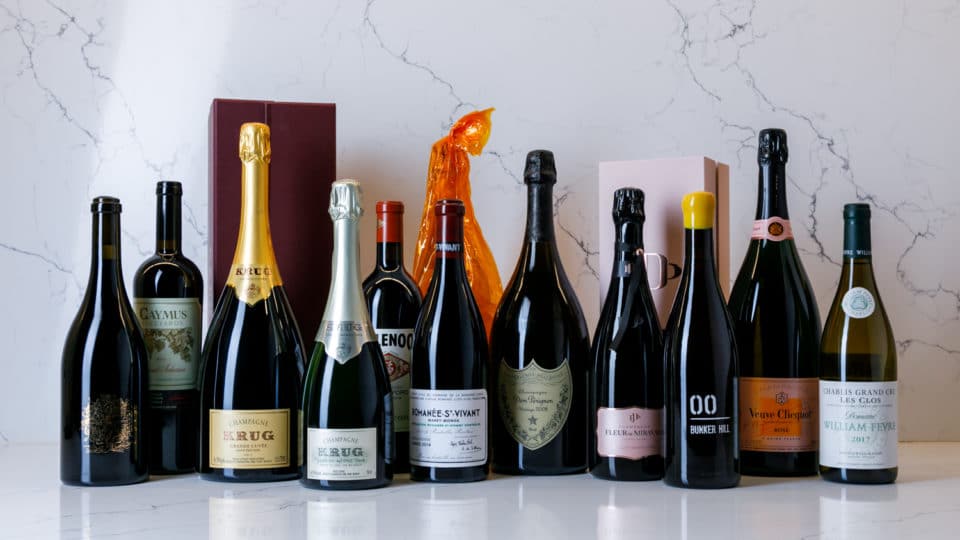 News, Wine Newsletter, Featured Items
12 Days of Wine
Countdown to Christmas with daily wine specials from our cellar collection. Featuring both large format magnums and wine gift packs.