Burgers, the quintessential sandwich of summer.
Up your burger game this summer with our
housemade
patties, available in a variety of flavor combinations created by our own meat department experts.
Each burger starts with meat that has been fresh ground in-store. Featuring Harris Ranch Beef, Snake River Farms American-style Wagyu, and Ranger chicken.
Continue reading for mouth-watering details on the unique flavor combinations that make each of our burgers so special.
The Signature Patty
This patty features an exclusive burger blend created with fresh ground brisket, short rib & chuck. Weighing in at a whopping half-pound and ground once, giving the burger a courser consistency and an eating experience that is more steak than burger like.
Blue Cheese & Bacon
Fresh ground Harris Ranch beef, Gorgonzola cheese & Nueske's Applewood smoked bacon.
Jalapeño Cheese
Fresh ground Harris Ranch Beef mixed with jalapeños and Tillamook cheddar cheese make up this patty of spicy, cheesy goodness.
The Original
Created with fresh ground Harris Ranch Beef – perfect to create your classic burger.
Wagyu
Created with fresh ground Snake River Farms American-style Wagyu beef for the most tender burger you'll ever bite into!
Chicken
Fresh ground Draper Valley Ranger chicken seasoned with red bell pepper, red onion & fresh herbs.
Turkey
Ground turkey seasoned with red bell pepper, red onion & fresh herbs.
Lamb
Fresh ground Anderson Ranch lamb mixed with onion, parsley & oregano.
Salmon
Fresh King salmon with roasted red peppers, garlic & panko.
Halibut
Fresh & Wild Alaskan halibut with sweet onion, stone ground mustard, panko & herbs.
Topping Tips
Have all of your toppings ready to go ahead of time.
Shredded iceberg is the best burger lettuce.
Summertime is Oregon tomato season, perfect for burger toppings.
Thinly slice pickles & red onions for optimal toppings.
Elevate your flavor with truffle or Kewpie mayonnaise.
HOW TO GRILL YOUR BURGERS
Get your grill nice and hot before cooking your patties.
Season your patties on both sides with salt & pepper.
Grill patties for about 5 minutes on one side. Then, flip and cook another minute or so. Put cheese on top (if desired) and close the lid on the grill. Cook another minute or so, until cheese melts. If you omit cheese, just cook another couple of minutes uncovered.
If you have space, lightly toast the buns as well.
grillING tempERATURES
For best results, grill meats to the following internal temperatures:
Salmon & Halibut: 160°F
Chicken & Turkey: 165°F
Beef & Lamb: 155°F for pink, 165°F for cooked through.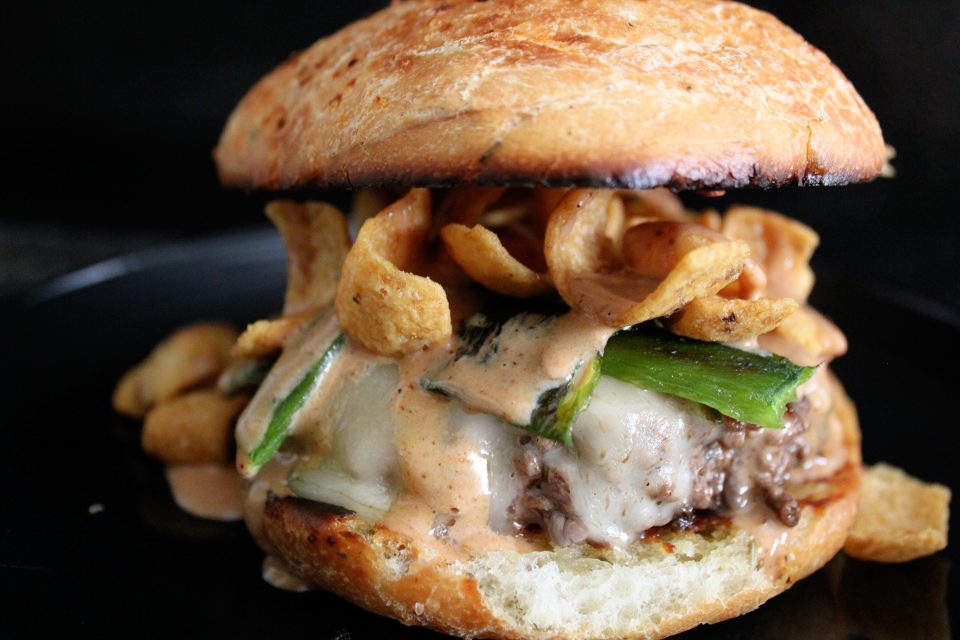 Main Dishes
New Mexico-Style Hatch Chile Barbecue Burger
Author: Malcolm Bedell
Serves: 3 Burgers
This Southwest-style burger features roasted Hatch chiles, pepper jack cheese & spicy barbecue mayonnaise making it a delightfully messy five-napkin affair.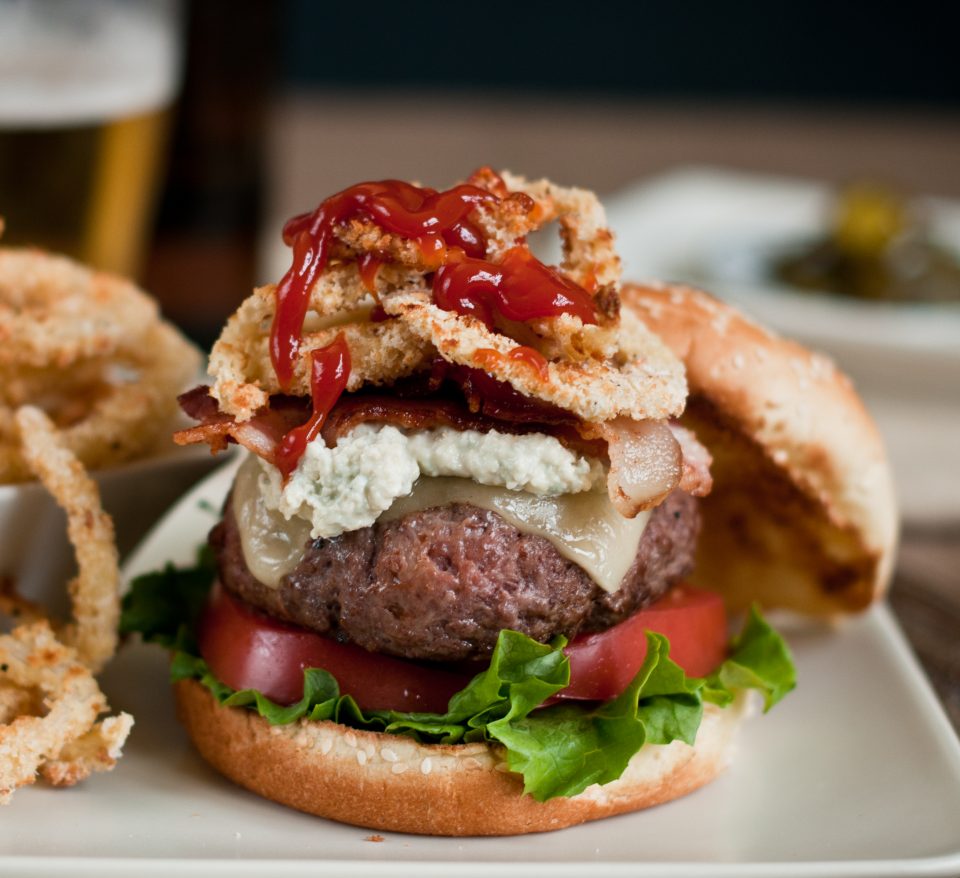 Main Dishes
Bacon Burger with Blue Cheese Sauce
Author: Eliza Adam
Serves: 4
Summer isn't complete without an amazing grilled burger. This moist bacon burger is combined with blue cheese sauce for a flavorful bite. Take it to the next level with our recipe for Beer-Battered Oven-Baked Onion Rings.